Leftover Turkey-Cranberry Monte Cristo Sandwich
Leftover Turkey-Cranberry Monte Cristo Sandwich recipe is the perfect way to use those Thanksgiving turkey leftovers for breakfast, lunch, or dinner.  Your house guests will go crazy for these sandwiches!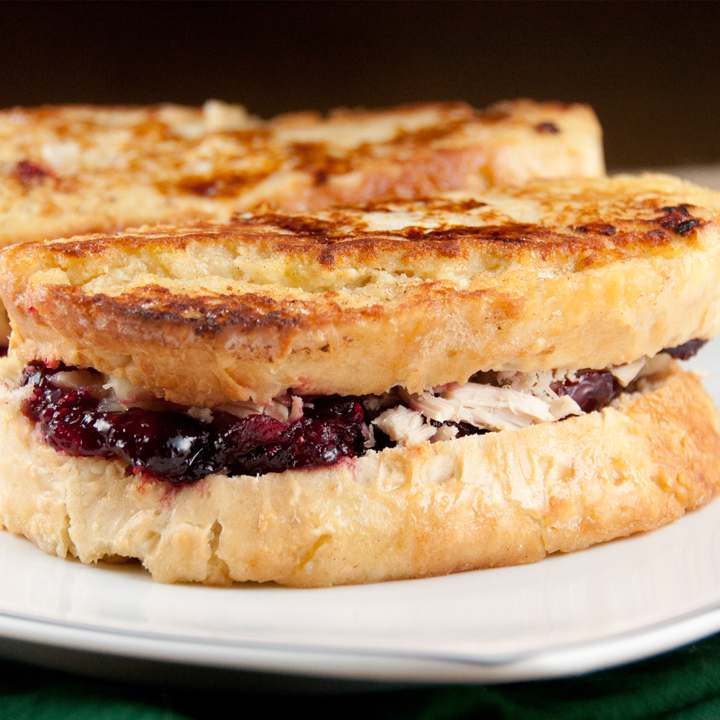 How was your Thanksgiving?!  Let me tell you, it is SO good to be back home, in my own house, my own bed, and around the people I love.  I love getting opportunities to travel and see the world but you know what they say – there's no place like home.  Oh, that is so true.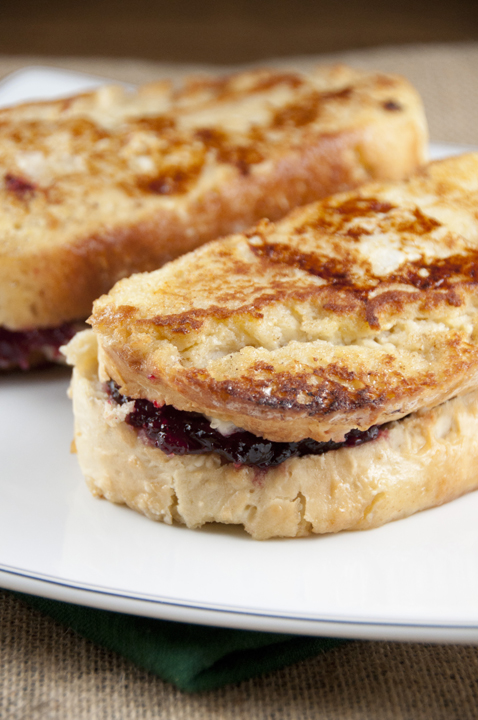 Last year I wanted to experiment with some turkey recipes before Thanksgiving in order to have some recipes to share with you all before the actual holiday was here.  Makes sense, right?  Well, I thought to keep things more practical I would make just cranberry sauce, no-drippings gravy, and a turkey breast in the slow cooker as opposed to an entire turkey.  It came out awesome!  The meet was juicy and just fell off the bone.  I did feel a little bit like I missed out on the dark meat, but it was easier to cook it this way and a quick fix when you are craving turkey (turkey just happens to be my favorite meat).  Also, on the plus side, we didn't get "turkeyed" out before the holiday even got here!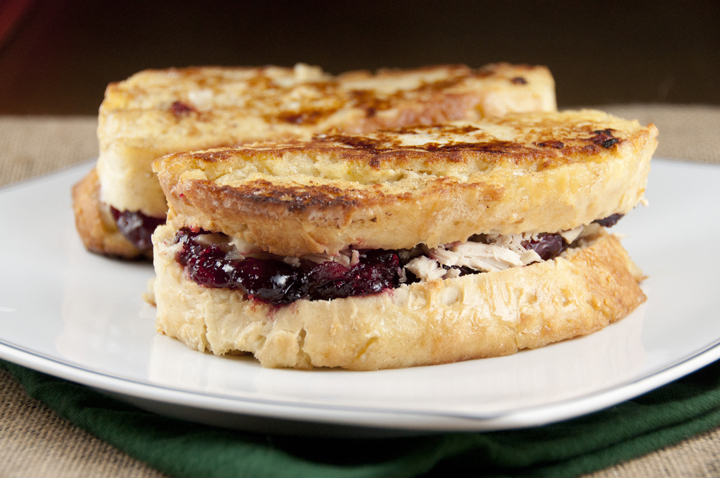 One of the recipes I made with my turkey was this Leftover Turkey-Cranberry Monte Cristo Sandwich.  I loved the savory and sweet combination!  My friend Cathy of Noble Pig (this was before I even met her) shared this recipe and I saw it on Pinterest last year.  Well, Monte Cristo sandwiches are my go-to meal whenever I eat out at diners.  I usually embarrass myself and order the "Monte Crisco" sandwich.  Why can I never say it right?!  I ended up meeting Cathy this year at the Pass the Pork tour.  I forgot to tell her I loved this recipe of hers, but now she knows 🙂  I love repurposing my leftovers, but I need to switch it up…so switch it up is what I did.
You will die and go to food heaven when you taste this.  It's that good, people. It's the best way to use up those leftovers and your house guests will love them.
 Enjoy and happy turkey leftover eating!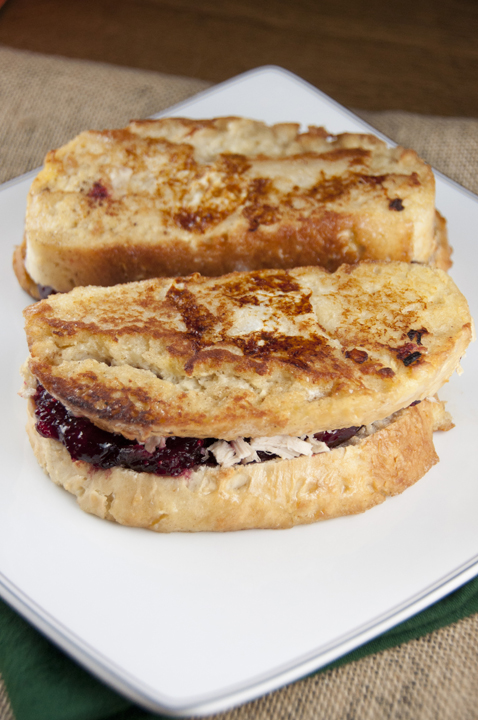 Leftover Turkey-Cranberry Monte Cristo Sandwich
Prep time:
Cook time:
Total time:
Ingredients
1 loaf very soft French Bread, sliced
1-1/2 cups cranberry sauce
12 oz thinly sliced Muenster cheese or cheese of your choosing
thinly sliced leftover turkey
3 large eggs
2 cups whole milk
4-6 Tablespoons butter
confectioners' sugar
Instructions
Spread cranberry sauce on each slice of bread - you can add as much or as little as you like.
Start building your sandwiches by taking a slice of cheese and tearing it in half.
Top the bread with half a cheese slice, turkey and the other half of the cheese slice.
Top with another slice of bread, cranberry sauce side down.
In a shallow pie plate, add the eggs and milk and beat the mixture with a fork until combined.
Briefly soak each sandwich in the mixture, about 10-20 seconds per side depending on the thickness of your bread slices. Less time for thinner bread slices. This way it won't get too soggy.
Over medium heat, melt 2 Tablespoons of butter in a non-stick skillet.
Add a few sandwiches at a time and cook until the bottoms are golden brown, about 3-4 minutes. Flip sandwiches and cook the other sides the same way.
Add more butter as needed to cook the rest of the sandwiches. Don't let the pan get too dry.
Dust lightly with confectioners' sugar before serving. Serve immediately.