Banana Bread Snack Cake
I settled into the kitchen to use up some black bananas to make this delicious snack cake.  Call it banana bread or call it cake, but either way it is SO easy and scrumptious and nice twist to a plain ol' banana bread loaf.
This cake is chock full of banana flavor and is the perfect thing to  keep my insides warm during the cold winter days. Mmmmmm.
This would work great for breakfast, but is also the perfect snack to have with a hot cup of coffee or tea.  I'm sure you can even tempt some non-banana lovers to taste this.  Get your bake on!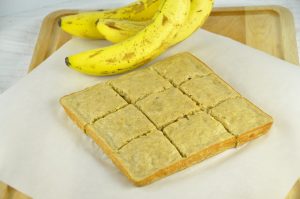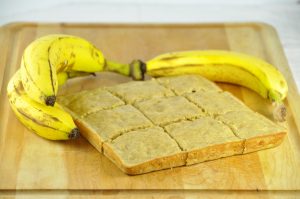 INGREDIENTS:
1 large egg
1/3 cup loosely packed brown sugar
2 teaspoons vanilla extract
3 ripe bananas, mashed (about 1 1/2 cups)
1 cup all purpose flour
1 teaspoon baking powder
1/2 teaspoon cinnamon
1/4 teaspoon salt
3 tablespoons unsalted butter, melted and cooled

PREPARATION:
Preheat oven to 350 degrees F.

Spray an 8×8 baking pan with non-stick spray.
In a large bowl, whisk egg and brown sugar until smooth. Add in  anilla extract and mashed bananas, mixing until combined.
Add in flour,  baking powder, cinnamon and salt, mixing until the batter comes together. Add the melted butter and mix until evenly distributed.
Pour batter in the baking pan. Bake for 20 minutes, or until center is no longer jiggly and edges are golden.
Enjoy!