No-Drippings Turkey Gravy
You and your family can have the enjoyment of amazing homemade no-drippings turkey gravy in just 15 minutes for the holidays. No drippings, can be made ahead of time, and no turkey roasting required!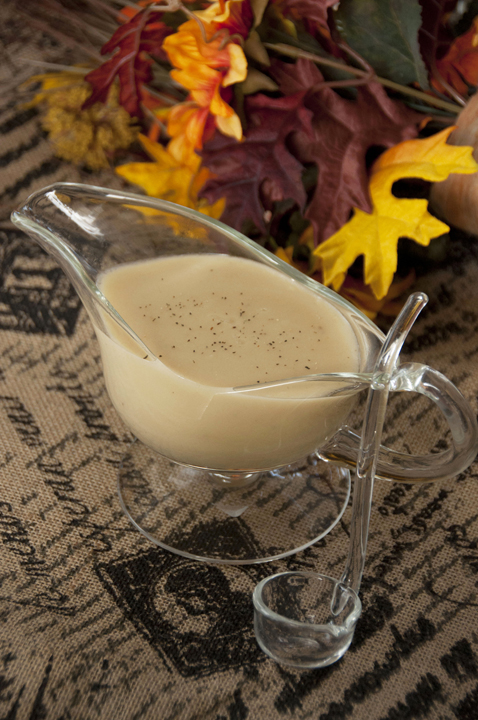 I fell in love with this from-scratch turkey gravy.  It's so good, and this coming from the world's biggest gravy fan ("Would you like some mashed potatoes with that gravy?"  That's me).  When something is as simple as this no-fail recipe you can go ahead and sign me up, especially when it comes to the holidays and "ain't nobody got time" for messing up in the kitchen.  This is true especially for those hosting the holiday and having 8 million tasks going on at once in the kitchen and hungry people waiting to eat.  This gravy can take one of those tasks and turn it into a no-brainer and a time saver all at once.  You can enjoy more time with your family and friends and not worry so much about throwing a gravy together at the last minute and making sure it tastes right and is thick enough.  You don't even have to wait for the meat to be done, you can make this ahead of time.  Are you sold on it yet?
This gravy is perfect for anytime you have leftovers or something that doesn't create drippings and you need a quick and easy gravy!  This gravy doesn't have to just be used for turkey dinners, it would be great for any roast you are making or if you're serving mashed potatoes as a side dish and don't want to use that pre-packaged salty stuff you buy at the store.  It was SO good that I wanted to eat it with a spoon.  Wait, let me correct that sentence – I DID eat it with a spoon, but only for taste-testing purposes, of course.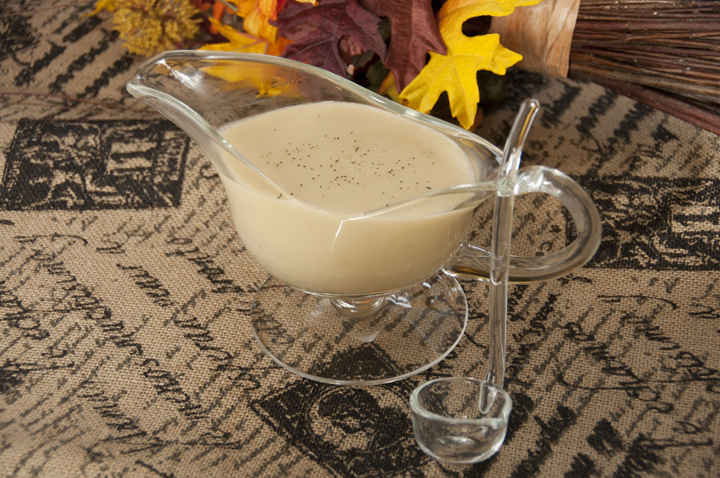 Here are some amazing ideas to go along with this turkey gravy! Check out my Thanksgiving Menu Ideas. I also have step-by-step instructions on how to make the perfect turkey in this Let's Talk Turkey post.
Recipe originally published: 11/14/14
Updated on: 11/27/17

No-Drippings Turkey Gravy
You & your family can have the enjoyment of make-ahead amazing homemade turkey gravy in just 15 minutes for holidays. No drippings/turkey roasting required!
Ingredients
1 stick (1/2 cup) unsalted butter
1 cup all-purpose flour
1 tbsp onion powder
1 tsp sea salt
1 tsp ground pepper
32 oz stock (chicken or turkey)
Instructions
In a saucepan over medium to medium-low heat, add the stick of butter until melted then add the onion powder and whisk that in.
Add flour, a few tablespoons at a time, to the butter and whisk to form a roux or paste-like consistency.
Add about ¼ cup of stock, then a bit more flour and continue whisking to keep the roux. Next you will add the remainder of the stock and bring to a slow boil, whisking frequently.
Add salt and pepper to taste. Continue to boil for another 10 minutes or so until the gravy has thickened.
*If the gravy becomes too thick, you may whisk in a bit of water or more stock to thin it out.
*If you make this ahead of time and let it sit or refrigerate, it will thicken a lot, as gravy does. Have extra broth (or drippings if you did happen to have some of that on hand) to thin the gravy back out when reheating.