Crock Pot Mixed Berry Cobbler
Crock Pot Mixed Berry Cobbler recipe is perfect for the holidays and creates a deeply flavorful dessert with very little prep time!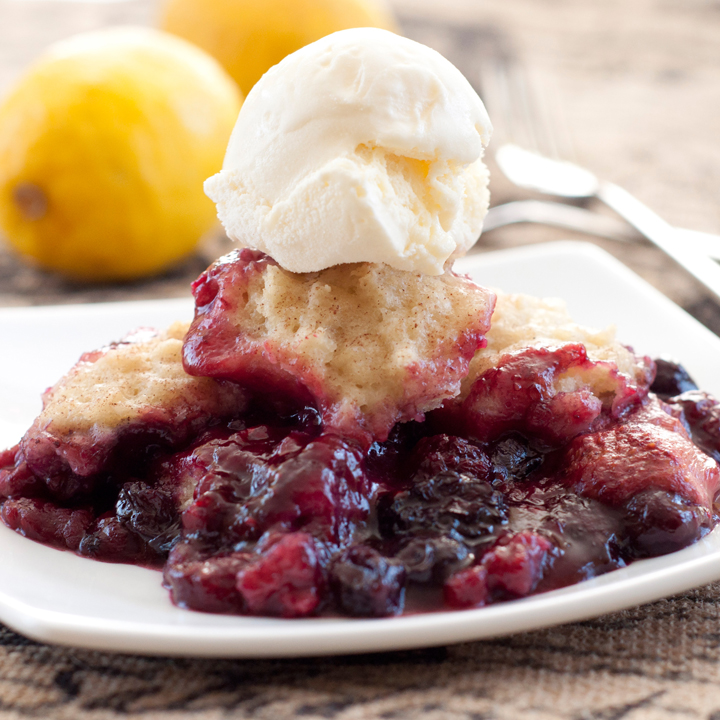 It's no secret that I pink fuzzy heart my slow cooker (crock pot..whatever you want to call it).  My favorite thing to do with them that I always forget I can do is "bake" in them.  I love whipping up desserts in my slow cooker.
One of the most popular recipes on my blog is my Crock Pot Peach Cobbler.  It really is no surprise that this is a favorite because, hello, PEACHES…and also, who doesn't love a dessert that can just be thrown into a crock pot and it cooks itself while you do other things?  It's like magic.

MY LATEST VIDEOS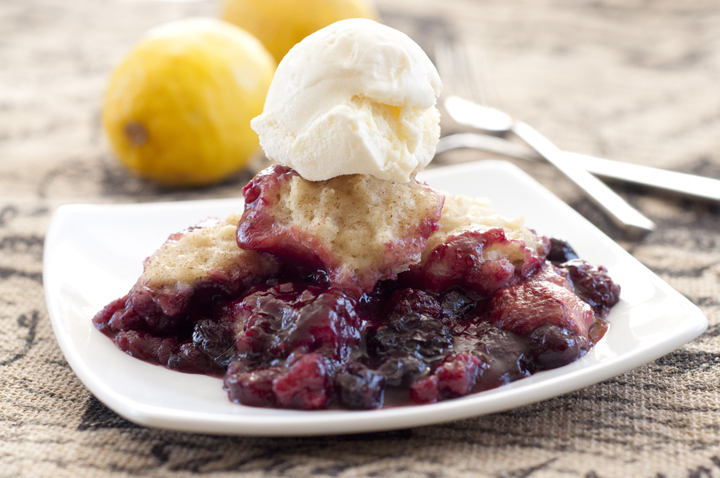 I made it a priority to come up with another killer fruit cobbler recipe to share.  I normally think "summer" when I think of fruit cobblers, but most of us know these are just awesome and totally fitting for holiday desserts.  Crock pots are the best when you have a zillion things coming in and out of the oven.  A true lifesaver…
If you halve this recipe for this Crock Pot Mixed Berry Cobbler make sure you use a smaller crock pot so it doesn't cook too quickly and burn.  Enjoy!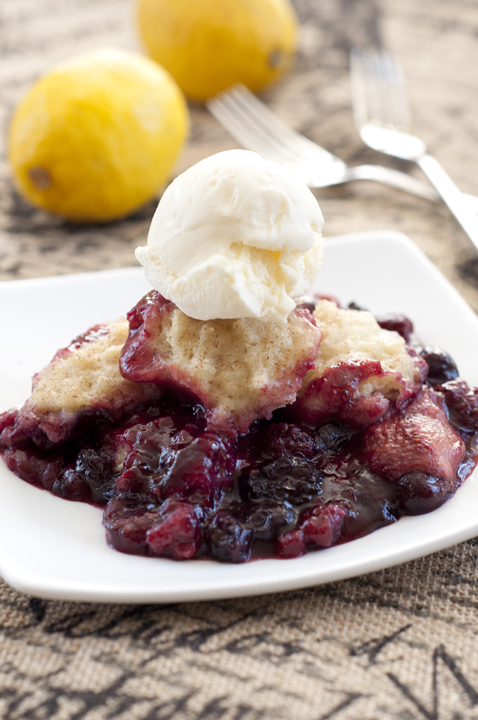 Crock Pot Mixed Berry Cobbler
Prep time:
Cook time:
Total time:
Crock Pot Mixed Berry Cobbler recipe is perfect for the holidays and creates a deeply flavorful dessert with very little prep time!
Ingredients
Unsalted butter, for greasing insert
⅓ cup cornstarch
2 tablespoons lemon juice (about 1 lemon)
Two 12-ounce bags frozen mixed berries (about 5½ cups)
⅔ cup granulated sugar
Biscuit Topping:
1¼ cups all-purpose flour
3 tablespoons granulated sugar
1 teaspoon baking powder
Pinch of fine salt
4 tablespoons cold unsalted butter, cut into small pieces
¾ cup milk
¼ teaspoon ground cinnamon
Instructions
For the filling: Butter the sides and bottom of the insert of a 5 or 6-quart slow cooker.
Whisk together the cornstarch, lemon juice and 2 tablespoons water in a small bowl.
Add the mixture to the insert, add the berries and granulated sugar and toss.
For the biscuit topping: Whisk together the flour, 2 tablespoons of the granulated sugar, baking powder and salt in a large bowl.
Add the butter and rub the mixture together with your fingers so that it forms a coarse meal with some pea-sized lumps.
Add the milk and stir with a wooden spoon to form a wet dough.
Drop spoonfuls of the dough on top of the berry mixture.
Combine the remaining 1 tablespoon granulated sugar and the cinnamon and sprinkle over the dough.
Cover the slow cooker and set to high for 3 to 4 hours.
The cobbler should be bubbly and the biscuits should be cooked through.
Let rest for 10-15 minutes before serving.
Spoon the cobbler into bowls or plates and top with whipped cream, if desired.
 Recipe source:  adapted from foodnetwork.com