Leftover Turkey-Cranberry Monte Cristo Sandwich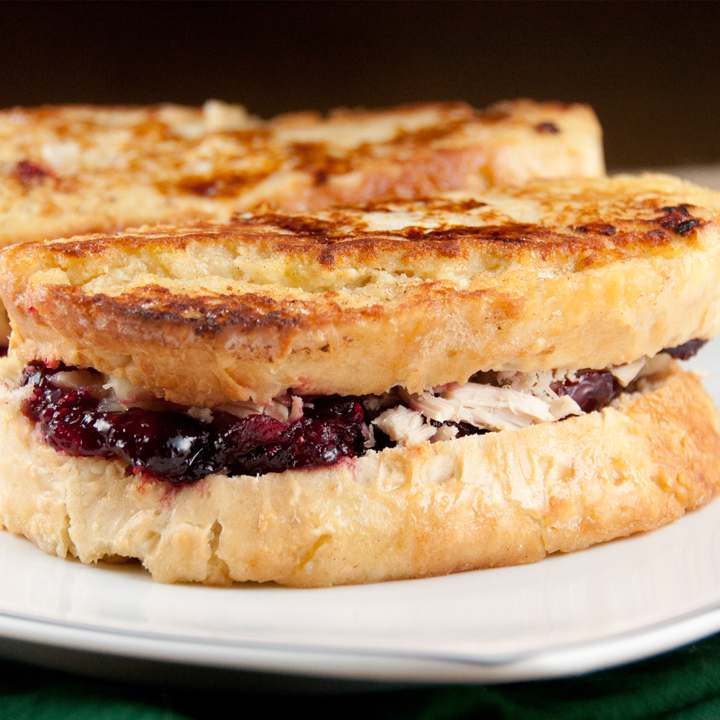 1 loaf very soft French Bread, sliced
1-1/2 cups cranberry sauce
12 oz thinly sliced Muenster cheese or cheese of your choosing
thinly sliced leftover turkey
3 large eggs
2 cups whole milk
4-6 Tablespoons butter
confectioners' sugar
Spread cranberry sauce on each slice of bread - you can add as much or as little as you like.
Start building your sandwiches by taking a slice of cheese and tearing it in half.
Top the bread with half a cheese slice, turkey and the other half of the cheese slice.
Top with another slice of bread, cranberry sauce side down.
In a shallow pie plate, add the eggs and milk and beat the mixture with a fork until combined.
Briefly soak each sandwich in the mixture, about 10-20 seconds per side depending on the thickness of your bread slices. Less time for thinner bread slices. This way it won't get too soggy.
Over medium heat, melt 2 Tablespoons of butter in a non-stick skillet.
Add a few sandwiches at a time and cook until the bottoms are golden brown, about 3-4 minutes. Flip sandwiches and cook the other sides the same way.
Add more butter as needed to cook the rest of the sandwiches. Don't let the pan get too dry.
Dust lightly with confectioners' sugar before serving. Serve immediately.
Recipe by
Wishes and Dishes
at https://wishesndishes.com/leftover-turkey-cranberry-monte-cristo-sandwich/