Ice Cream Sundae Bar
Build your own budget-friendly Ice Cream Sundae Bar or ice cream social party that's perfect for any kind of celebration! Jazz up your birthdays, graduations, or just a regular Saturday with friends!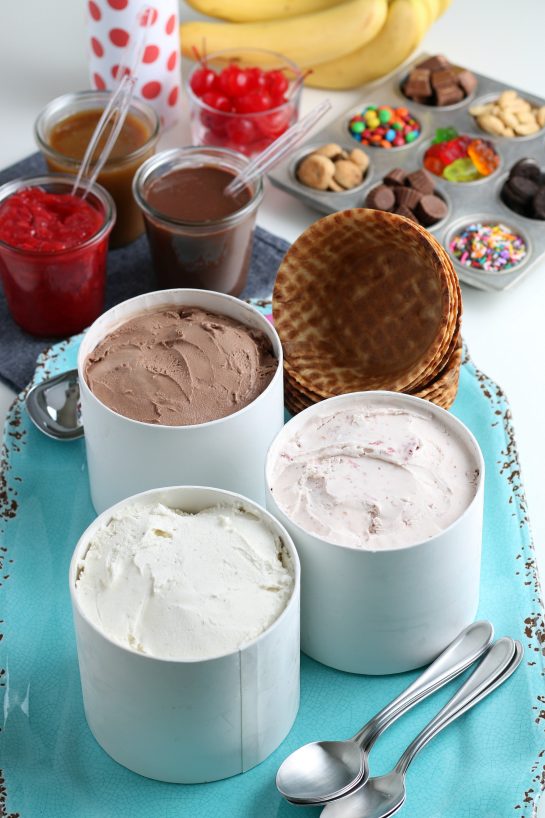 Ice cream season! My love for ice cream recipes runs deeeeep. There's just something about summertime and summer activities and food that makes you feel like a kid again. I've rounded up our best ice cream sundae party bar tips, plus a super clever party hack to keep your ice cream cold longer (in directions below). This DIY ice cream sundae bar is surprisingly simple.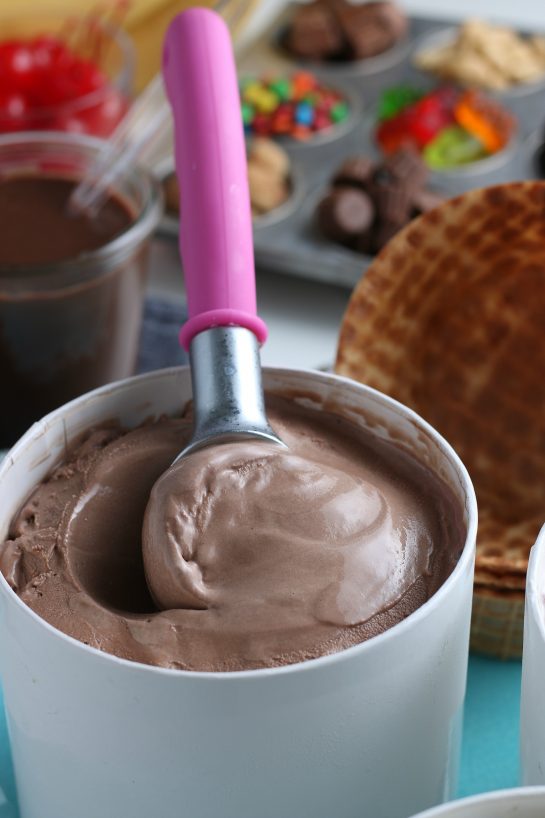 You can never have too many options for toppings, am I right? I can never get enough. When you see this, how could you not?! You can really use anything you like for this, but a variety is always a lot of fun.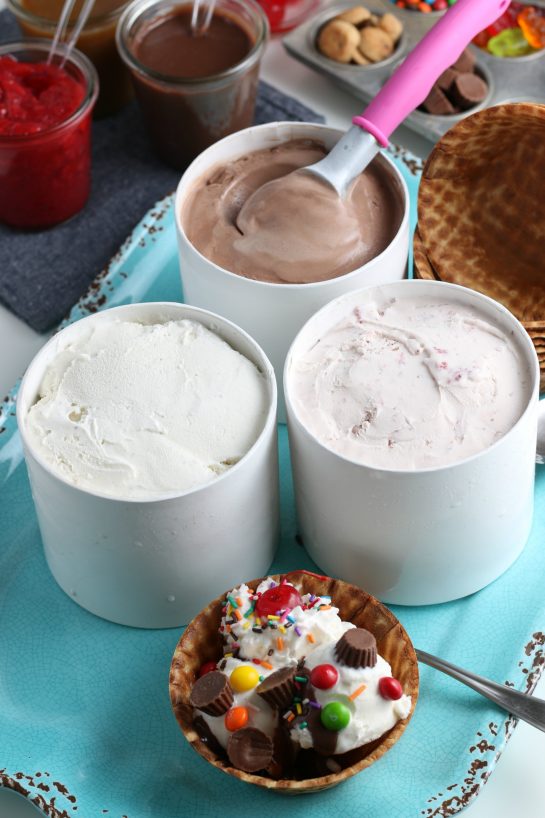 This ice cream sundae bar is perfect for a party. Guests will have so much fun creating their own sundaes! It's such a fun, interactive way to have people create their own dessert!
An ice cream sundae bar party cannot be beat! What kid (or adult) doesn't love ice cream, right?! You definitely can't go wrong with this fun theme and I hope you try it out soon. If your mind is set on an ice cream birthday with all the toppings, go for it.
I like to use vanilla and chocolate ice cream so I can smother them with all the toppings, but feel free to use anything you like. This homemade Cookies and Cream Ice Cream would be great if you're feeling super ambitious!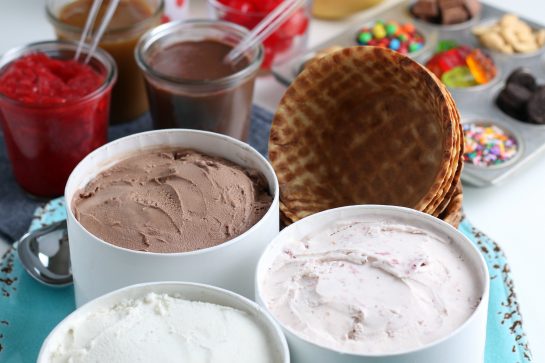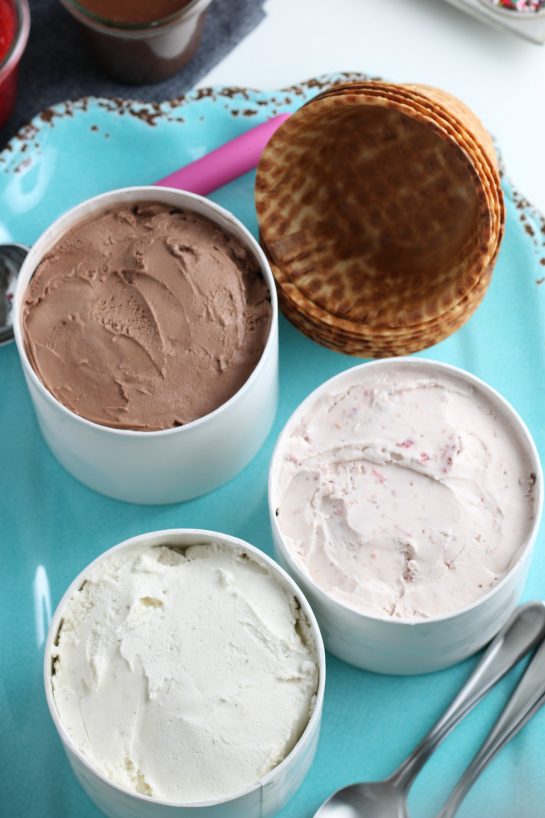 A DIY Ice Cream Bar is an easy and budget friendly dessert option to serve to a crowd at a party. You can literally spend as little or as much as your budget allows you to and still create a table full of amazingly sweet options. You can even make your own ice cream, such as this Caramel Popcorn Soft Serve Ice Cream.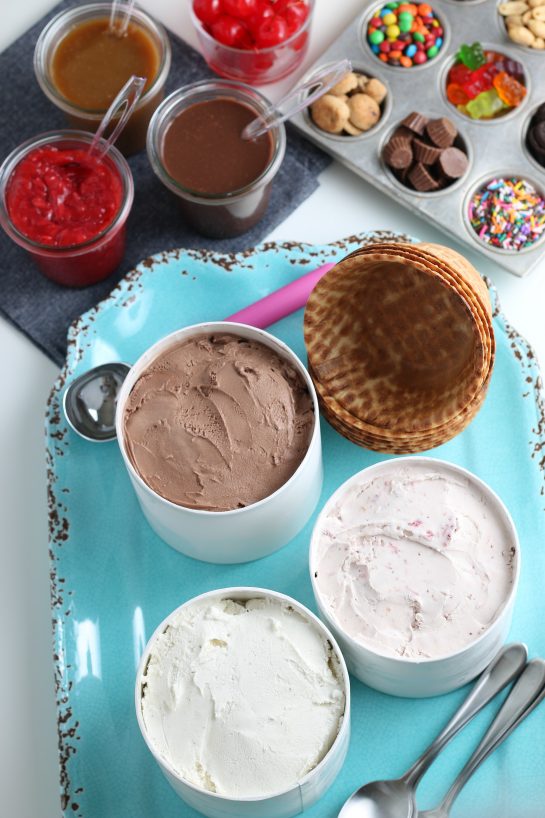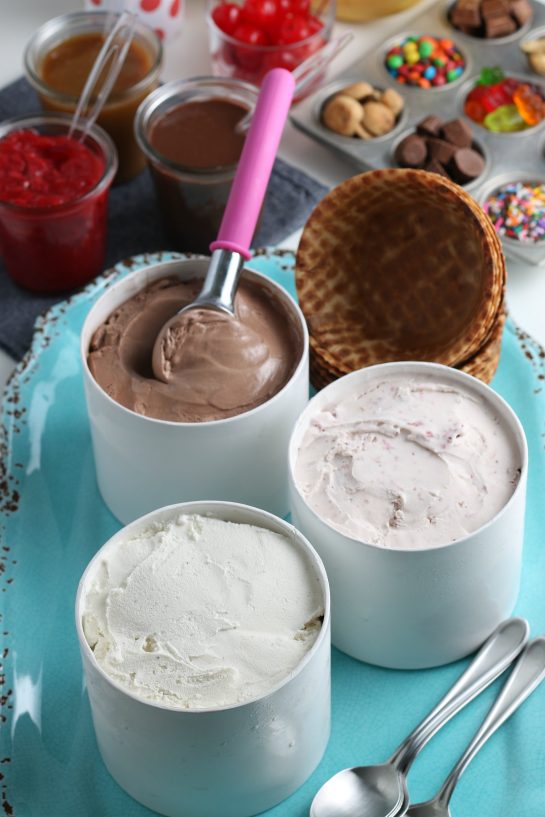 Also, it's totally up to you whether to offer cones to serve the ice cream sundaes in or you could use cups/bowls. I very much prefer bowls (or even waffle cone bowls) with kids as it means less mess uncontrollably spread everywhere.
It's already a thing in my house. Pretty sure it's going to be a thing all summer long. it's ALWAYS ice cream season. For some of us.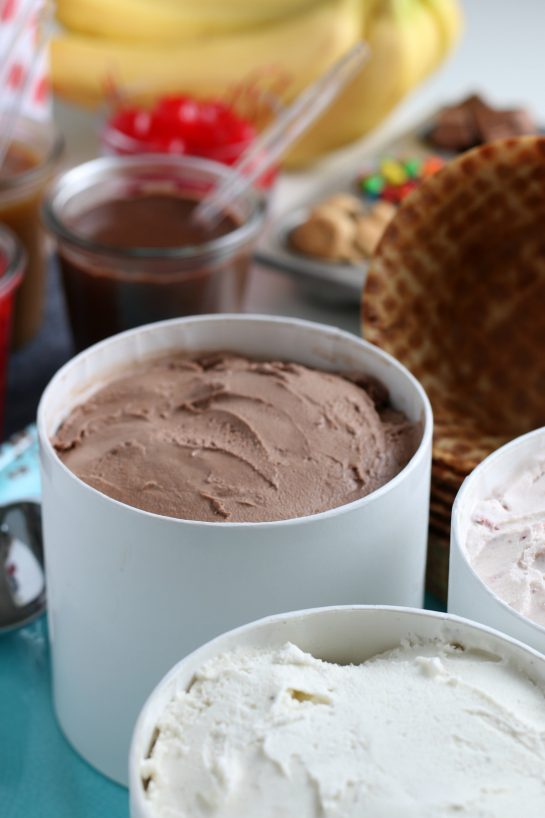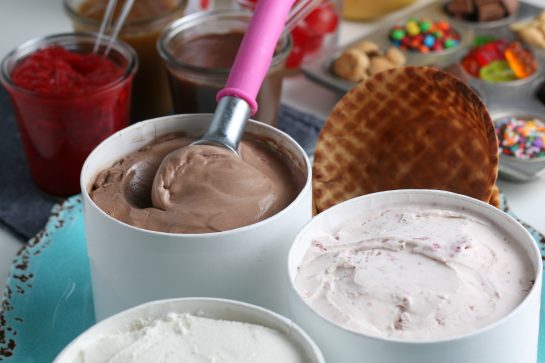 Ice Cream Sundae Party Bar
Ingredients
Ice Cream Flavors:
Vanilla
Chocolate
Strawberry
Ingredients:
Waffle Bowls
Hot fudge
Strawberry Sauce
Caramel Sauce
Sprinkles
Gummy Bears
Mini Reese's
Mini M&Ms
Mini Oreos
Mini KitKats
Peanuts
Mini Chocolate Chip Cookies
Skittles
Bananas
Maraschino Cherries
Instructions
For the ice cream bar:
Set up an ice cream buffet by placing the open tubs of different ice cream flavors in a large metal tub packed with ice to keep them cold.
Put the candy, marshmallows, pretzels, Oreos, bananas, sprinkles, caramel sauce, hot fudge sauce, toppings, cherries, and fresh fruit (or whatever you choose to use) into individual lidded pint jars or use bowls.
Arrange whatever cones you're using face-down on cake stands or pedestals.
Enjoy!