Pumpkin Chocolate Chip Muffins
This dense Pumpkin chocolate chip muffins recipe uses canned pumpkin, spices and are loaded with mini chocolate chips. They can be made any time of year, but are especially good during the fall!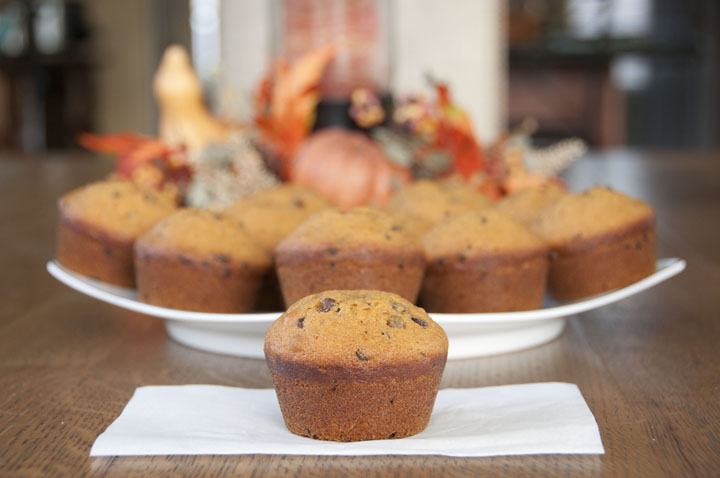 Well, I am over here enjoying sunny, 82 degree Florida and these pumpkin chocolate chip muffins right now for a family vacation with Mr. Wishes' family.  The plan is to go to Disney World for Mickey's Very Merry Christmas Party later this afternoon and I'm SUPER excited, to say the least.
The word "excited" doesn't even cut it.  If you've been following my blog for any amount of time now, you know that I am in love with all things Disney and it's my favorite place in the world.
I'm also obsessed with Christmas (I already decked the halls at my house as my tree has been up for 2 days!), so when you combine it with Disney I'm just overwhelmed with excitement.
Though it doesn't feel too fall-ish here as far as weather goes, I'm sharing a fall recipe with you today.  Are you pumpkin'd out yet?  Good, because neither am I! 🙂  I'm getting there….but not quite there yet.  These muffins would make an excellent Thanksgiving morning breakfast. My banana crumb muffins are an excellent choice, as well.
I really feel that using the mini chocolate chips was best because each bite had the perfect amount of chocolate in it.  That being said, I know I probably only speak for myself when I say I don't like an overwhelming amount of chocolate in my desserts.  Anyone else?
By the way, this makes a LOT of muffins so it would be best to make if you're having company over or bringing to a party.  I brought them to a breakfast-themed night at my church's small group that I'm a part of and they all vanished. I also brought these cinnamon sugar pumpkin donut muffins that disappeared quickly.
OH, you can also use half applesauce and half oil to make these a bit healthier if you wish to! I have tried making then with applesauce and they tasted wonderful. Enjoy!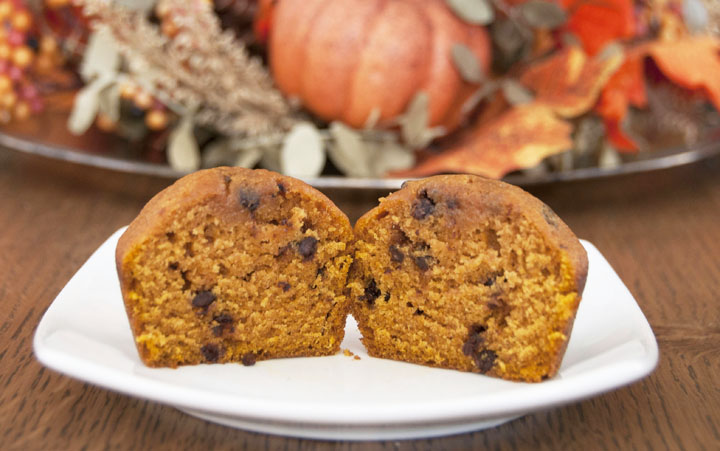 Pumpkin Chocolate Chip Muffins
Recipe type:
Breakfast, Dessert
These dense Pumpkin muffins use canned pumpkin, spices and are loaded with mini chocolate chips. They can be made any time of year, but are especially good during the fall.
Ingredients
4 eggs
2 cups sugar
1 (15 ounce) can pumpkin
1 teaspoon vanilla extract
1 and ¼ cups vegetable oil
3 cups all-purpose flour
2 teaspoons baking soda
2 teaspoons baking powder
2 teaspoons cinnamon
1 teaspoon salt
12 ounces mini semi-sweet chocolate chips (can also use regular size)
Instructions
In large mixing bowl beat eggs, sugar, pumpkin, vanilla and oil until smooth.
Mix dry ingredients together in a separate bowl and then and slowly mix into pumpkin mixture until combined.
Fold in the chocolate chips.
Fill greased or paper-lined muffin cups ¾ of the way full. Bake at 400 F for 16-18 minutes. Mine were done right at 16. This made about 30 muffins for me.