Cookies and Cream Ice Cream
Creamy, rich homemade vanilla ice cream with chunks of Oreo cookies throughout.  Perfect dessert for any time of the year. If you love Oreo ice cream, try this Cookies and Cream Ice Cream!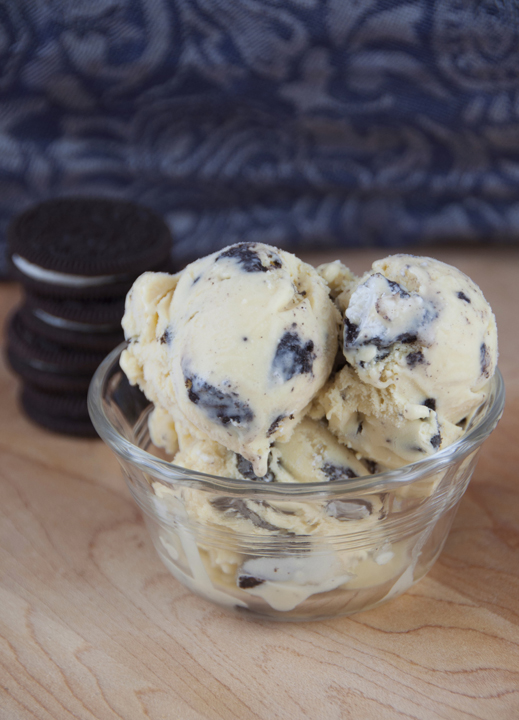 Yes, it is almost fall and the weather is getting cooler and here I am whipping out another ice cream recipe. Cookies and Cream Ice Cream is where it's at!
Meanwhile, everyone else in the blogging world is already sharing pumpkin and apple desserts galore.  The truth is, I'm in denial that summer is coming to an end.  I LOVE summer and being warm and am going to really miss it for the next many, many months.  Don't hate me, but I'm just not ready for everything fall related just yet.  Summertime and summertime food like Cookies and Cream Ice Cream is my JAM.
This Cookies and Cream Ice Cream was honestly the best ice cream I've ever had. It was so creamy and  the perfect balance of sweet, salty, creamy and "egg-y".  It really tasted like a cake/sugar cookie turned into ice cream and with Oreo chunks added.  It's a good thing I don't have this in my house anymore because it is dangerous to have around.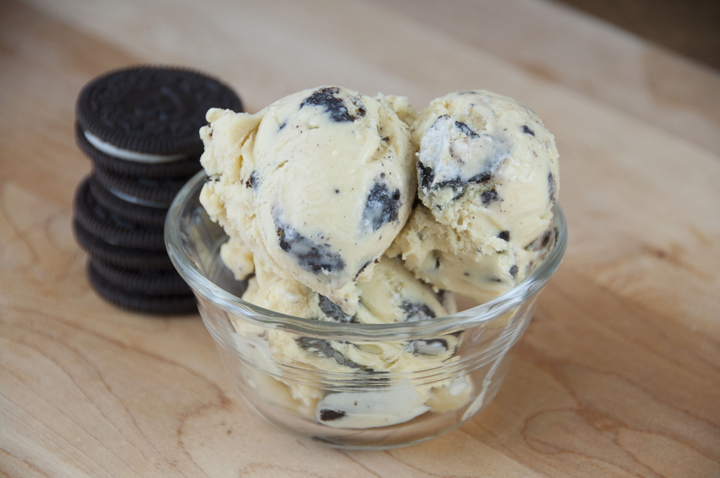 Note: DO NOT cook the custard mixture too long or on too high of a heat or you will make scrambled eggs.  Consider that your warning 🙂  The process does not take that long at all so my best advice is to keep an eye on it the entire time (no walking away or doing two things at once – I need to take my own advice there).
By the way, I have this ice cream maker and it has changed my ice cream making life.  I won it in a contest last year and I LOVE it.
Cookies and Cream Ice Cream
Prep time:
Cook time:
Total time:
Creamy, rich homemade vanilla ice cream with chunks of Oreo cookies throughout. Perfect dessert for any time of the year.
Ingredients
5 egg yolks from large eggs
½ cup granulated sugar, divided
1¾ cups heavy cream
¾ cup half and half (can use whole milk)
¼ teaspoon kosher salt
2 teaspoons vanilla extract
1¼ cups broken Oreo cookies (about 15 cookies)
Instructions
Set a wire-mesh sieve over a large bowl. Whisk together the egg yolks and ¼ cup of the sugar in a large bowl; set aside.
Warm the remaining ¼ cup of sugar, cream, milk and salt in a medium saucepan over medium heat.
When the mixture begins to simmer, slowly drizzle it into the egg yolk mixture, whisking constantly, then scrape the warmed egg yolks back into the saucepan.
Stir the mixture constantly over medium heat with a heatproof spatula, scraping the bottom as you stir, until the mixture thickens and coats the spatula.
Pour the custard through the strainer (push through if necessary with a spatula) and stir in the vanilla extract.
Place the bowl in an ice bath and stir occasionally, until the mixture reaches room temperature. Cover the bowl and place the mixture in the refrigerator and chill at least 2 hours, or overnight.
Churn the ice cream in your ice cream maker according to the manufacturer's instructions. Once the ice cream is ready, layer it into your freezer-safe container with alternating layers of the chopped cookies, beginning and ending with the ice cream.
 Recipe source:  adapted from Sweet Cream and Sugar Cones