Turtle Coffee Milkshake
Turtle Coffee Milkshake recipe is brewed coffee, vanilla ice cream and rich chocolate sauce together in a creamy milkshake.  It is finished off with a mound of whipped cream, drizzled caramel, chocolate sauce and crushed pecans.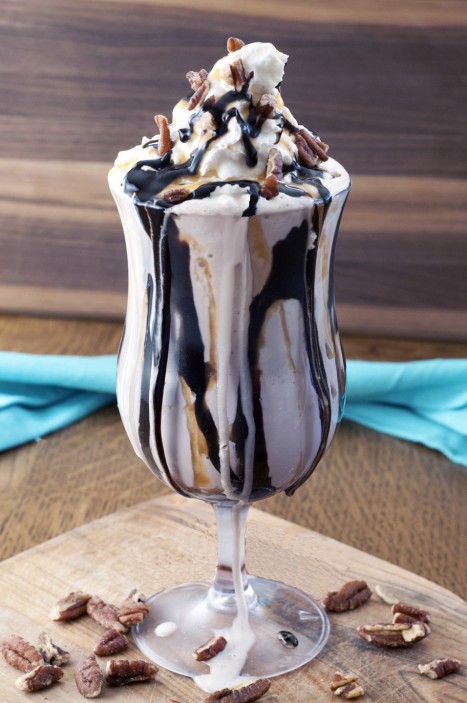 It's Monday….and I made you a milkshake to help you shake the Monday blues…aren't I the best?  I also have an awesome giveaway for you – double win.  This Turtle Coffee Milkshake isn't just any milkshake, though – it's THE ultimate king of all milkshakes.  Dare I say it's even better than a Starbucks Frappuchino.  Yup, I said it (don't hate me now all of you Starbucks fanatics).  I would take one of these babies or my caramel coffee milkshake any day of the week.  I received an awesome 2-Way FlexBrew® Coffee Maker from Hamilton Beach and decided to have some fun with the coffee I was brewing up in it.  After all, plain coffee gets boring after a while, right?  Enter my invention: this Turtle Coffee Milkshake.
This Turtle Coffee Milkshake is a blended coffee treat much like an iced cappuccino you might buy at a restaurant.  Sure, you can buy a coffee milkshake, but can you make the best homemade coffee milkshake ever?  It takes five minutes to make:  just brew the coffee of your choice and blend all ingredients together.  Make the coffee stronger than you normally would if you would prefer the coffee flavor to stand out more in the milkshake.  I used a medium roast and still thought the flavor was right on point.  It's refreshing and delicious for a cold mid-afternoon snack or even doubles as dessert!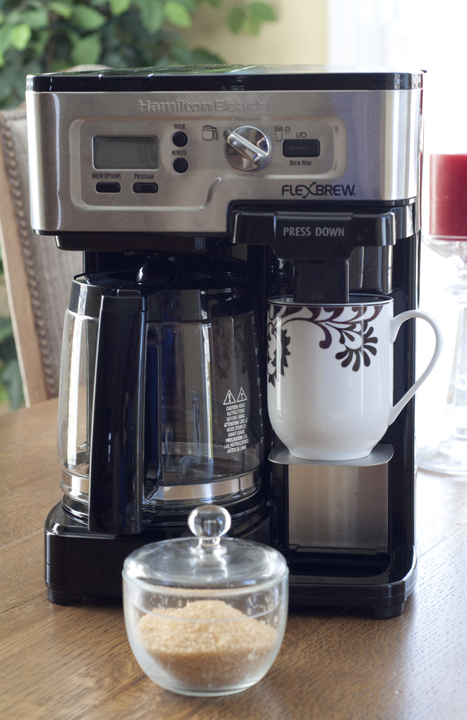 I posted a photo of this coffee maker when I got it in the mail and it got quite the reaction on Facebook from my friends.  I can't say I was really that surprised as it's a very cool and unique thing to have in your kitchen and I have never seen anything like this machine before.  The 2-Way FlexBrew Coffee Maker maximizes your brewing flexibility and offers more brewing options than most coffeemakers.
What's so different about it is that you can use the single-serve side to brew into a standard-size cup or brew up to a 14 oz. travel mug OR you have the choice of brewing with a single-serve pack or your favorite ground coffee.  What's more, on mornings when you want to enjoy multiple cups or are making coffee to share when you're entertaining (or have a big family), the carafe side makes a full 12-cup pot.  It's a huge space saver that provides options for your coffee drinking needs and preferences.  It's one of Hamilton Beach's most popular products and I'm excited for one of you to win one for yourself!
Thanks to the generous people over at Hamilton Beach, one lucky Wishes and Dishes reader is going to receive their own 2-Way FlexBrew Coffee Maker worth $100!  Make this Turtle Coffee Milkshake (your taste buds will thank you) and also scroll on down for your chance to win and to see how easy it is to enter.  If you aren't the lucky winner, this coffee maker is available at Walmart. 🙂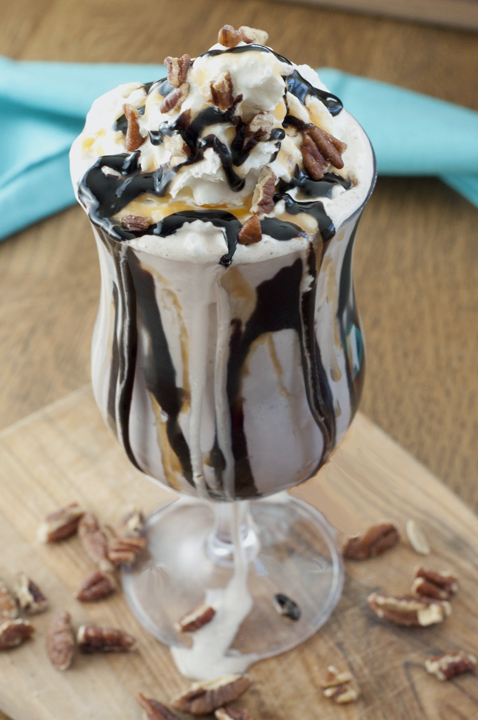 Turtle Coffee Milkshake and a GIVEAWAY!
Serves:
1 large or 2 small
Brewed coffee, vanilla ice cream and rich chocolate sauce together in a creamy milkshake finished off with a mound of whipped cream, caramel, chocolate sauce and crushed pecans.
Ingredients
⅓ cup brewed coffee of your choice (I used a medium roast)
¼ cup heavy cream
2 cups vanilla ice cream
1 Tbsp. chocolate syrup
1 Tbsp. caramel syrup
whipped cream, for topping
crushed pecans, for topping
Instructions
Stick coffee in the refrigerator to get cold.
Add the cold coffee and milk into a blender and add 2 scoops of ice cream. Squeeze chocolate and caramel syrup in, I used a tablespoon of each but you can use as much as you'd like or even leave it out.
Blend in a blender until smooth.
Drizzle chocolate and caramel syrup on the inside of your glass, then pour the milkshake mixture in. Top with whipped cream, a drizzle of chocolate and caramel syrup, and crushed pecans.
Enjoy!
Deadline: Sunday, May 10th at 11:59 p.m. (EST). I'll announce the winner on Monday 5/11. Good luck, everyone!
Winner:  Must be a U.S. resident to enter.  The winner will be chosen at random using Random.org and announced in this post. I will email the winner and if he/she does not respond within 48 hours, another winner will be selected.
Disclaimer: Hamilton Beach provided me with this coffee maker to facilitate this post and is providing the giveaway product. The words and opinions expressed in this review are strictly 100% my own, as always.