Caramel Popcorn Soft Serve Ice Cream
This soft serve ice cream is just soft enough to stir in crushed caramel popcorn, and for extra fun, is sprinkled with whole caramel popcorn and caramel drizzle.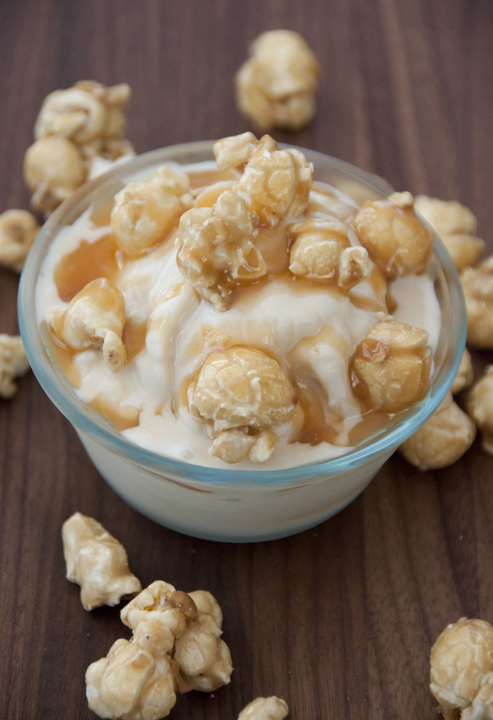 Yup, it's November and I'm posting an ice cream recipe.  I couldn't wait 'til summer for this one to be shared.  Plus, caramel corn is a good fall snack, right?  This Caramel Popcorn Soft Serve Ice Cream was love at first bite.
I almost went to town and ate the whole bowl in one sitting but then I remembered to save some for Mr. Wishes.  He was very thankful for that as it doesn't always happen.  We are both huge caramel lovers and equally big on homemade vanilla ice cream, so this did not last long.
Zoku is a wonderful company and if you have heard of them before, then you already are aware of this.  They have a deep passion for providing consumers with very unique products for the kitchen that no one else has thought of yet.
This originality shines through in every single product they create.  I also have their Quick Pop Maker which I used all summer long.  I recently was sent one of these Ice Cream Makers.  It's unlike anything I've ever seen before – you can whip up your own customized bowl of homemade ice cream in just ten minutes.  How cool is that?
I really wasn't sure how it was going to pull it off, but ten minutes later and I was digging into this caramel popcorn ice cream.  The best part is, I can double the recipe and keep the mix in the fridge and make just one serving at a time.
It's great for "instant gratification" and built-in portion control.  And don't worry about finding recipes for the individual portioned ice cream – the ice cream maker comes with a booklet full of them.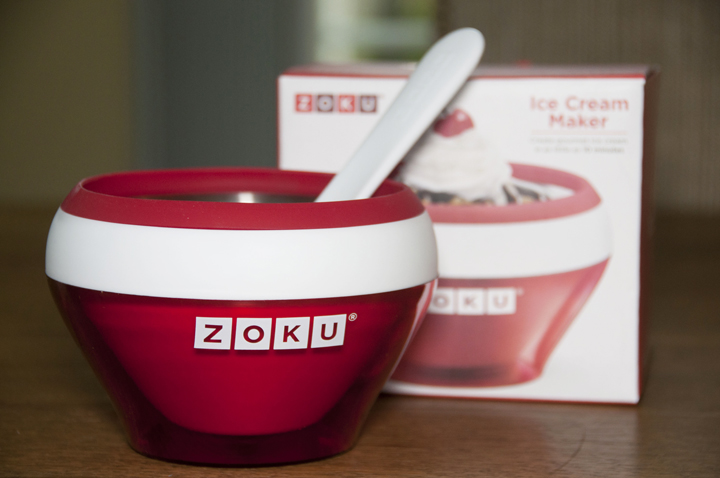 One of you is going to win one of these Zoku Ice Cream Makers this week (worth $25.99!).  The prize will include the Ice Cream Maker itself, 1 stainless steel bowl, 1 protective sleeve, and 1 spoon.
It's a really fun, easy way to make your own frozen desserts: whether you prefer ice cream, gelato, frozen yogurt, sherbet or sorbet.  This baby does it all and it is pure genius.  Christmas gift idea for your kids?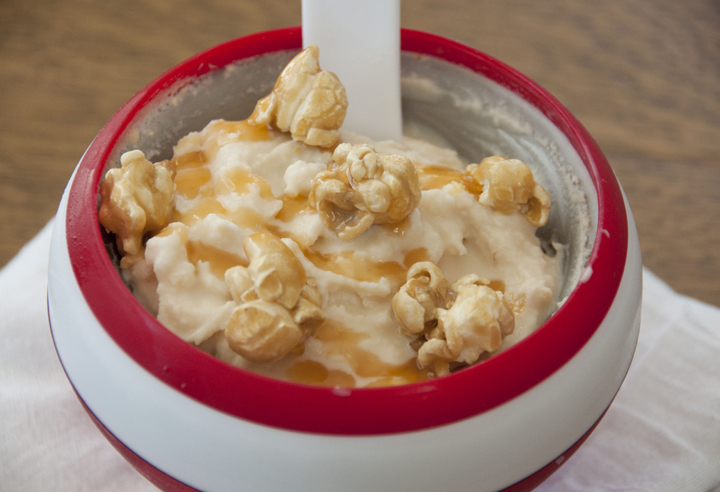 There's 5 easy steps to homemade ice cream using this Zoku Ice Cream Maker:
1. Freeze inner bowl for 12+ hours
2. Pour in 5 fl. oz. of chilled ice cream mix
3. Stir, scrape, and add toppings once the ice cream begins to form
4. Use silicone edge of bowl to clean spoon while making ice cream
5. For hard ice cream put unit back in freezer for 10-20 additional minutes after soft serve has formed.
Scroll down to enter the giveaway.  Good luck, everyone!  I really wish I could give one away to everybody.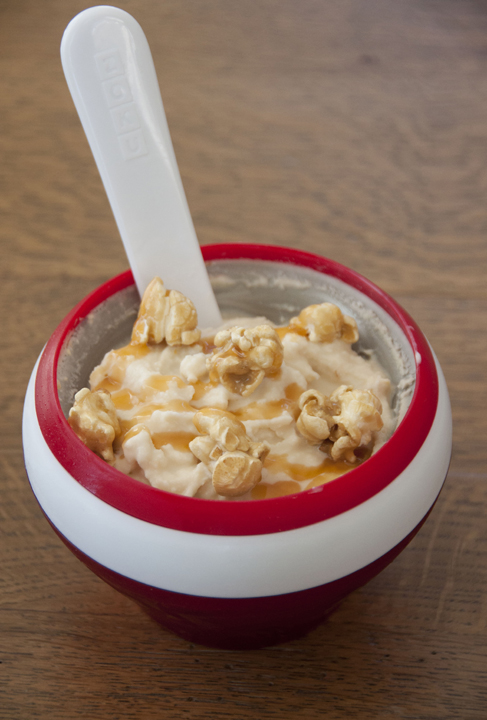 Caramel Popcorn Soft Serve Ice Cream
This soft serve ice cream is just soft enough to stir in crushed caramel popcorn, and for extra fun, is sprinkled with whole caramel popcorn and caramel drizzle.
Ingredients
¼ cup caramel popcorn (store-bought or homemade), crushed
1.5 cups whole milk
1.5 cups heavy whipping cream
⅔ cups granulated sugar
¼ teaspoon Kosher salt
1 tablespoon, plus 1 teaspoon vanilla extract
Extra caramel popcorn, left whole, for topping
Caramel sauce, for drizzling on top
Instructions
Freeze Ice Cream Maker (just the inner bowl) upright in the freezer for at least 12 hours.
Whisk together the milk, cream, sugar, vanilla and salt for 2-3 minutes until the sugar has dissolved.
Chill in the refrigerator for several hours or until 40 degrees F or colder.
As soon as you take it out of the refrigerator, pour half the mixture (or until it reaches close to the top of the bowl) into the Zoku Ice Cream Maker and continuously stir for about 10 minutes so ice cream doesn't stick to the sides of the bowl. Ice cream will begin to form.
Stir in crushed caramel popcorn as ice cream starts to form.
Stick back in the freezer for about 10 minutes, if needed.
Top with extra caramel corn pieces and a drizzle of caramel sauce/ice cream topping.
Repeat process with extra mixture after you have frozen the ice cream maker for another 12 hours. Enjoy!
 Disclaimer: Zoku gave me an Ice Cream Maker for review purposes and is also mailing the prize to the winner of the giveaway. My opinions remain entirely my own.