Pecan Toffee Bars
This recipe for Pecan Toffee Bars would be fabulous on any dessert platter for the holidays or any occasion. They also make for an awesome edible gift!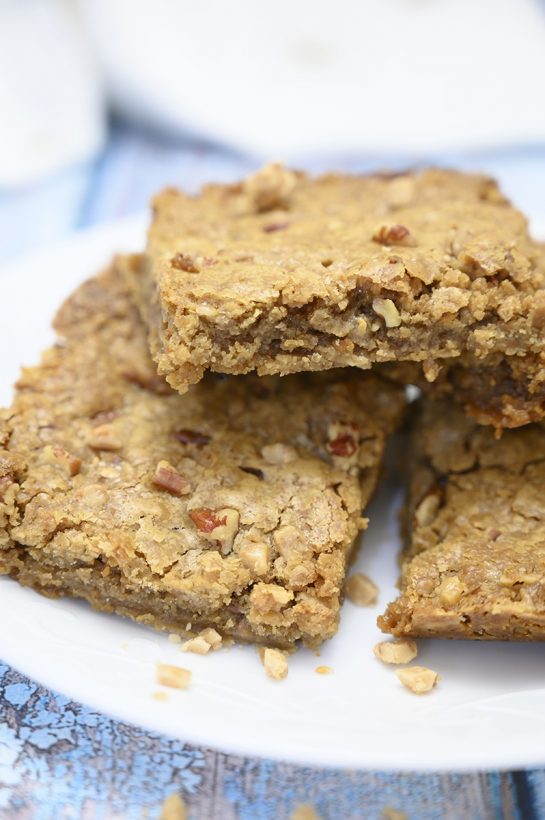 Holiday baking, am I right? I always try to make new things for the holidays but then I miss the old tried and true recipes that I make every year. I try to do a little of both: some oldies but goodies as well as some newbies. These Pecan Toffee Bars are newbies and absolutely scrumptious.
I know that it's a leeeettle too early for me to be in on Christmas dessert things, but I guess normal people plan earlier than, oh, say… two days before. Plus, these Pecan Toffee Bars are just as good for Thanksgiving as they are for Christmas. Everyone else is sharing holiday dessert recipes and I hate feeling left out.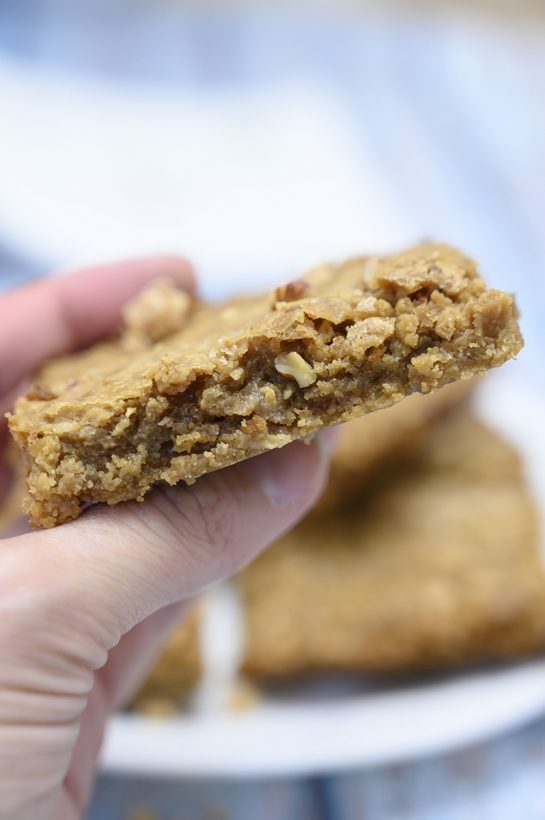 I hold Wishes and Dishes solely responsible for my obsession with pecan pie things like my classic Pumpkin Pecan Cobbler. And I say "things" because the THING is that I don't really care about pecan pie in… pie form. I only like pecans in cheesecake, brownies, bars and what not. Oh, and my Pecan Pie Bark.
Plus, these desserts are way less work than dealing with making pie crusts – chilling, rolling, etc.! I guess my Mini Pecan Pumpkin Pies are the exception to that, though, because there's no rolling or conventional pie crust involved.
My good friend I met through blogging, Mary, recently published a new cookbook. This latest cookbook of hers is called "The Weeknight Dessert Cookbook" sold on Amazon. She shares a collection of recipes made from scratch with simple ingredients that you can easily whip up on a busy weeknight.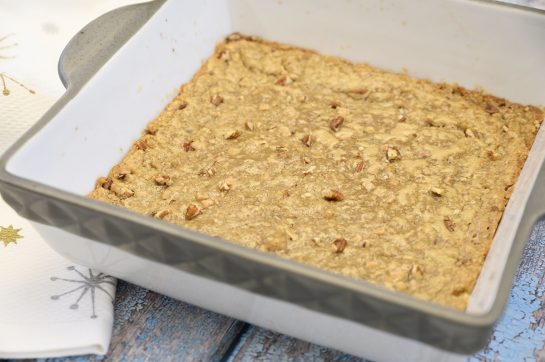 When thumbing through her book I found so many recipes that I want to try that surprisingly look very easy to make. I also had pretty much all of the ingredients already and didn't even have to make a grocery store run. Winning! Especially since I hate going to the grocery store just for one or two things (and I refuse to pay extra money for Instacart, haha).
Now, that being said, Mary's recipe actually uses walnuts instead of pecans. Whoa is me because I only had pecans (which is totally fine in this recipe). So, that is the one and only thing I changed was the nuts used in these bars. Feel free to use walnuts OR pecans – whatever you have on hand. The beauty of a lot of her recipes is that they are easily adaptable and still turn out perfectly.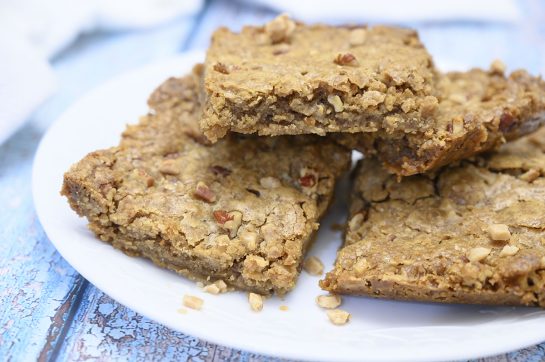 This is such a super decadent, rich dessert. There are only a handful of times that desserts like this work and, guys, this is it. OK, my pecan pie bars are also to die for. So curl up with a hot cup of coffee and enjoy one these Pecan Toffee Bars soon! Also, check out Mary's book soon! Black Friday breakfast anyone?

Pecan Toffee Bars
Prep time:
Cook time:
Total time:
This recipe for Pecan Toffee Bars would be fabulous on any dessert platter for the holidays or any occasion. They also make for an awesome edible gift!
Ingredients
½ cup butter, melted
1 cup light brown sugar
2 tsp pure vanilla extract
1 cup all-purpose flour
1 large egg
¼ tsp salt
1 cup chopped nuts (walnuts OR pecans, or mix them), divided
1 cup toffee bits, divided
Instructions
Preheat the oven to 350 degrees F. Line an 8x8 inch square pan with parchment paper or grease well.
Combine butter and brown sugar in a large mixing bowl.
Add the egg and vanilla and stir until combined.
Add flour and salt; stir well.
Mix in the walnuts/pecans and toffee bits (make sure you reserve 2 tablespoons of nuts and 2 tablespoons of toffee bits for later).
Transfer into the prepared baking pan and spread evenly with spatula or spoon.
Sprinkle with the reserved nuts and toffee bits.
Bake for 25-28 minutes or until toothpick inserted into center comes out mostly clean.
Let bars cook; cut and enjoy!