Strawberry-Filled Patriotic Cupcakes
Homemade recipe for Strawberry-filled Patriotic cupcakes: Red, White and Blue pound cake cupcakes.  These are topped with delicious, sturdy whipped cream cheese icing and perfect for Memorial Day or 4th of July!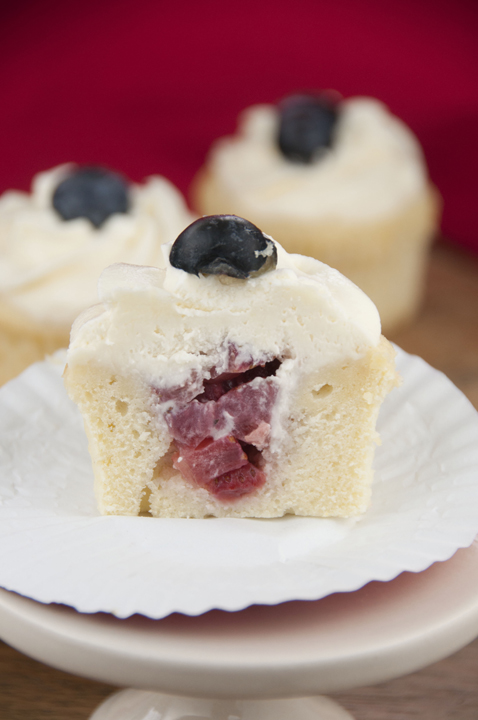 My fellow baking-fanatic friend, Christina, made these very awesome patriotic cupcakes and brought them to our church small group a few weeks ago.  The theme was "patriotic" and she definitely nailed it with these!
This was the most fitting and creative way to incorporate red, white, and blue into a dessert and they tasted as good as they looked.  I just HAD to get the recipe she used (that she mostly improvised, because she is good like that) and make them myself. These were perfect for Memorial Day, but would be just as perfect for a 4th of July dessert!
Don't get me wrong, I love a fluffy cupcake, but these pound cake patriotic cupcakes were super dense and I liked that for a change.  They were truly what a pound cake SHOULD be.
I was very pleased with the finished patriotic cupcakes: the flavor was wonderful, they were incredibly moist & I didn't miss the extra 1/2 cup of sugar that I decided to leave out at the last minute.  It's a keeper!
This is a YUMMY whipped cream frosting that is very stable and does not melt at room temperature unlike many standard whipped cream frostings and I just loved that, especially for the summer.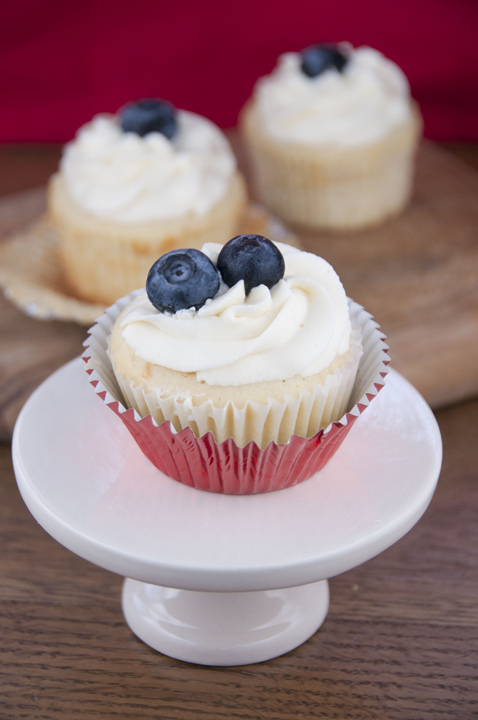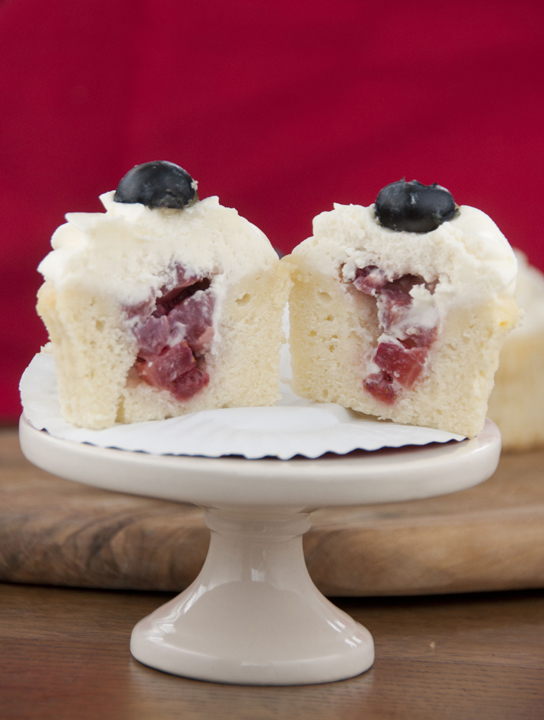 Strawberry-Filled Patriotic Cupcakes
Prep time:
Cook time:
Total time:
Recipe for Strawberry-filled Patriotic Red, White and Blue pound cake cupcakes with whipped cream cheese icing - perfect for Memorial Day or 4th of July!
Ingredients
Cupcakes:
½ pound (2 sticks) butter
2.5 cups sugar
1 cup sour cream
½ teaspoon baking soda
3 cups all-purpose flour
6 large eggs
1 teaspoon vanilla
¼ cup fresh lemon juice
1 tbsp lemon zest
blueberries, for topping
Frosting:
1 (8 ounce) package cream cheese, softened
½ cup white sugar
1 teaspoon vanilla extract
½ teaspoon almond extract
2 and ½ cups heavy cream
Strawberry Filling:
32 ounces of fresh strawberries (1 quart), washed, hulled and finely diced
¼ cup sugar (less if strawberries are already really sweet)
OR you can just use strawberry jelly or preserves
Instructions
Sprinkle the sugar on strawberries and toss to coat; let sit at room temperature 30 minutes or so to macerate.
Preheat oven to 325F degrees. Line muffin pan with cupcake liners. Set aside.
In a large mixing bowl, cream the butter and sugar together.
Add the sour cream and mix until incorporated.
Sift the baking soda and flour together. Add this to the creamed mixture alternating with eggs, beating in each egg 1 at a time.
Add the vanilla, lemon juice and lemon zest and beat carefully until combined.
Divide batter among cupcake liners, filling about ⅔ full, and bake for 18-22 minutes or until a toothpick inserted in the center comes out clean (I always check early to make sure they don't over-bake).
Once cupcakes have completely cooled use a cupcake plunger, knife or spoon to scoop/carve out the interior of the cupcake from the top. (I found my cupcake plunger at TJ Maxx but they can be found online). The hole will be about ¾ inch deep - make sure you don't hit the bottom of the cupcake.
Use a spoon to fill each cupcake with strawberry mixture.
Use a pastry bag to pipe whipped cream frosting (directions below) on top of cupcake once they are filled with the strawberries. I iced with my Wilton 1M piping tip.
Garnish with a blueberry (or two) if desired.
Cover and store cupcakes in the refrigerator for up to 3 days. Whipped cream frosting and filling may be made 1 day in advance and stored in the refrigerator.
Frosting:
Combine the cream cheese, sugar, vanilla extract and almond extract in a large mixing bowl or the bowl of a stand mixer.
Fit the mixer with the whisk attachment and mix on medium speed until smooth.
While the mixture is still whipping, slowly pour in the heavy cream. Stop and scrape the bottom of the bowl a couple of times while you continue whipping until the cream can hold a STIFF peak.