Mini 4th of July Strawberry Trifles
This is a dessert recipe for an incredibly simple and festive red, white and blue mini 4th of July Strawberry Trifles made with fresh strawberries!  These would also be perfect for Memorial Day!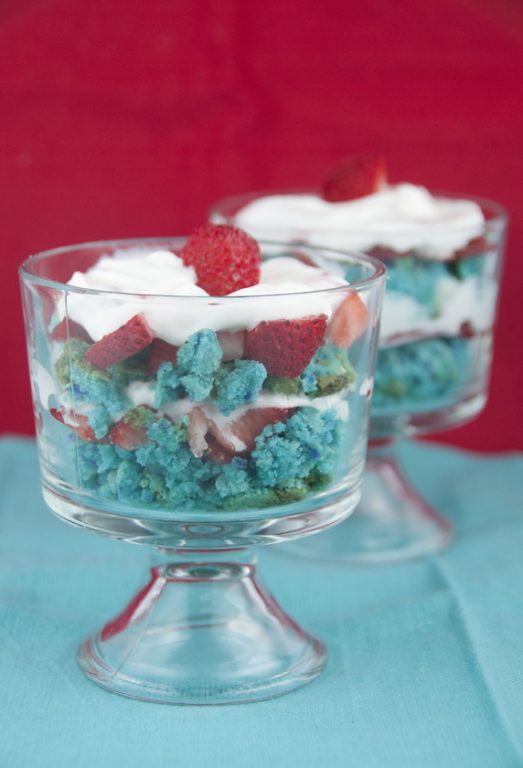 It is absolutely blowing my mind right now that July 4th is coming up so soon.  I am excited to share these 4th of July Strawberry Trifles. Can you believe that the year is already almost halfway over and done with?  Time just really flies!  This means I must be getting old.
I came up with this cool idea for the perfect dessert for any 4th of July BBQ or party that you might be attending this year.  These Mini 4th of July Strawberry Trifles are just super fun, perfect for both kids and adults, and an overall impressive recipe for 4th of July or Memorial Day.  The colors are so vibrant and will look great on that dessert table of yours.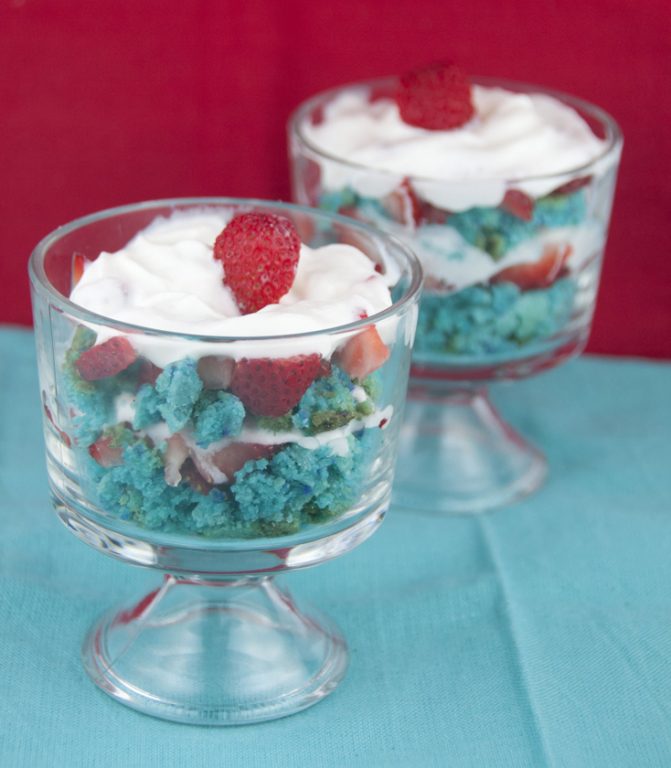 What I love most about trifles is that they are super easy, inexpensive, versatile and very colorful to look at!  You can easily double the recipe to make 8 mini trifles (since you will already will have more than enough cookies) or create one large trifle with the ingredients for a fun twist.
Honestly, when it comes to the measurements for these, you don't have to be exact.  The whole point is basically just layering the ingredients to your liking.  The exact amounts of each ingredient are totally up to you! It's just all about making them look pretty since we eat with our eyes. For another fun, festive dessert, try my Firecracker Pop Rocks Cookies.
So, go "4th" and make these pretty, patriotic Mini 4th of July Strawberry Trifles for your 4th of July weekend or Memorial Day weekend festivities!  Did you catch my joke? I'm so funny, right?!  You can also check out more patriotic recipes that I have on my blog here.  Enjoy!
Mini 4th of July Trifles
Serves:
4 servings for mini trifle bowls
This is a dessert recipe for a simple and festive red, white and blue mini 4th of July Strawberry Trifles with fresh strawberries! Perfect for Memorial Day!
Ingredients
*Amounts don't have to be exact - just make the layers look pretty and neat!
1 tablespoon sugar
2 cups heavy whipping cream
1 teaspoon vanilla
1 lb fresh strawberries, hulled, cut into bite-size pieces
Instructions
Bake cookies according to package directions (you won't be using all of them for these trifles so if you want, you can make a half batch).
Finely crumble cooled cookies with hands into medium bowl or directly into mini trifles (you can also use mason jars or small glasses).
In bowl of stand mixer fitted with whisk attachment, place cream, 3 tablespoons of the sugar and the vanilla; beat until stiff peaks form. (Just a few minutes with a stand mixer; it will take longer with a hand mixer.)
Refrigerate until ready to use.
Place strawberries in medium bowl; sprinkle with 1 tablespoon sugar; mix gently.
To assemble trifles, place a layer of crumbled blue cookies (measurements don't have to be exact) in bottom of each of 4 mini trifle dishes; press down to compact.
Top each with equal parts of the strawberries and a few tablespoons of whipped cream. Repeat layers; top each with a single cut strawberry. (You will have whipped cream left over but can use it for so many things!)
Store trifles in refrigerator until ready to serve. Serve trifles the same day they are made for best results.