Cinnamon Roll Dip
Easy Cinnamon Roll Dip is a decadent, crazy simple dessert recipe for any holiday or a sweet breakfast idea! It only takes about 15 minutes from start to finish!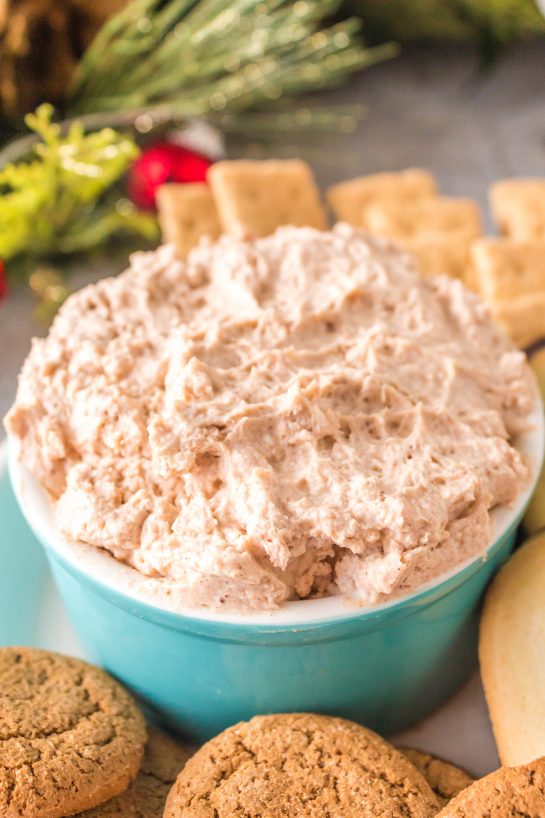 Cinnamon Roll Dip to the rescue! Let me ask you a question. Do you ever have a serious craving for delicious Cinnamon Rolls, but don't want to go to all of the trouble of making them? Let's be honest, they are a lot of work to make from scratch and it can be daunting.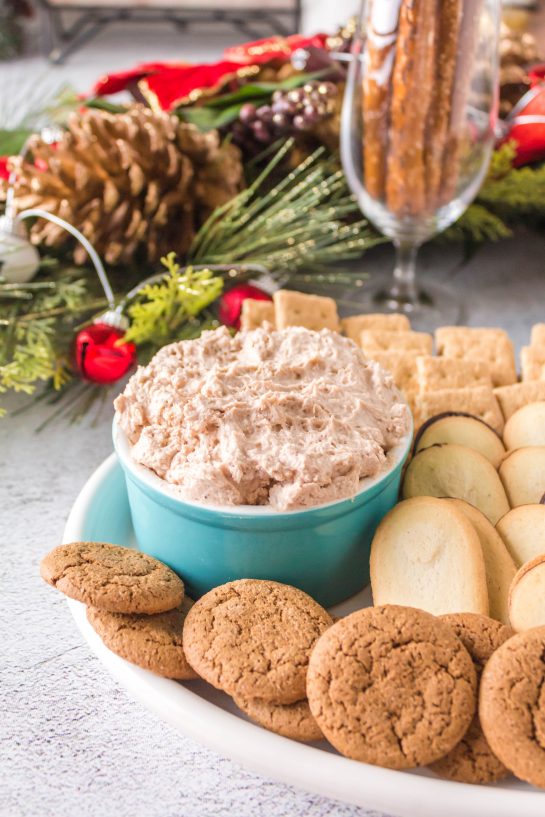 Cinnamon rolls are worth every second of the effort, but they are a big time commitment. I have whipped up a quick and easy recipe for a Cinnamon Roll Dip that will take you all of 10 minutes to prepare. With the holidays upon us, everyone loves the smell of cinnamon rolls and this recipe will have everyone excited.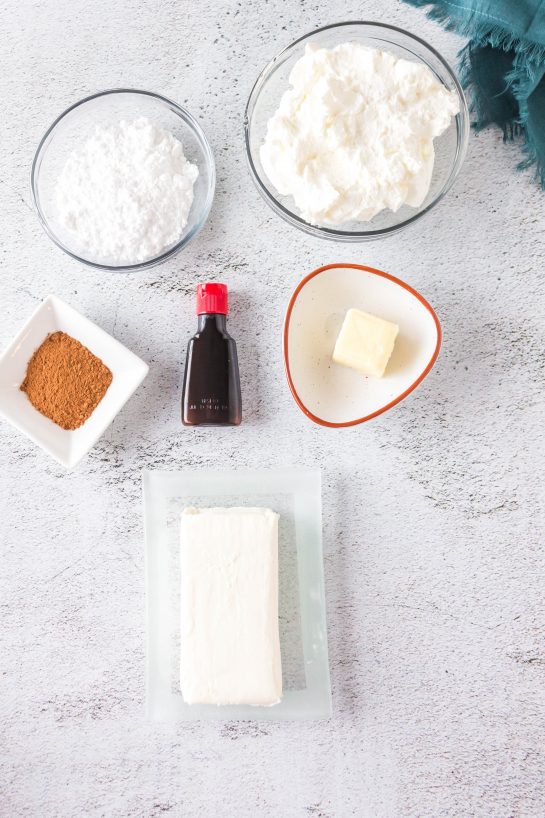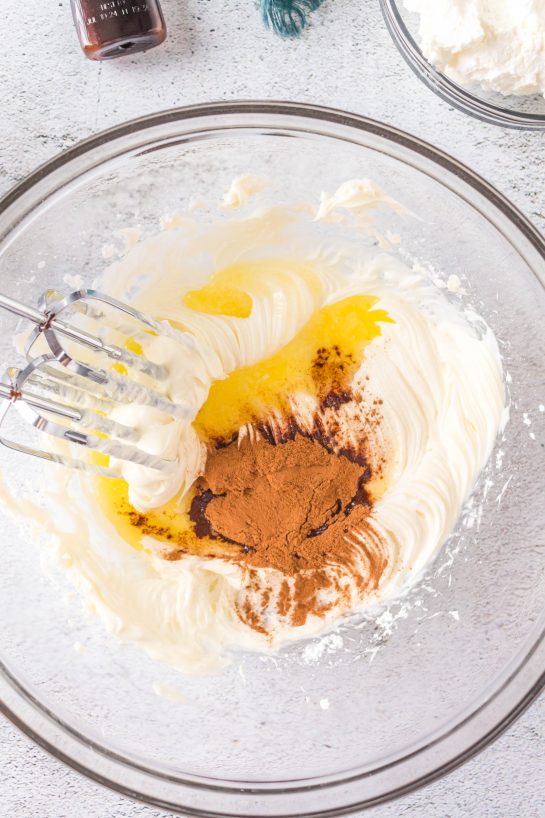 You won't be able to NOT keep going back for more of this Cinnamon Roll Dip! I guarantee if you like cinnamon rolls, you will DIE when you eat this. This dip is SO amazing. Since this has a cinnamon roll taste, it's perfectly acceptable for breakfast.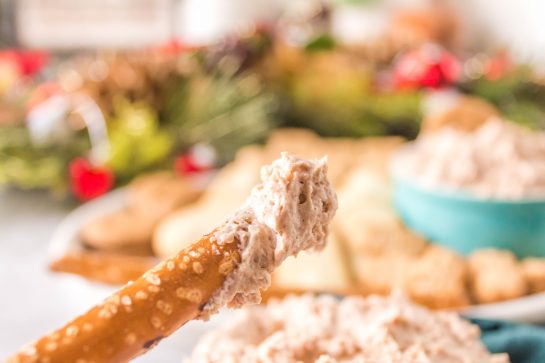 You may be asking what you are supposed to dip in the cinnamon roll dip? You can feel free to dip anything you like! I like to use graham crackers, apples, pretzels, animal crackers, or whatever you want! I've tried it with strawberries, as well. For wintertime, I feel that graham crackers work the best. I also love to serve it with Ginger Snaps.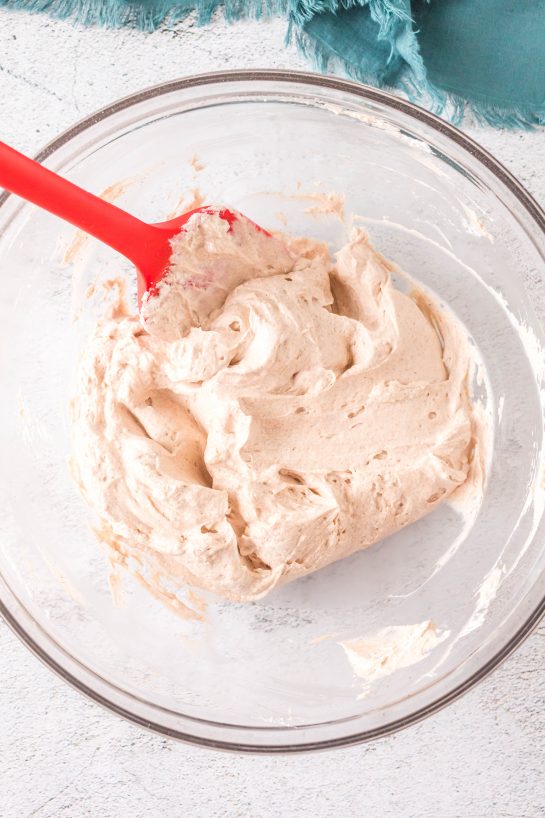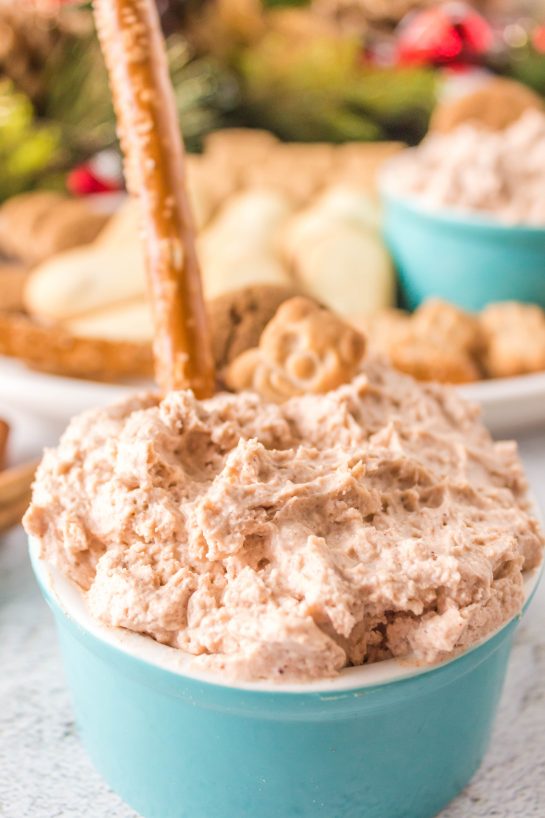 Serve this amazing dip to hungry teenagers, your Christmas or Christmas Eve company, church pot lucks, work parties, or New Year's Eve! I cannot ever get enough of dessert dips. They are some of my favorite treats of the entire year!
Perfect Cinnamon Roll Dip is waiting for you! This isn't specifically a holiday dessert and you can serve this up for any occasion or just a family movie night. Enjoy!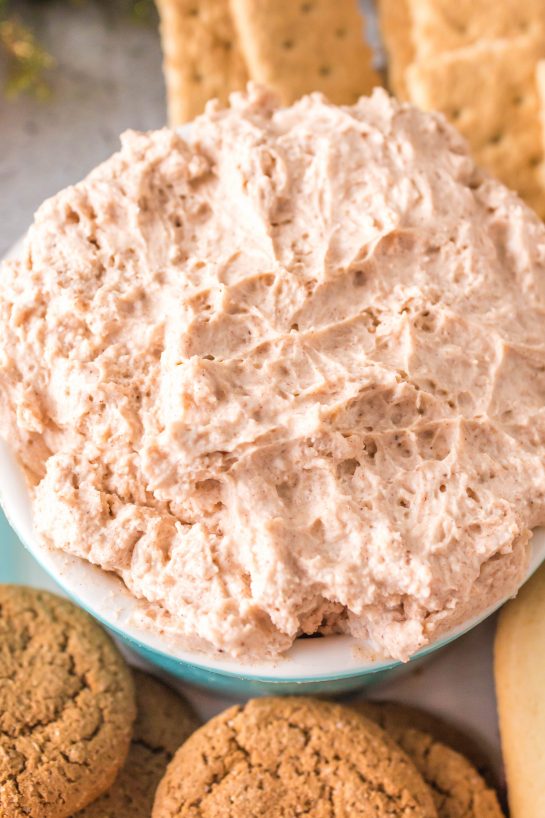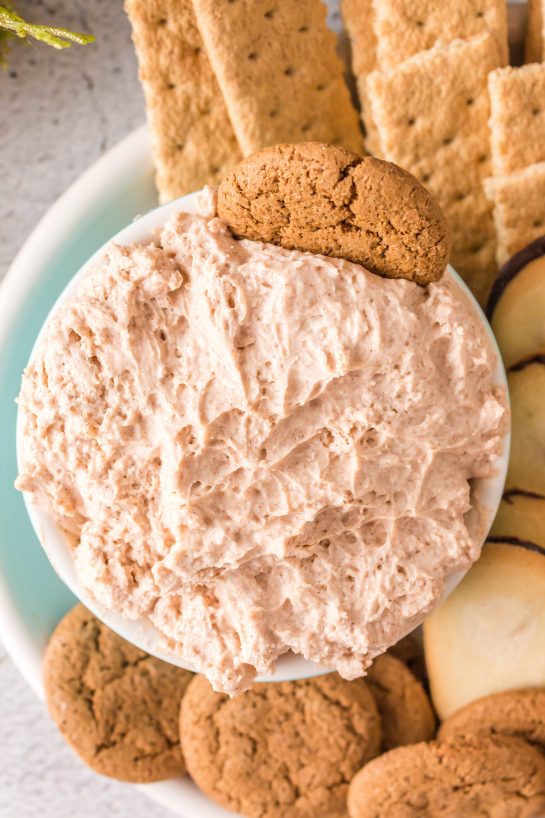 FAQs
You can keep the dip for 2 days in the fridge in an airtight container. If you used homemade whipped cream it may separate, gently remix before using.
Can I freeze the dip?

I would recommend not freezing the dip because of the dairy content.

We spread some of the dips over cookies to make sandwiches, over brownies, or as a cupcake frosting.
Keep the dip refrigerated until ready to use.
If you will take the dip to a gathering where the dip will be out of the fridge for a prolonged time (serving table), I recommend using a Cool whip and discard the leftovers. If you want to use homemade whipped cream put some ice around the bowl.
In my opinion, the homemade whipped cream makes a fluffier more decadent dessert. Sometimes life needs to be fast and we need shortcuts and Cool Whip is a great substitute to make this dessert.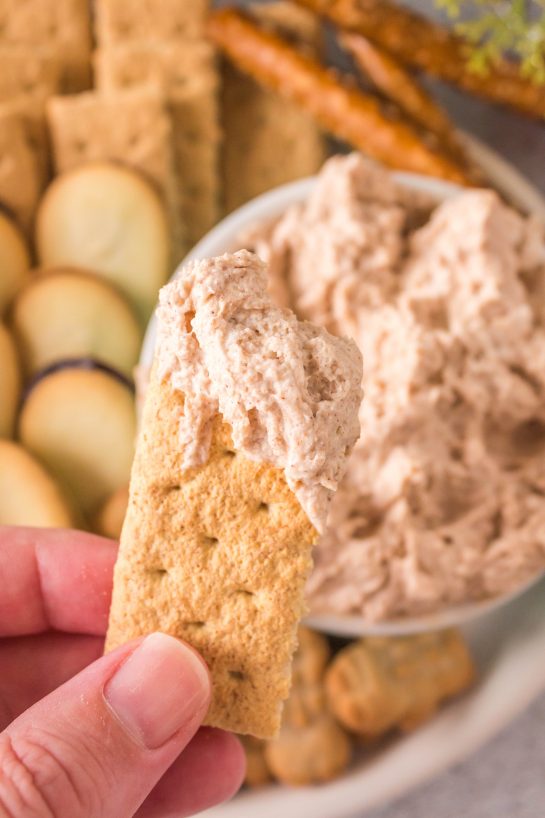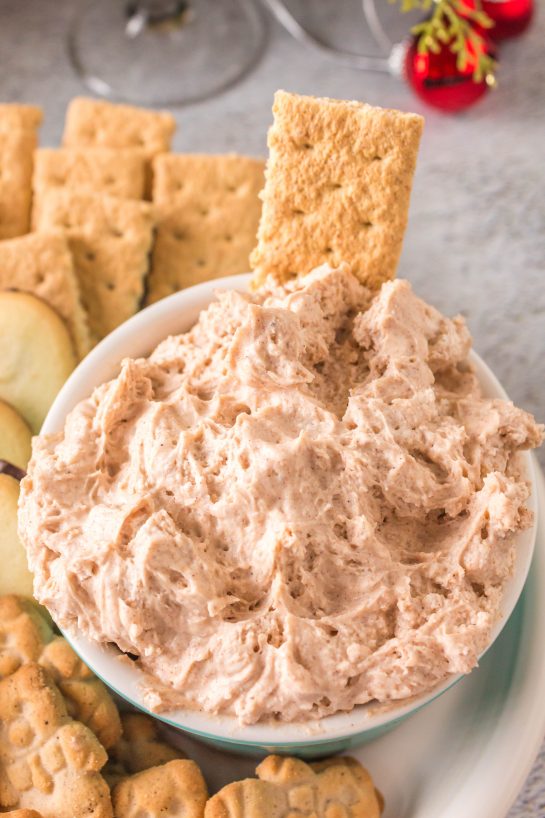 If you are a lover of all things cinnamon rolls, don't forget to take a look at my other Cinnamon Roll Recipes to try:
Crock Pot Cinnamon Bun French Toast
Copycat 1 Hour Cinnabon Cinnamon Rolls
Crock Pot Cinnamon Roll Casserole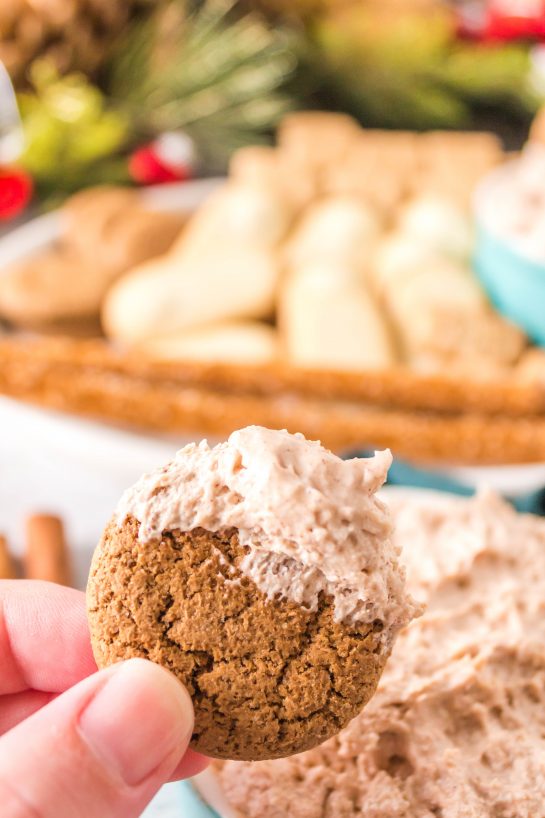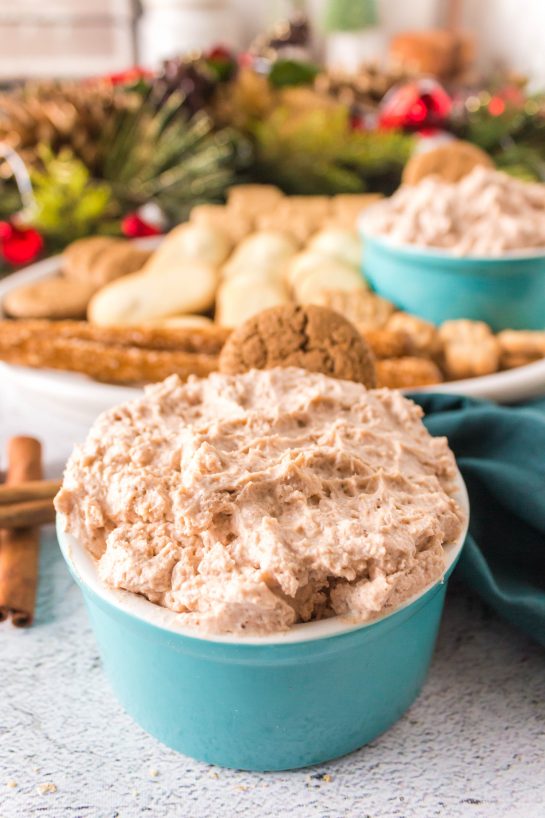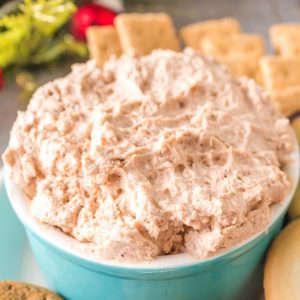 Cinnamon Roll Dip
Easy Cinnamon Roll Dip is a decadent, crazy simple dessert recipe for any holiday or a sweet breakfast idea! It only takes about 15 minutes from start to finish!
Ingredients
1

pack

8 oz cream cheese, room temperature

½

cup

powdered sugar

2

tablespoons

salted butter

melted and cooled (you can use unsalted)

1

tablespoon

ground cinnamon

1

teaspoon

vanilla extract

1 ½

cup

whipped cream

see note

Favorite cookies for dipping
Instructions
If you are making homemade whipped cream, gather all your ingredients (see note). Set aside.

In a large mixing bowl, mix with a hand mixer the cream cheese and powdered sugar together. Until all combined. (see note)

Add the cooled, melted butter, ground cinnamon, and vanilla extract.

Mix until all your ingredients are incorporated.

Add the whipped cream and fold in with a spatula. (Using a spatula instead of the hand mixer allows to not deflate the whipped cream) If you used Cool Whip you can use the hand mixer it won't deflate the cream

Pour into your favorite bowl and place in the fridge for 15 minutes (this helps to combine flavors and is easier to scoop).

Serve and Enjoy!
Notes
*NOTE* Why using a hand mixer? By using a hand mixer, you incorporate air in the mixture to make it nice and fluffy. If you do not have a hand mixer, a stand-up mixer or a whisk can work just as well.
!BAKER'S NOTES:
INGREDIENTS SUBSTITUTION

If you are making your whipped cream, you will need 1 cup of heavy cream, 2 tablespoons of confectioner sugar, and a dash (1/8 teaspoon) salt.

In a hand mixer or stand-up mixer (clean: traces of oil or grease may make your cream may not fluff and cold if possible)
Whipped the cream by itself until soft peaks. This means when you take the whisk off some of the creams will try to form a peak but then fall back. At this point add the sugar and salt.
Keep whipping until stiff peaks. When you take your whisk out of the cream it keeps shape and you have a nice peak.
Keep cold until ready to use.
!*NOTE* Yes, 1 cup of heavy cream leads to 1 ½ cup of whipped cream.
If you don't want to use homemade cream, you can substitute it with Cool Whip (4 oz) tub.
CHEF'S TOOLS

Mixing Bowls: Anchor and Hockings Glassware
Hand Mixer: Oster Heatsoft