Crock Pot Cinnamon Roll Casserole
Easy, delicious, Gooey Crock Pot Cinnamon Roll Casserole is sure to be a favorite Christmas morning recipe for breakfast, brunch, any holiday feast or when you want breakfast for dinner! Your family will devour this!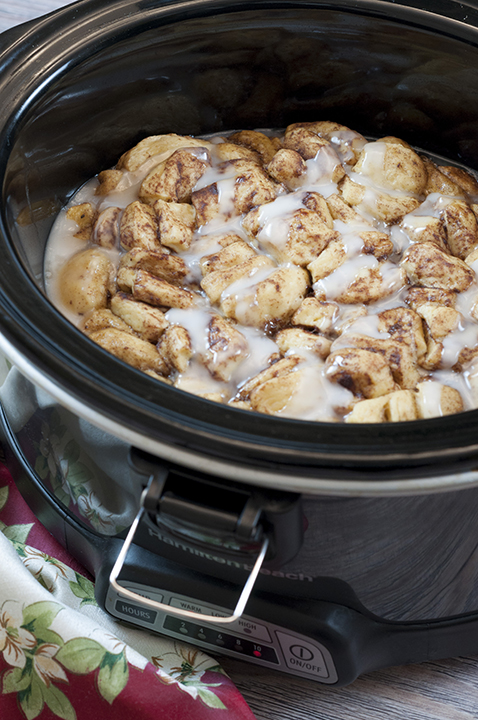 You guys, I just made the absolute best thing the other day and I didn't even plan on sharing anything today.  After making this Crock Pot Cinnamon Roll Casserole, I knew I had to get it in before my favorite holiday of the season.  It seriously melts in your mouth and I can't stop thinking about it ever since I made it! These babies would be great for any holiday (think Christmas or Easter) or a weekend breakfast or brunch alongside this Egg and Sausage Buttermilk Biscuit Casserole.
I'm so glad you're here! Follow along on Pinterest for more inspiration!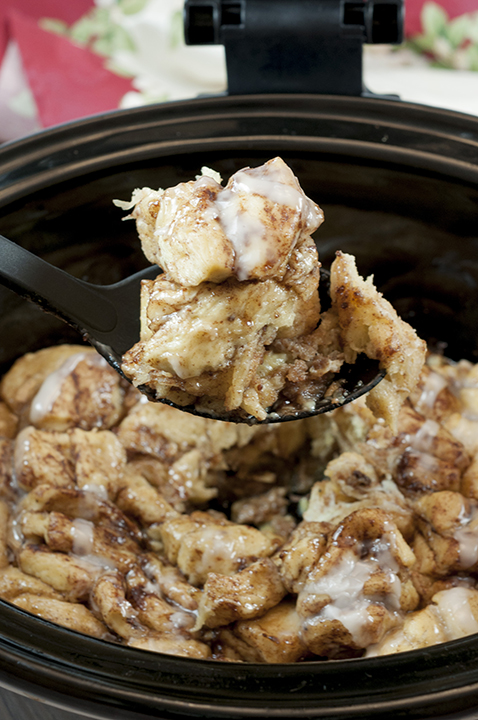 I normally make most of my food from scratch, but I have said before how much I love a good shortcut.  There is definitely a time and a place for them, right? Those times happen a lot during the holidays when you're making 394929285 dishes at once. This Crock Pot Cinnamon Roll Casserole uses one of those shortcuts by using store-bought cinnamon rolls.  Honestly, I did not expect to love this casserole as much as I did! Who wants to spend their time baking on Christmas morning when there are presents to be opened and family to spend time with?
These cinnamon buns are cut into quarters and then stirred together with a mixture of eggs, maple syrup, spices, and cream. It bakes up to perfection right in the slow cooker and is topped with the icing and served warm.  I can not say enough about what a huge fan I am of this delicious idea and I love crock pot recipes!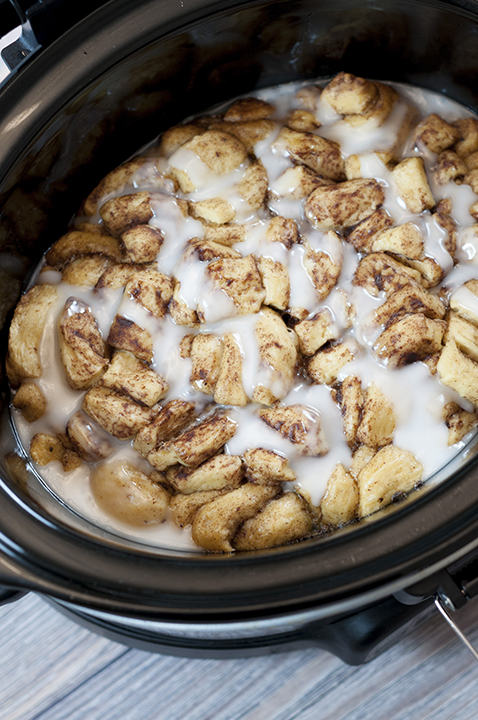 As is true for any cinnamon roll recipe, they can be a suitable breakfast or dessert. I mean, I'm a huge advocate of eating dessert any time of the day I darn well please. Cinnamon buns are appropriate for the morning or night. I think this casserole would be the best when having company or house guests for the holidays! It only cooks for a couple of hours, so you can easily whip it up in the morning and cook it while preparing your other breakfast food. This Crock Pot Cinnamon Roll Casserole is so quick to just throw together and you'll have a delicious treat in no time at all. You also have to try my similar Crock Pot Cinnamon Bun French Toast You may just have a new favorite holiday tradition!
Watch my "How To" Video below to see the recipe in full on action!
Crock Pot Cinnamon Roll Casserole
Prep time:
Cook time:
Total time:
Easy, delicious, Gooey Crock Pot Cinnamon Roll Casserole is sure to be a favorite Christmas morning recipe for breakfast, brunch, any holiday feast!
Ingredients
Two 12-ounce cans cinnamon rolls, cut into quarters
4 eggs
½ cup heavy whipping cream
4 tablespoons maple syrup
2 teaspoons vanilla
1 teaspoon cinnamon
1 teaspoon nutmeg
Instructions
Spray the inside of your Crock Pot/Slow Cooker dish with nonstick cooking spray or rub butter on bottom and sides.
Place a layer of cinnamon roll pieces to completely cover the bottom of your slow cooker. Set aside the icing packets.
Beat eggs in a small bowl.
Mix together the heavy cream, maple syrup, vanilla and spices until blended well; add to the eggs and mix all together.
Pour entire mixture evenly over the layer of cinnamon rolls in the slow cooker.
Spread the remaining cinnamon roll pieces evenly over the top and squeeze/spoon one packet of icing over rolls.
Cover and cook on low for 2.5 hours or until sides are golden and rolls are set. Mine took exactly two hours.
Switch heat setting to warm if not serving immediately.
Drizzle remaining icing packet over top and serve warm. Enjoy!
Recipe source: adapted from recipesthatcrock.com