Peanut Butter Thumbprint Cookies
Peanut Butter Thumbprint Cookies are a peanut butter lovers favorite cookie recipe and perfect for Christmas cookie exchanges!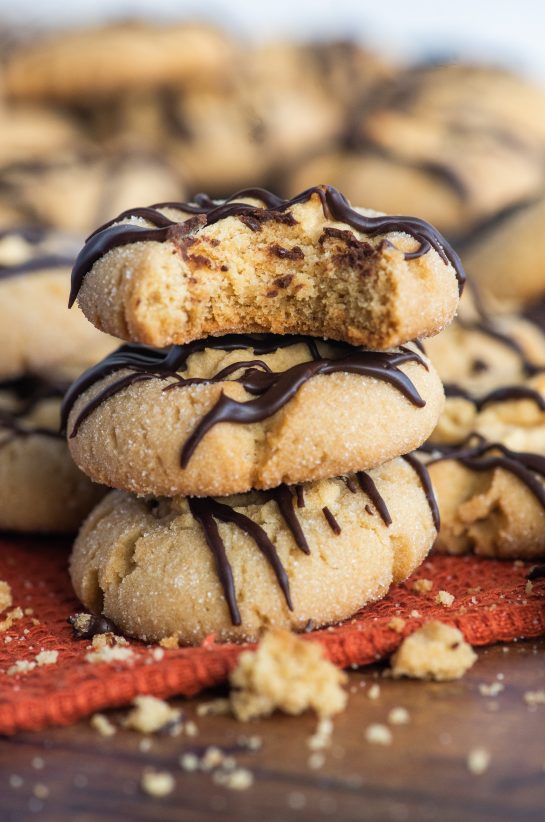 Christmas cookie baking season is here! We love making these Peanut Butter Thumbprint Cookies as a family! They're perfect for eating under the Christmas tree and leaving out for Santa with milk and a little note. These are truly one of my favorite Christmas cookie recipes.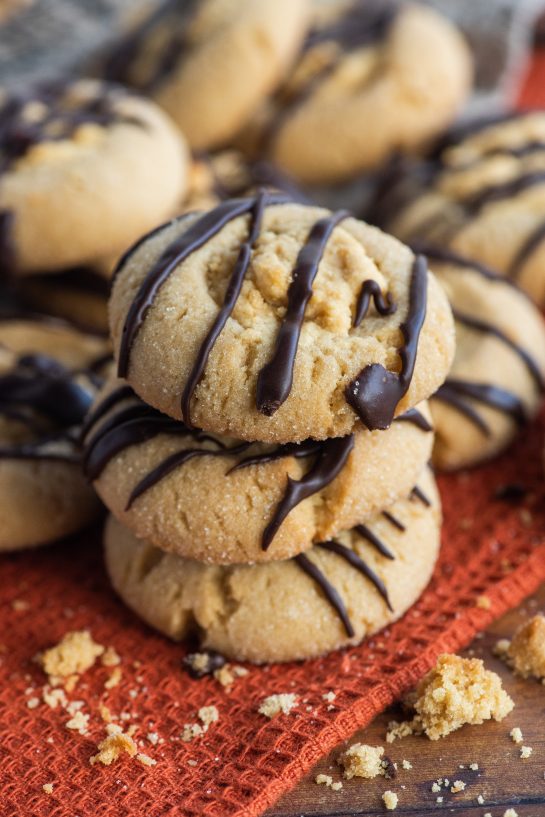 What do you do when you can't sleep? Think of peanut butter cookies then get up and start baking them right away? This may or may not have happened to me a few times in my life. In my defense, I was starvvvving. Starving I tell you.
There are Christmas cookie recipes floating around everywhere right now. Well, now it's here too. Sorry if that's not the answer you were looking for. But I promise these cookies are totally worth your while.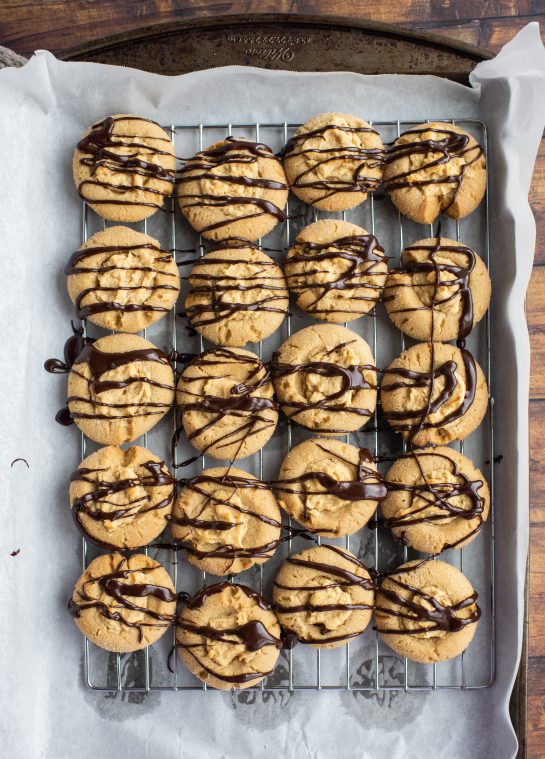 You may not think of peanut butter cookies when you think of Christmas cookies, but they are one of my all-time favorite cookies. Somehow I had these cookies for lunch. And a snack. And, well… maybe dinner.
Traditionally, I like to bake up Peanut Butter Blossoms every Christmas. Since I also like thumbprint cookies, I thought it would be awesome to make Peanut Butter Thumbprint Cookies! These are sort of a mash-up of peanut butter blossoms and thumbprint cookies.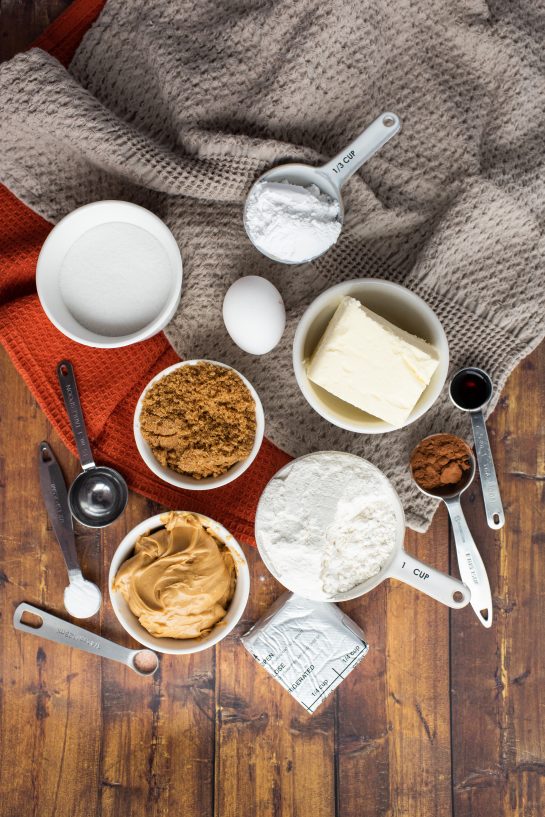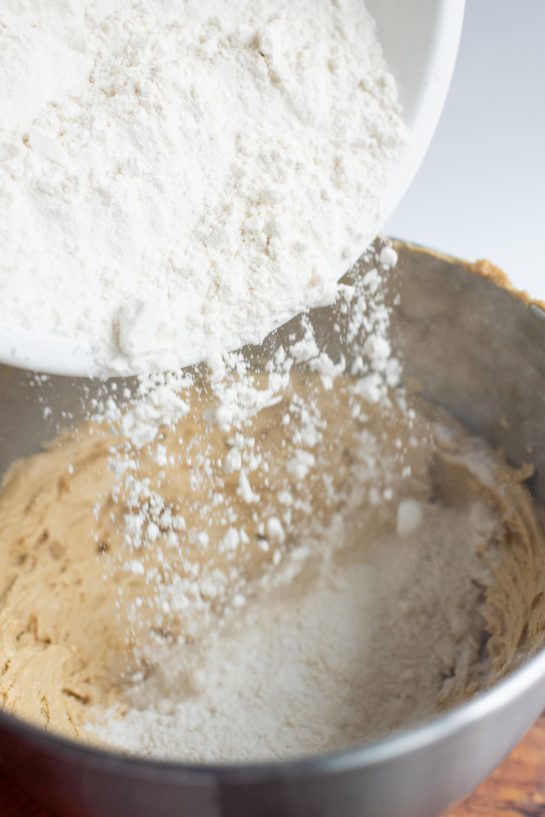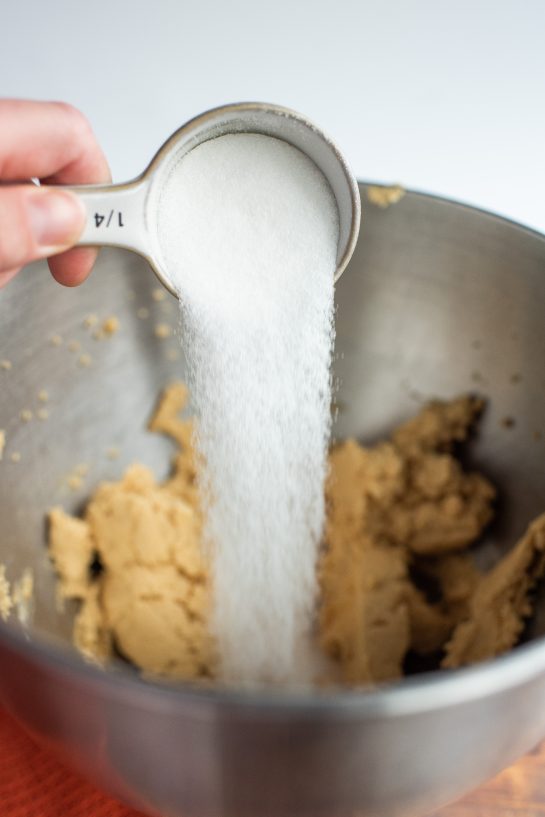 It is fun to turn a year-round favorite into a tasty seasonal treat perfect for a holiday party! Few things are more delicious in my book than peanut butter cookies and these have double the peanut butter goodness. They give my Peanut Butter Chocolate Soft & Chewy Crinkle Cookies some competition, for sure. These cookies are soft, delicious, and bursting with an incredible peanut butter flavor.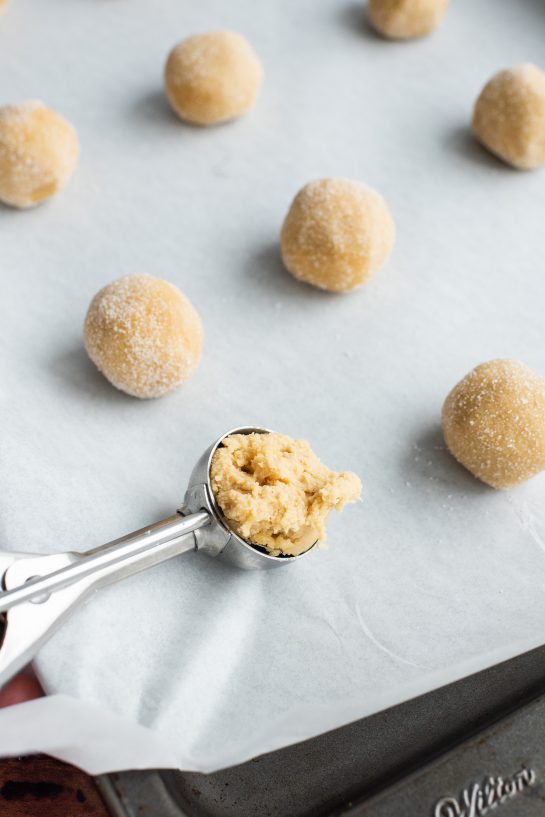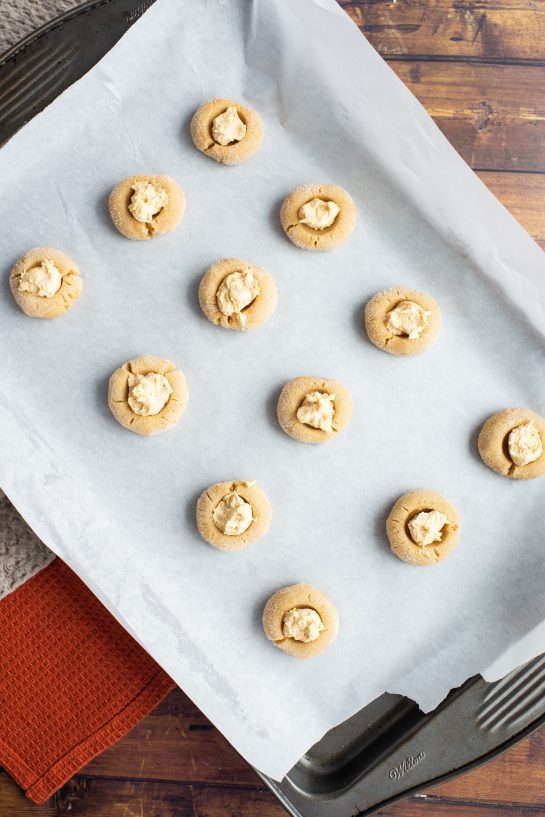 What's on everybody's Christmas list this year? I can't think of a single thing I want to put on my wish list. I know that sounds spoiled, but I look at it as I'm appreciate and fortunate that there's absolutely not one single thing I'm in need of. I wanted a new perfume, which was the only thing on my list.
Guess what? They stopped making my favorite perfume. It took me YEARS to find a scent that I loved and now they stopped making it. First world problems, I tell ya.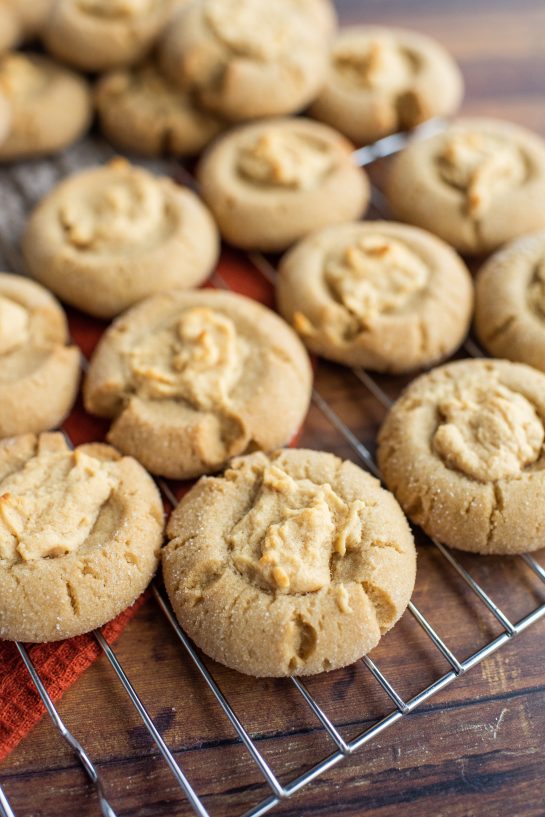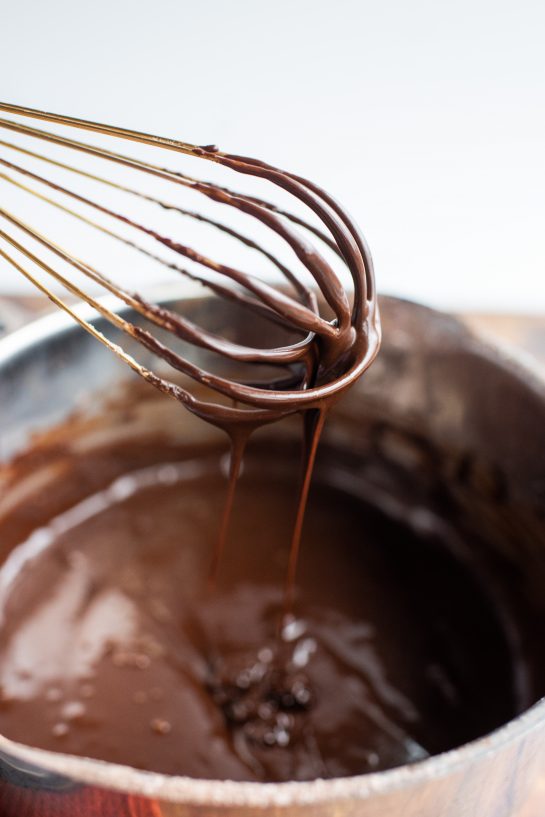 The good part is, I have a 3 year old daughter that still keep Christmas exciting and I'm fine with every single present under the tree being for her! Of course, I got a few things for Mr. Wishes, as well. I go overboard with her gifts and really struggle to find things for anybody else. Kids are easy – any toy basically makes them happy! Eliza's Christmas wish list this year…. "pink toys". Apparently, she doesn't care what toy it is as long as it's pink.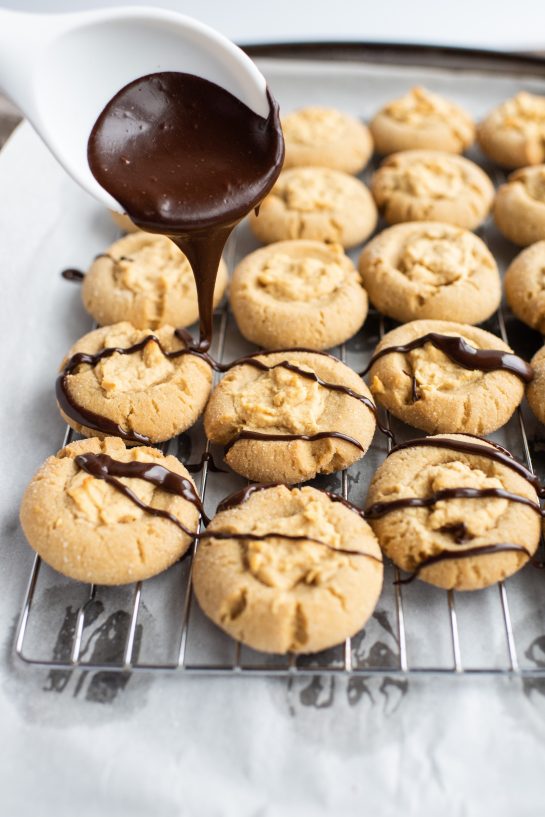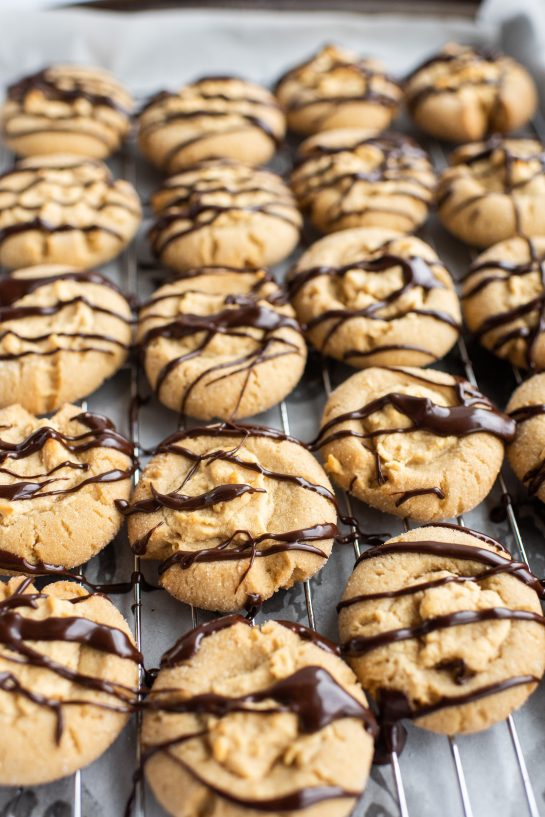 How to store these cookies:
So, if you try these Peanut Butter Christmas Cookies, be sure to let me know you liked them. I also have these Peanut Butter and Jelly Thumbprint Cookies if you want to add some fruit taste to your cookies. If you're not going to be devouring these cookies right away, I like to wrap them individually and store them on the counter or in the freezer to keep them fresh.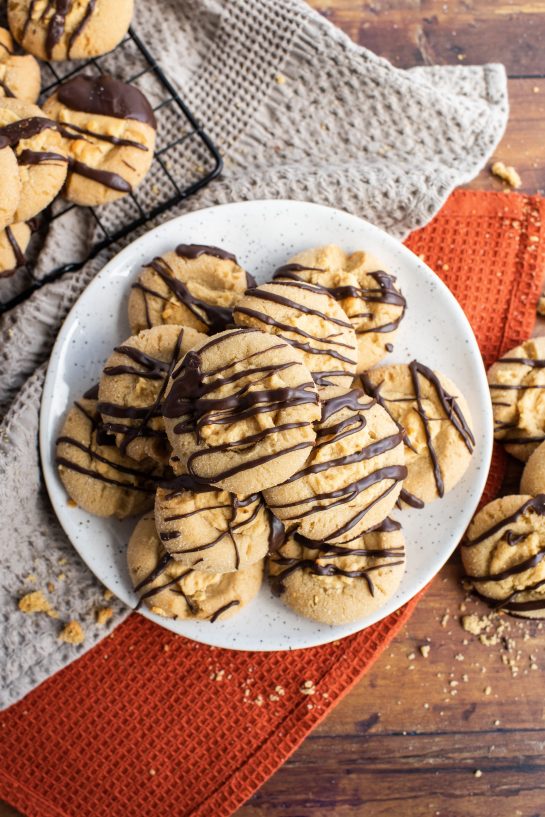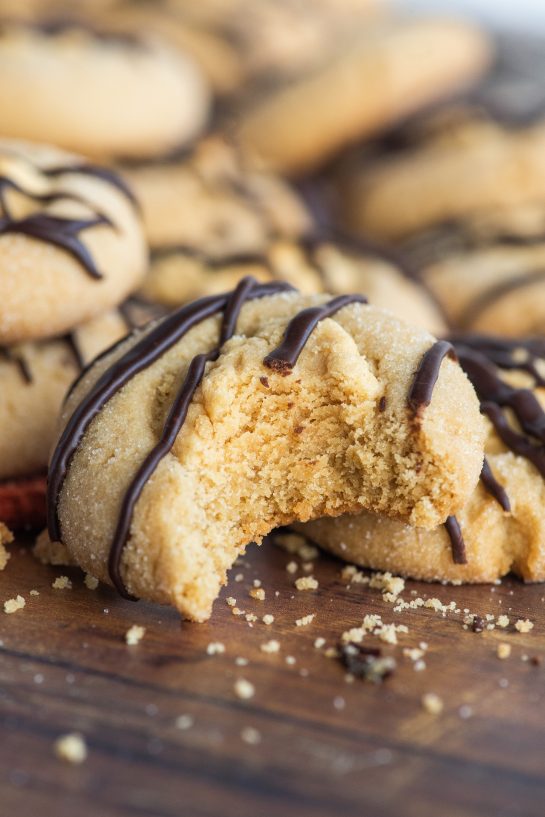 Once the chocolate drizzle on the cookies is cooled and set, you can also choose to store them in an airtight container. I normally separate stacks of the cookies with a sheet of wax paper or parchment paper between the layers so that they don't accidentally melt together and get messy if they get a little too warm.
Happy holiday season everyone!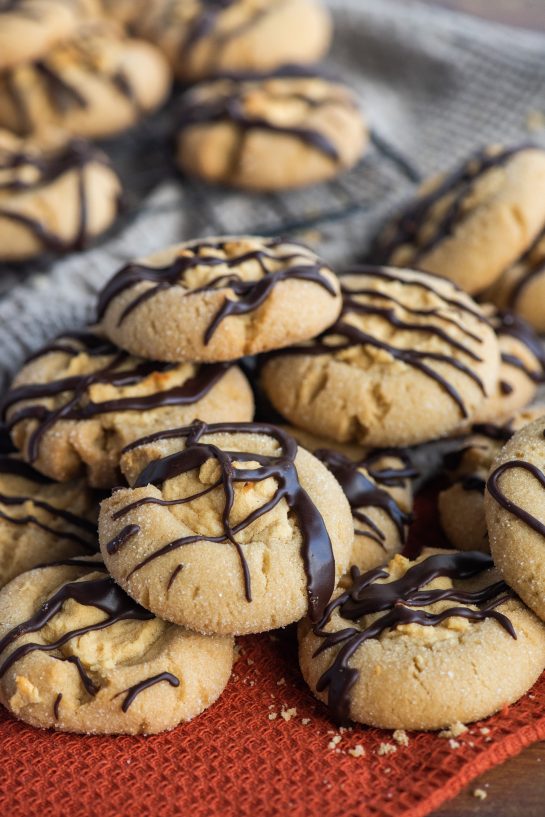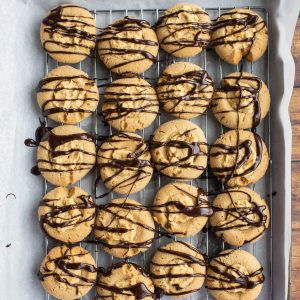 Peanut Butter Thumbprint Cookies
Peanut Butter Thumbprint Cookies are a peanut butter lovers favorite cookie recipe and perfect for Christmas cookie exchanges!
Ingredients
1

cup

unsalted butter

softened

1/2

cup

peanut butter

smooth kind

1 1/4

cup

of granulated sugar

divided into 1 cup and a quarter cup

1

cup

brown sugar

2

eggs

3

cups

all purpose flour

1

tsp

Baking soda

1/4

tsp

Salt
Filling:
1

4 oz.

cream cheese

softened (half a package)

1/2

cup

peanut butter

smooth

1/4

cup

granulated sugar

1

egg yolk

1

tsp

Vanilla extract
Drizzle Topping:
1

Tbsp

Salted butter

1 1/2

cup

powdered sugar

6

Tbsp

Cocoa

4-5

Tbsp

Water

1/2

tsp

Vanilla extract
Instructions
Preheat oven to 350 degrees F.

In a medium mixing bowl, mix together flour, baking soda, and salt. Set aside.

With an electric mixer, cream butter, peanut butter, brown sugar, and 1 cup of sugar until creamy.

Add eggs, one at a time, beating well after each addition.

Gradually add dry mixture to wet mixture.

Pour remaining 1/4 cup sugar onto a plate or small pour.

Roll dough into tablespoon sized balls and then roll in sugar. Place on baking sheet, approximately 2 inches apart.

Press 1/2 tsp. Sized indent into center of cookies.

Make filling by beating peanut butter and cream cheese until smooth.

Beat in sugar, egg yolk, and vanilla. Spoon approximately a teaspoon of filling into indent of cookies.

Bake 10-12 minutes, until slightly golden brown on edges. Allow to cool 5 minutes before moving to cooling rack.

Once cookies have almost completely cooled, make drizzle topping.

In a small saucepan, melt butter.

Remove from heat and whisk in powdered sugar and cocoa.

Add water, a tablespoon at a time, until desired consistency is reached.

Whisk in vanilla.

Drizzle over cookies and leave to set.