Cinnamon Roll Cake
This made from scratch Cinnamon Roll Cake recipe is the taste of cinnamon buns in a fraction of the time!  This cake is absolutely delicious.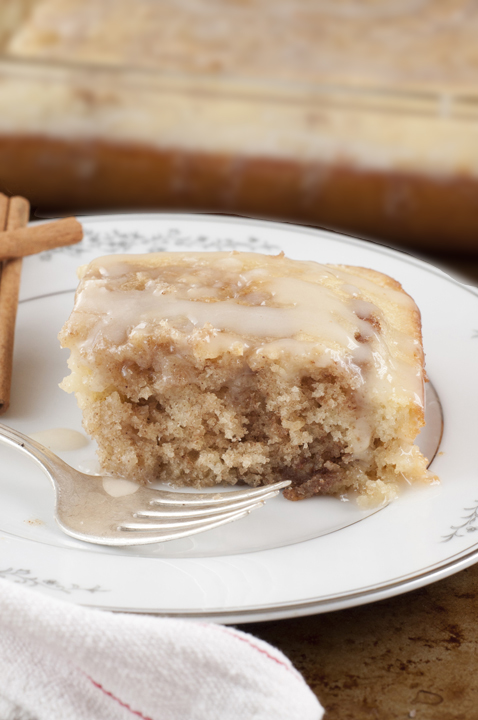 Hi guys! I have the best best BEST cake to share with you today!  I have made plenty of different cakes in my day, but I get really excited when I find a winner that I can make my new "go-to".  Cinnamon rolls are probably my number one favorite food in the entire world and this cake mimics them without having to spend hours rolling, kneading, rising, etc.  This cinnamon roll cake is made from scratch so it obviously takes a little bit of time to put together, but totally worth every second.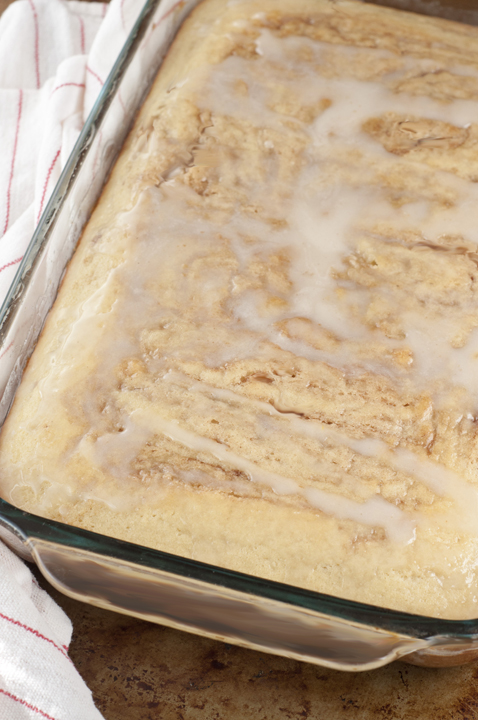 This amazing cake recipe I'm sharing with you today is the absolute perfect choice for brunch, breakfast, dessert, party or any time at all!  I brought this bad boy to  Mr. Wishes' annual company ski night because I had no idea what to bring and I was craving cinnamon rolls.  Since cinnamon rolls weren't really ski night appropriate and I don't like to be judged, I decided on this cake.   I had several people ask me for the recipe, which is always the utmost compliment in my eyes and makes the time I spend blogging all the more worth it.  I even had an 11 year old girl (Hi, Lilly!) come up to me and say that it was the best cake she has ever eaten in her life!  Way too cute.  You always want to be the person at a party that has the dish that stands out the most, ya know? Perfectionist goals.
Desserts are normally where I shine (or so I like to think) so I'm glad I decided to go with sweet over savory for this particular event.  Make this cake as soon as possible! You also should check out my Crock Pot Cinnamon Bun Casserole that is to DIE for!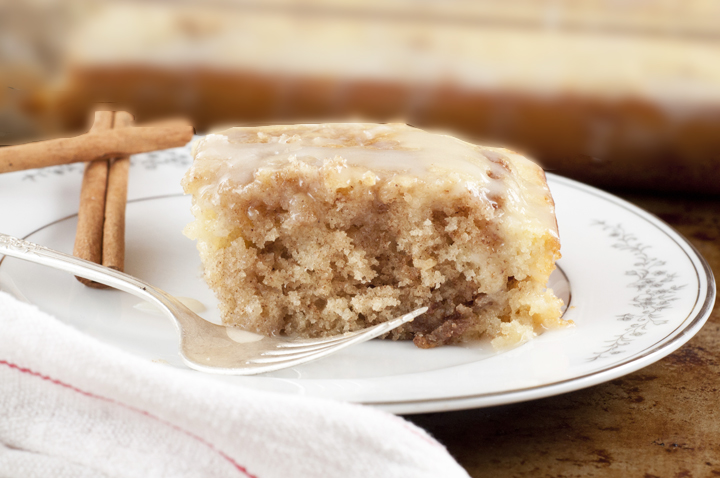 Cinnamon Roll Cake
Prep time:
Cook time:
Total time:
This made from scratch Cinnamon Roll Cake recipe is the taste of cinnamon buns in a fraction of the time! This cake is absolutely delicious.
Ingredients
Cake:
3 cups all-purpose flour
½ tsp. salt
1 cup sugar
4 tsp baking powder
1½ cup milk
2 eggs
2 tsp vanilla
½ cup unsalted butter, melted
Cinnamon Swirl Topping:
¾ cup unsalted butter, very soft (almost melted)
1 cup light brown sugar
2 Tbsp all-purpose flour
2 Tbsp cinnamon
Glaze:
2 cups powdered sugar
5 tbsp milk
2 tsp vanilla
Instructions
Whisk together the flour, salt, sugar, and baking powder.
Add in the milk, eggs (one at a time) and vanilla to the dry ingredients.
Slowly stir in melted butter and mix until just incorporated.
Pour into a well-greased 9x13 pan.
Mix topping ingredients together with a large spoon (3/4 cup butter softened, brown sugar, flour and cinnamon). Use clean hands if it makes it easier. Drop evenly over cake mixture (basically plop spoonfuls on top).
Swirl the topping into the cake mixture with a knife going up and down the length of the pan. Try not to go too deep into the cake with the swirls, but if you do, it will still taste great.
Bake at 350 for 30-35 minutes. Check at 30 and if a toothpick inserted in the center comes out clean, it is done. It might take closer to 35 minutes, maybe even a bit longer depending on your oven and how deep you made the swirls.
Whisk ingredients together to make the glaze.
Top cake with the glaze by drizzling it over the cake while it's still slightly warm. Serve immediately for best taste but it's also great once cooled. Enjoy!
Recipe source:  adapted from food.com and lilluna.com