Christmas Cake Roll
Christmas Cake Roll is the perfect Holiday Dessert recipe or Treat for your friends and family! This cake is easy to make for the holidays and a fun twist on traditional cake, with the colors and look of Christmas!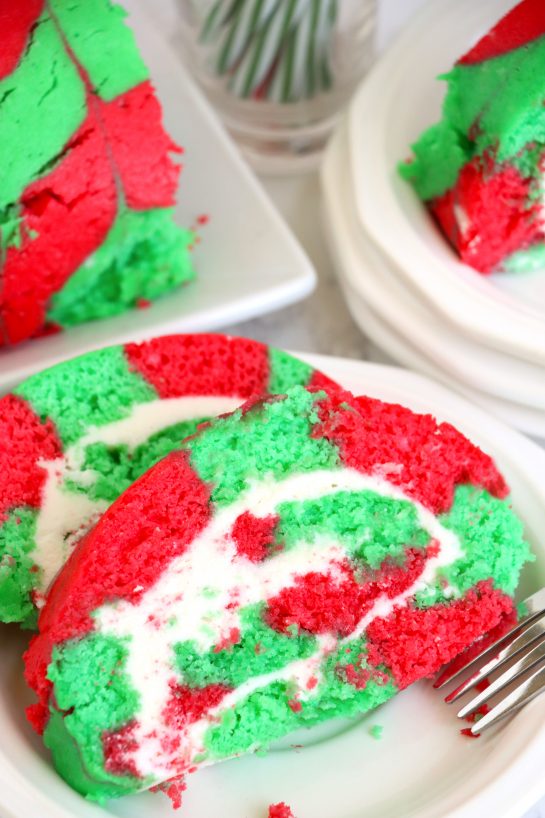 The new love of my life: the Christmas Cake Roll.
It's finally here – my favorite season! This Christmas cake roll is everything that Christmas dessert should be. I wait all year for this holiday. Of course, we all know that I mostly love the months leading up to Christmas day and baking Christmas recipes. The anticipation is where it's at for me. What can I say? I am a five-year-old at heart. I'm known as the Christmas queen around here.  I don't know if I deserve that title, but I'm definitely obsessed with Christmas.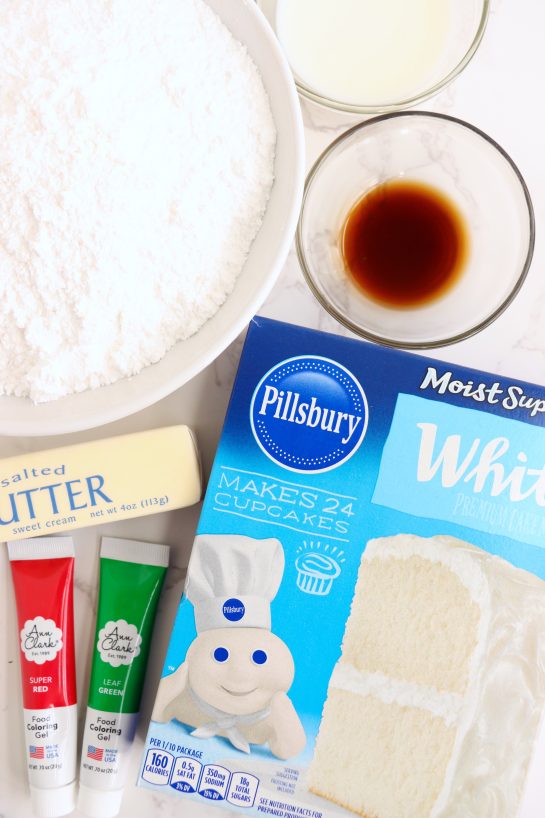 Holiday baking is my absolute favorite. My Christmas Rum Cake has always been a favorite. I love to make treats and holiday favorites that have become my Christmas traditions over the year, but I also love to try new things each year. My Salted Caramel Kentucky Butter Cake another one that is totally holiday appropriate. This Christmas cake roll is one of those new recipes I tried this year. I like to deliver and deliver I will do.
What exactly is cake roll, you may ask? Well, a cake roll is a cake that's rolled. Did that just blow your mind? Other names you may have heard for cake rolls are jelly roll, swiss roll and Yule log. The origin of the name "swiss roll" appears to be unknown, as it is believed the cake originated somewhere in Europe. They seem very daunting to bake, but they are actually easy if you have the right tools, a good recipe, and some patience. There it is – your baking lesson for the day.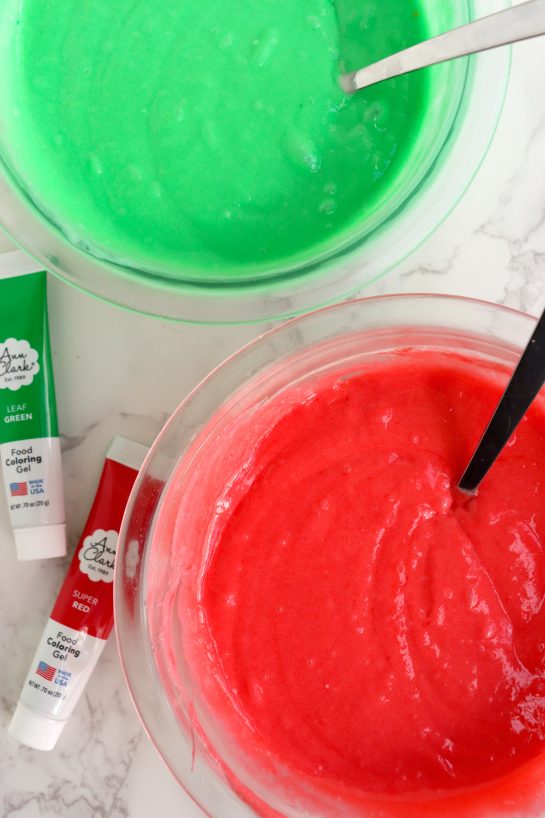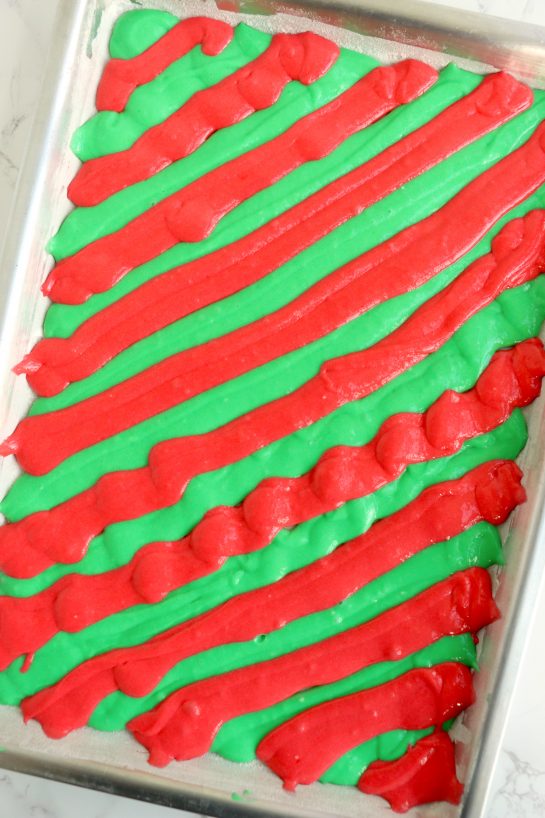 This cake is absolutely delicious! It has the consistency of a delicate vanilla sponge cake, I would say. The light vanilla whipped frosting is the perfect addition, and this entire cake makes for the perfect and easy dessert for any time of year.
Speaking of which, you can totally switch up the food coloring colors in this Christmas Cake Roll recipe. Think of it as a "choose your own adventure" cake where it is actually pretty versatile for any holiday or occasion.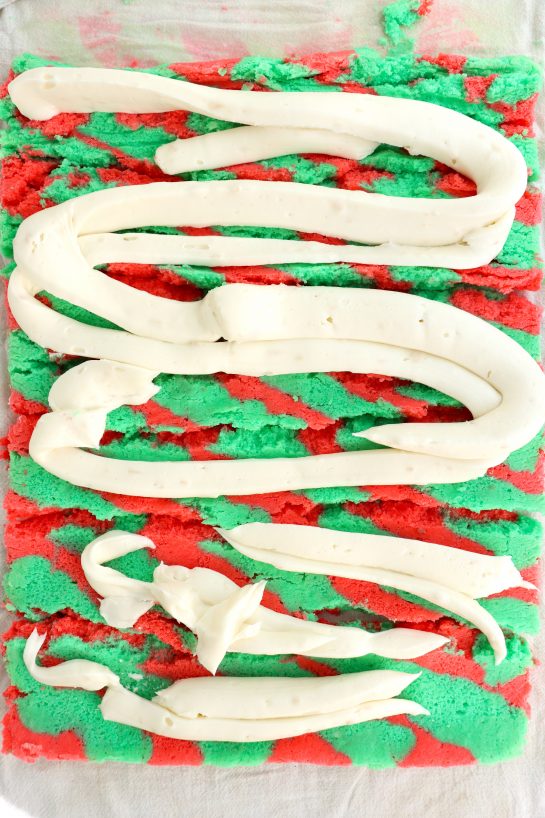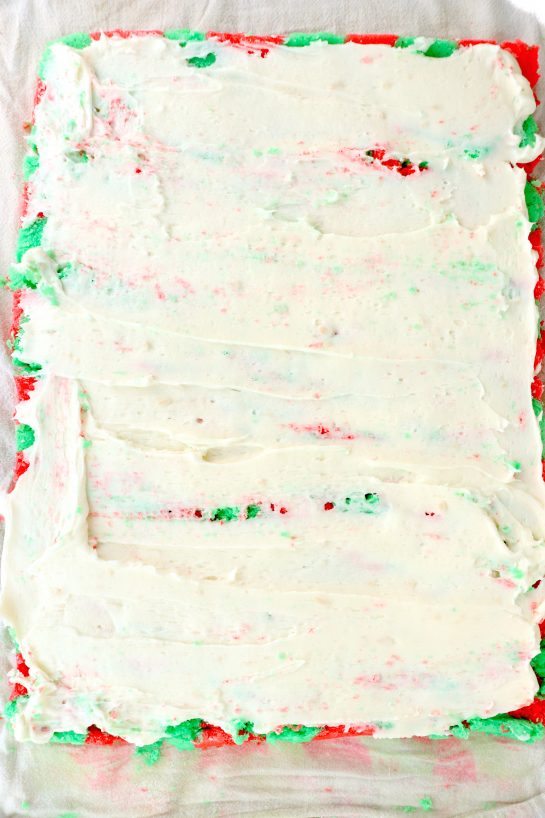 It really is just an easy way to fancy up a classic holiday cake roll with a pretty Christmas pattern. You can even use a silicone mat to roll up the cake if you have one. I actually find it easier to use the mat, but whatever your preference is, do that.
My family seriously LOVES this cake and constantly request for it along with my Hot Chocolate Coffee Rum Cake, in which I'm happy to oblige. Not only is this easy, but it also only takes a few ingredients and really looks like you spent all day on it.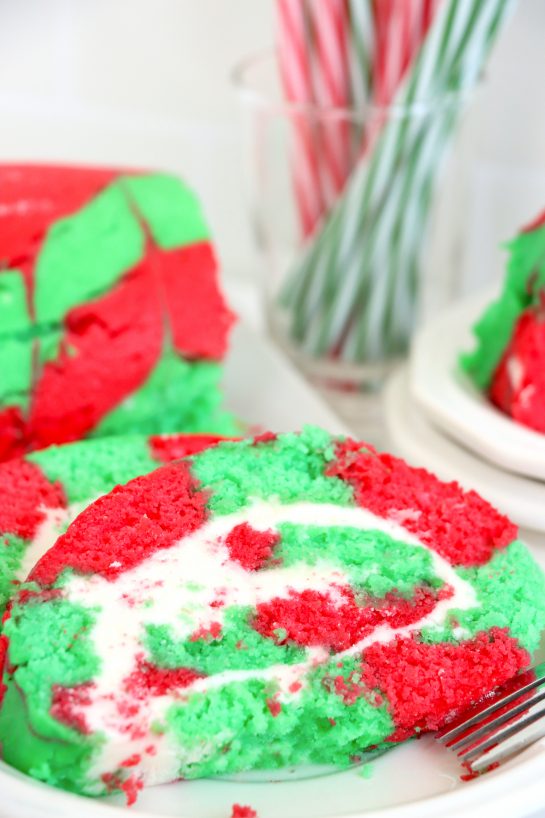 This cake roll was really intimidating at first, especially with how fancy it looks, but it actually is so much easier than it looks. Cake rolls are really quite straightforward as long as you follow the directions below.
Thankfully, even with my bad luck in baking once in a while, everything went swimmingly with this entire process. The cake baked up perfectly the first time around, rolled up with no cracks, and the pattern turned out even better than I thought it would! a really delicate and light treat for the holidays. Serve it alongside my Snowy North Pole Cupcakes for extra Christmas spirit.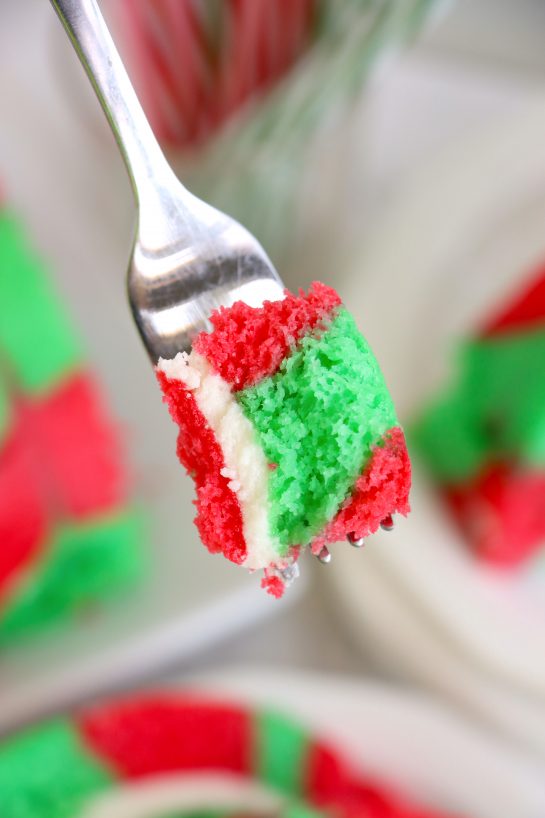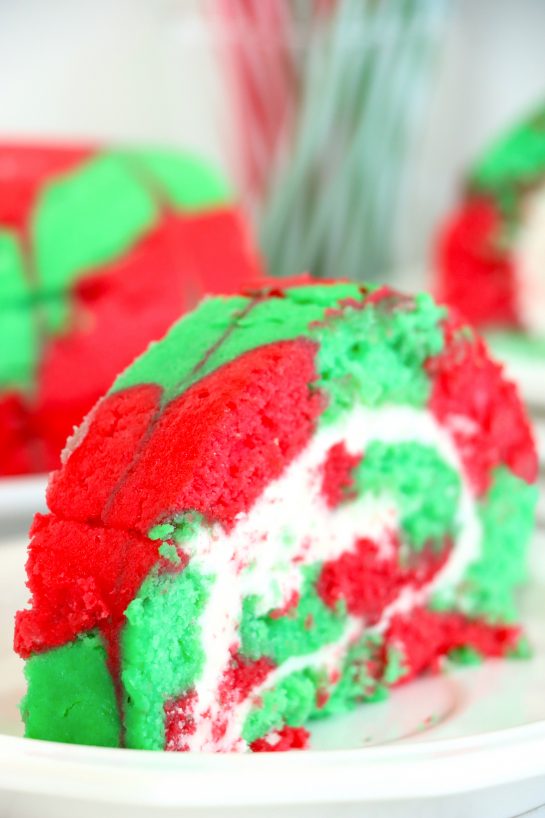 Tips for making this Christmas Cake Roll:
Be absolutely certain to roll the cake up while it's still hot or very warm. DO NOT skip this step or it will crack all over when you try to roll it later. Roll it up hot, let it cool, unroll, frost, roll up again, done. Just trust me on this one.
It's best to cut the cake slices when you're ready to eat it. It is also best served the same day.
Remove the cake from the fridge and cut the ends off with a sharp serrated knife (proceed to stuff your face with them). Clean the knife with a warm, damp towel. Cut the cake into slices about 1″ in thickness, cleaning the knife in between cuts.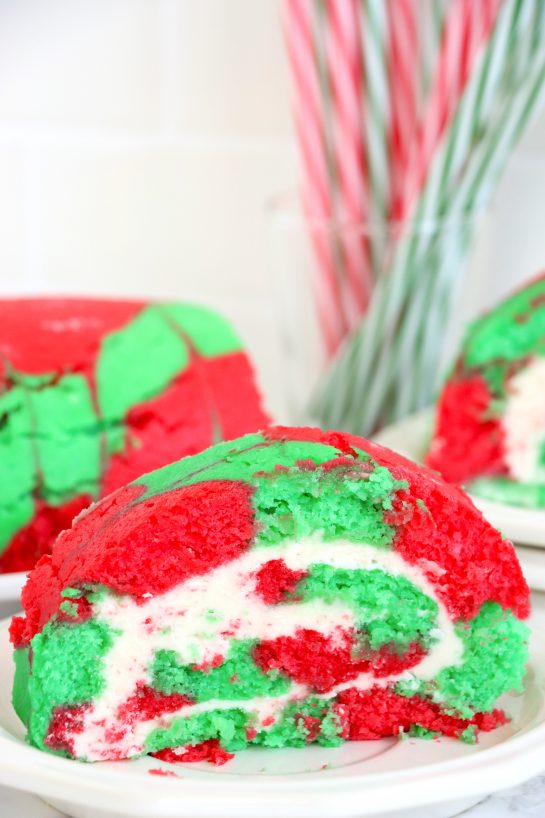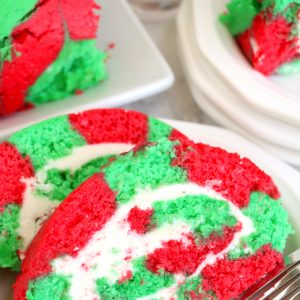 Christmas Cake Roll
Christmas Cake Roll is the perfect Holiday Dessert recipe or Treat for your friends and family! This cake is easy to make for the holidays and a fun twist on traditional cake, with the colors and look of Christmas!
Ingredients
1

box white cake mix

including ingredients in box directions

1/2

cup

salted butter

softened to room temperature

2

tsp

vanilla

3

cups

powdered sugar

3-4

tbsp

milk
Instructions
Preheat oven to 325ºF.

Prepare a jelly roll pan with shortening (or butter) and flour. This step will ensure that your cake does not stick. Set aside for later

Prepare cake batter according to the box directions (you're not baking it yet).

Add a color of food dye to each bowl and mix until the colors are uniform throughout.

Transfer batter into 2 ziplock bags (or use piping bag). Cut a small corner off of each bag.

In a diagonal pattern, squeeze strips of each color until the pan is filled. Fill in as needed with any remaining batter.

Gently shake the pan to even out the cake batter.

Using a toothpick, draw swirls in the batter to create a tie dye look.

Bake for 17-18 minutes or until the cake is set. Remove from oven and allow to cool for 15-20 minutes. You want it to be still warm.

Place a towel on a flat surface and sprinkle flour on it.

Flip the cake out of the pan onto the towel.

Sprinkle a small amount of flour on the top side of the cake and cover it with another towel. Starting on one end, roll the cake up with a towel on each side. Make sure you are doing this while it's still very warm or it will crack later. Try to keep it as tight as possible while you roll.

With the cake tightly rolled, set it aside to completely cool.

When cool, gently unroll it.

To prepare frosting, beat butter and vanilla together. Add powdered sugar and enough milk to reach the consistency you desire.

Spread on the frosting, covering the top of the cake.

Begin rolling the cake from one end, using one towel to help guide you.

When the cake is completely rolled, wrap the towel tightly around it to help hold its form. Place cake roll in the freezer for 4 hours.

Remove from freezer and cut into slices. Enjoy!