Snowy North Pole Cupcakes
Snowy North Pole Cupcakes are the cutest Christmas dessert recipe when you need a fun, creative holiday treat! Great for kids who want to help bake!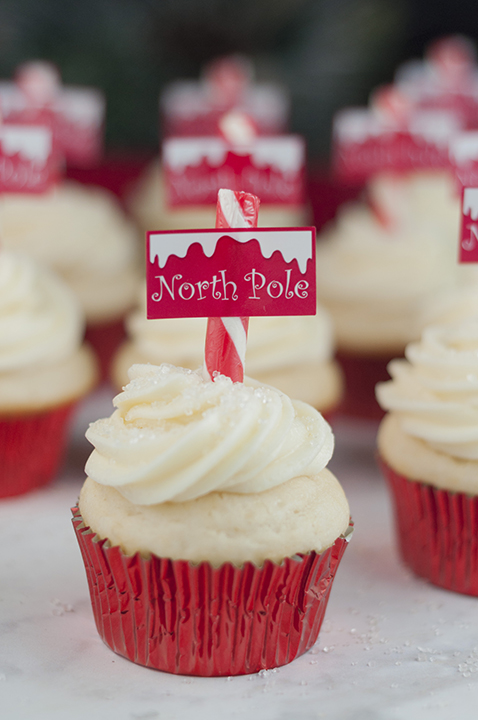 Let's think of the sweetest way to spread some holiday cheer. There is nothing I love more than giving people beautiful cupcakes and my favorite cut-out sugar cookies on a sparkly plate! These North Pole Cupcakes could not be any cuter, am I right?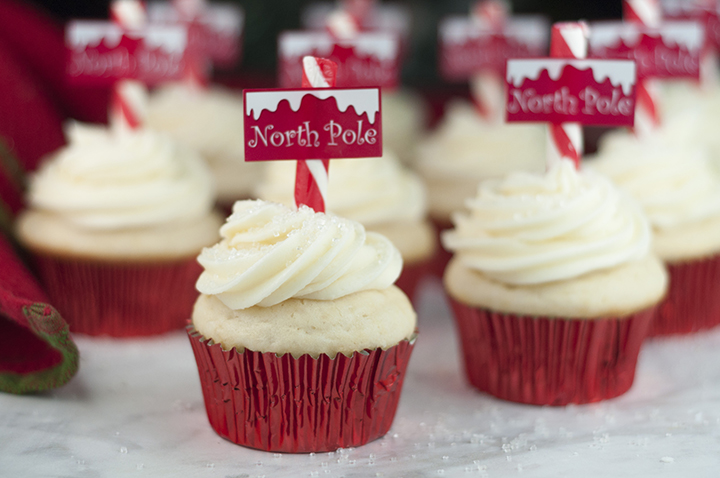 I don't love to bake cakes and don't do it often (blame my lack of patience) but LOVE making cute cupcakes, like my Hot Chocolate Cupcakes. These babies are perfect to  share during the holiday season, take to a party or make on Christmas Eve! They're also apparently perfect to share with the Lowe's home delivery men who delivered your new dishwasher and took some of these cupcakes for a snack to have in their truck. Haha!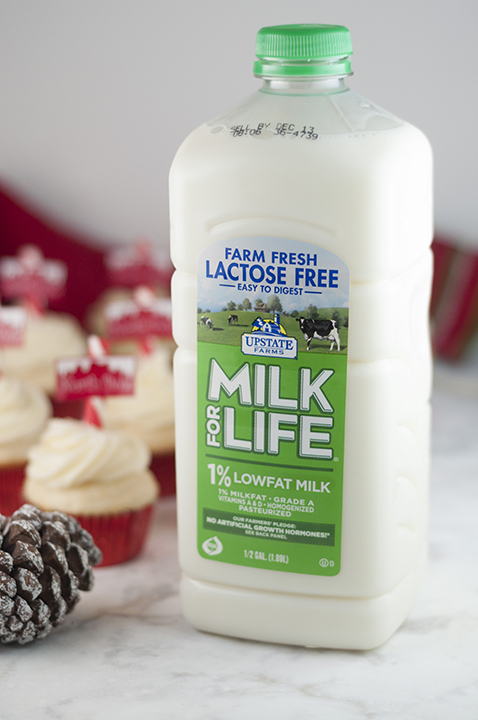 I made these North Pole Cupcakes with my new favorite milk: Upstate Farms brand new Milk for Life lactose free milk. It's the first of it's kind in the upstate Niagara Cooperative's family of brands!
I love that they use milk from local farms delivered to the store within days of leaving the farm. The average time for Milk for Life to reach your grocery shelf from the farm is just 1-2 days, which means Milk for Life is the absolute freshest lactose free milk option currently available. The best part for me is knowing exactly where my milk is coming from because buying Milk for Life supports neighboring farmers. All of Upstate Farms' milk, including Milk for Life, comes from the 340 farmer-owners of Upstate Niagara Co-Op from Western and Central New York.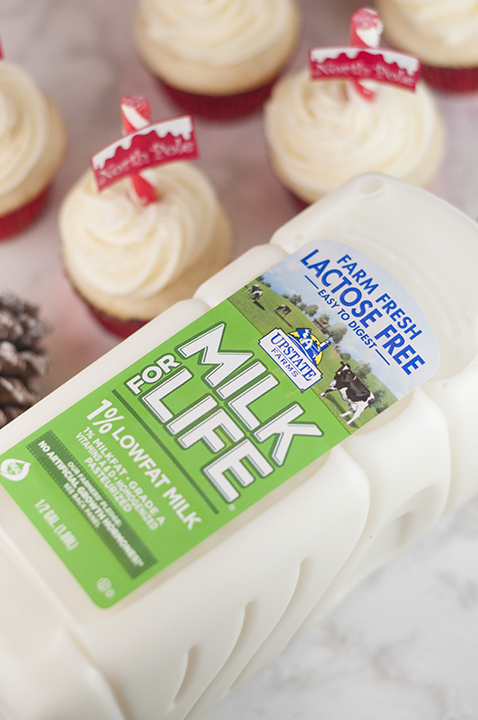 Being lactose intolerant for my whole life, I really appreciate being able to have milk in recipes and on my cereal and not having to worry about having stomach issues afterward. Speaking of which, according to The National Institute for Health's estimation, 65 percent of the human population has a reduced ability to digest milk after infancy. That is a lot of people!
Milk for Life lactose Free milk is great for baking. I used it in my cupcakes AND in the buttercream frosting. It tasted amazing and is so easy to substitute for any recipe calling for milk! The whole family can enjoy it, not just those who are lactose intolerant.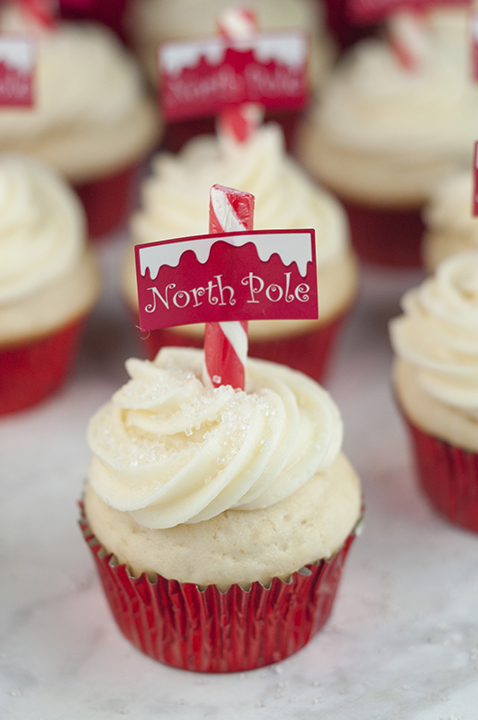 I'm so happy to be able to enjoy all of the holiday baked goods that I love again since I now have a great tasting lactose free milk that I can keep on hand. Until now, I've never found a lactose free milk that tasted good all on it's own – and this one really does!
I wish this was around back when I was a little kid and couldn't stand the taste of any lactose free milk! I can really taste the difference compared to ultra-pasteurized lactose free milk, which often has an altered taste from the production process.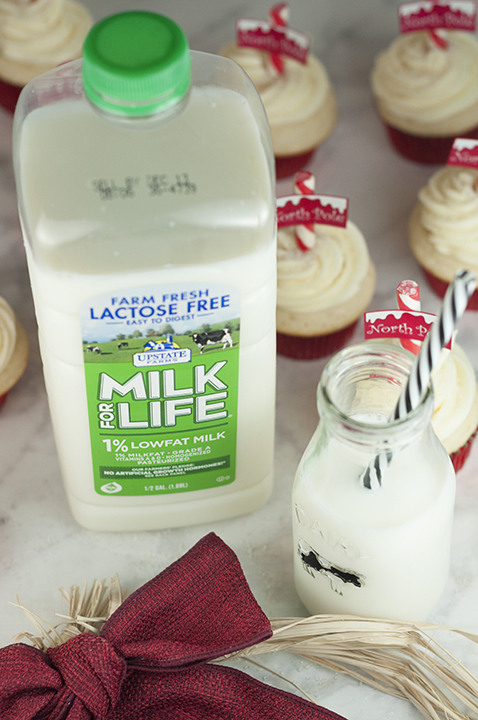 These Snowy North Pole Cupcakes are heavy on the vanilla flavor – vanilla flavored cupcakes AND vanilla frosting – with just a touch of peppermint from the candy canes. But the best part – in my opinion, and what takes them over the top? The sweet buttercream frosting! Perfect buttercream icing is life and that is a fact.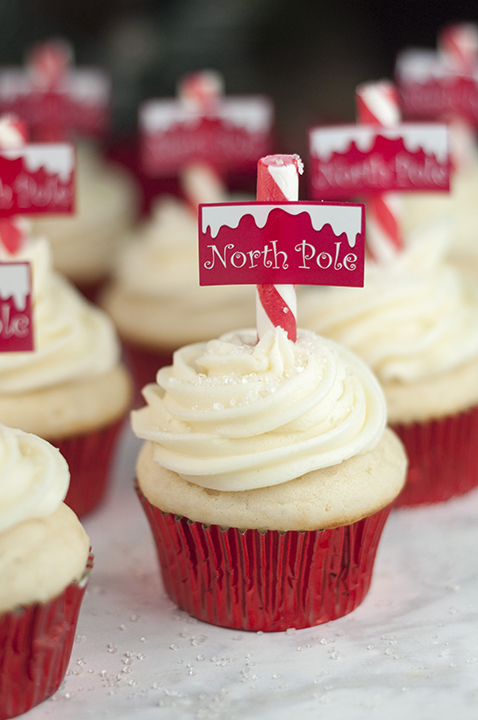 These cupcakes are SO cute and beautiful and such a show stopper for the holidays, similar to my Cinnamon Bun Cupcakes. They really are  so easy to make! I wish I could have them on my table every single weekend… just because they are super cute to look it. I might just keep them as a permanent decoration on my holiday table.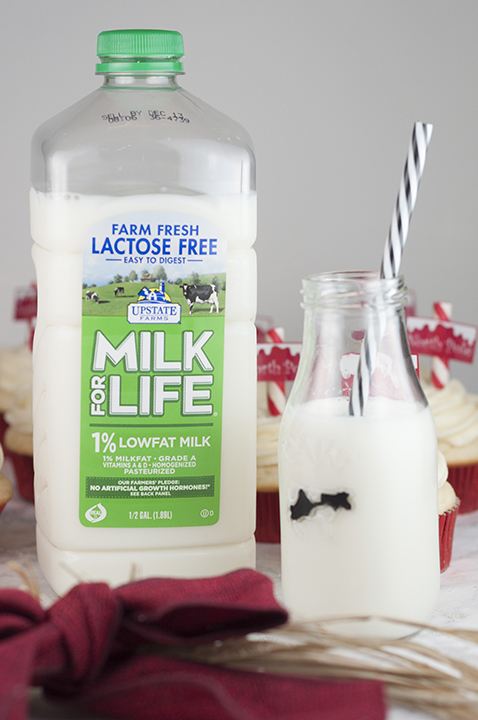 One of the best parts of the holiday season is having an excuse to bake so many delicious desserts. If you have a potluck to go to, a Christmas party coming up, or just need a dessert idea to have on Christmas Eve or Christmas day, definitely try these darling North Pole Cupcakes. Everyone will rave about them!
If you need a lactose free milk I highly recommend Upstate Farms Milk For Life. Use this store locator to find out where you can buy it for yourself! Whatever milk you bake these cupcakes with, just make sure you give them a try. You can also easily follow along with Upstate Farms on Facebook, Twitter, and Instagram!
Snowy North Pole Cupcakes
Prep time:
Cook time:
Total time:
Snowy North Pole Cupcakes are the cutest Christmas dessert recipe when you need a fun holiday treat! Great for kids who want to help bake!
Ingredients
1 16.25 ounce box white cake mix (and ingredients called for on the package, substituting milk - I used Upstate Farms Lactose Free - for the water for more homemade tasting cupcakes)
Buttercream Frosting:
1½ C (3 sticks) Unsalted butter, cold
5 cup Powdered sugar
2½ tsp Vanilla extract
2 tbsp Milk or Cream
Extras:
Candy canes
White sprinkles, for "snow"
North Pole signs made however you like
OR order this kit on Amazon that has sprinkles, candy canes, and North pole stickers included
Instructions
Preheat oven to 350°F and line a cupcake pan with holiday paper liners.
Prepare cupcakes according to package directions, substituting milk for the water for denser cupcakes. Let cupcakes cool completely before frosting.
Pipe frosting onto cupcakes (recipe for frosting below).
Top cupcakes with white sprinkles.
Unwrap candy canes. Use just the straight part of the candy cane and stick into each cupcake to make your "pole".
Place stickers on candy cane OR if using printed signs, secure with a dab of frosting.
Enjoy!
Frosting:
Cut the cold butter into pieces.
Using the paddle attachment of your mixer, whip butter for 4-5 minutes, scraping down the bowl as needed. Beat until butter look somewhat light in color.
Add 2 cups of powdered sugar and mix on low speed until incorporated into butter then add 2 tsp of vanilla extract and mix to combine. Beat for about 1 minute.
Add an additional 2 cups of powdered sugar and beat on low speed until sugar is incorporated. Increase speed to medium-high and beat for 2-3 minutes.
Add last 1 cup powdered sugar along with 2 tbsp heavy whipping cream and ½ tsp vanilla extract .
Beat on low until combined. Increase speed to medium-high and beat for another 3-4 minutes to whip additional air into the frosting.

Disclaimer: Thank you to Upstate Farms for sponsoring this conversation. All opinions remain 100% my own, as always. Thank you for allowing me to share the brands and products I use regularly and love.
Recipe source: frosting recipe adapted from beyondfrosting.com