Christmas Rum Cake
Making a rum cake is a fun holiday tradition but rum soaked cake is delicious year round! I'll show you how easy it is to make a Bacardi rum cake and a rum cake glaze. It will be a fast family favorite.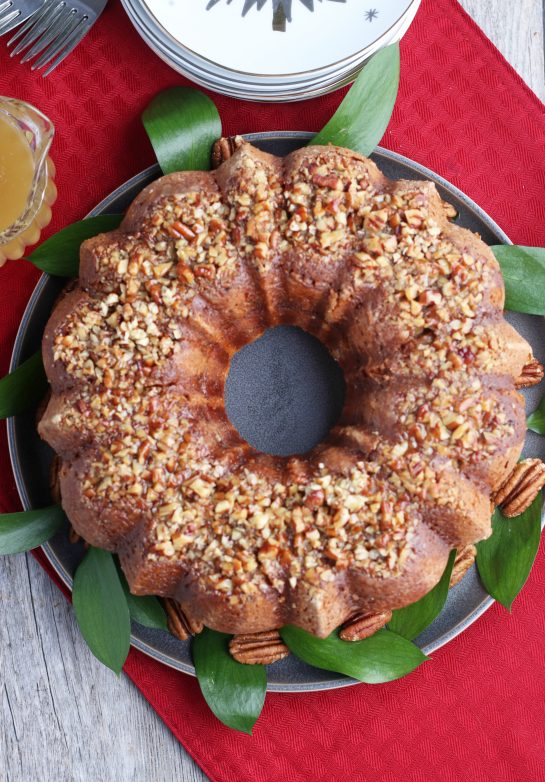 Merry merry, my faithful followers! Determined to get you in the holiday spirit, I'm serving you a Christmas Rum Cake so full of festive flair that you can't resist.1
Another year is coming to a close and boy do I have a rum-filled treat for you today. It's basically a non-chocolate version of my Hot Chocolate Coffee Rum Cake. This rum cake with pecans is really bringing the flavors home here. It really is the perfect cake for so many occasions.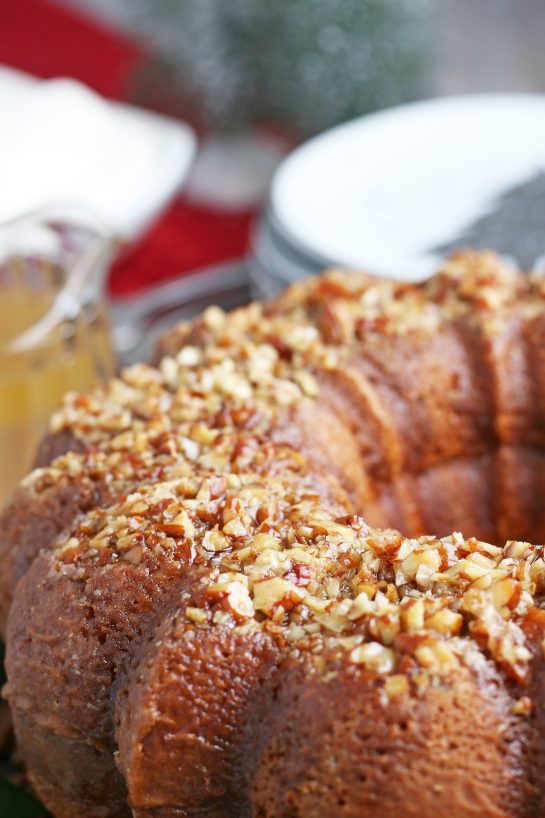 What is in a rum cake recipe?
1 cup pecans, chopped plus additional nuts for garnish if desired
1 box (15.25 oz) yellow cake mix
1 box (3.4 oz) instant vanilla pudding mix
4 eggs, room temperature
½ cup water
½ cup canola oil
½ cup dark rum (or light rum)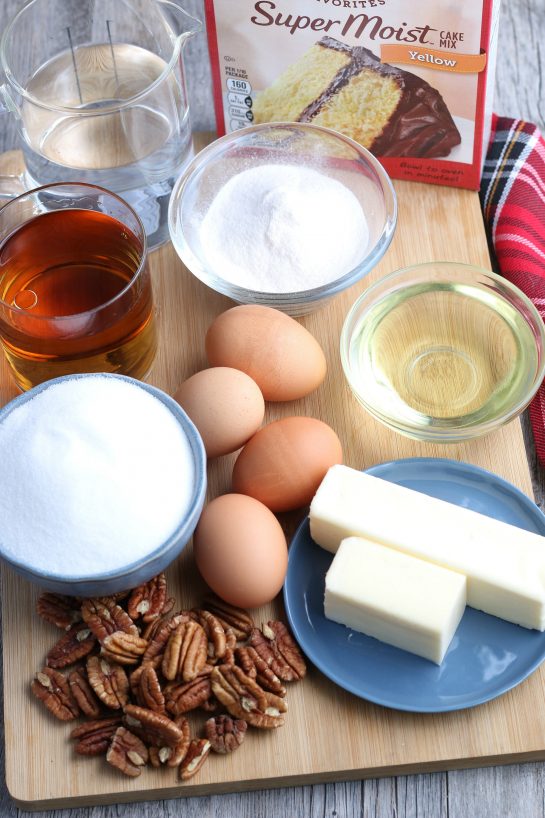 Can I leave out the nuts?
If you want to skip the nuts you won't miss out on any major flavors or textures. If you have a nut allergy in the family or if you just don't like them, leave them out!
Does it matter what kind of rum I use?
You can use whatever brand of rum you like, some people swear by their particular brand of rum for a rum cake and glaze the truth is…it's up to you!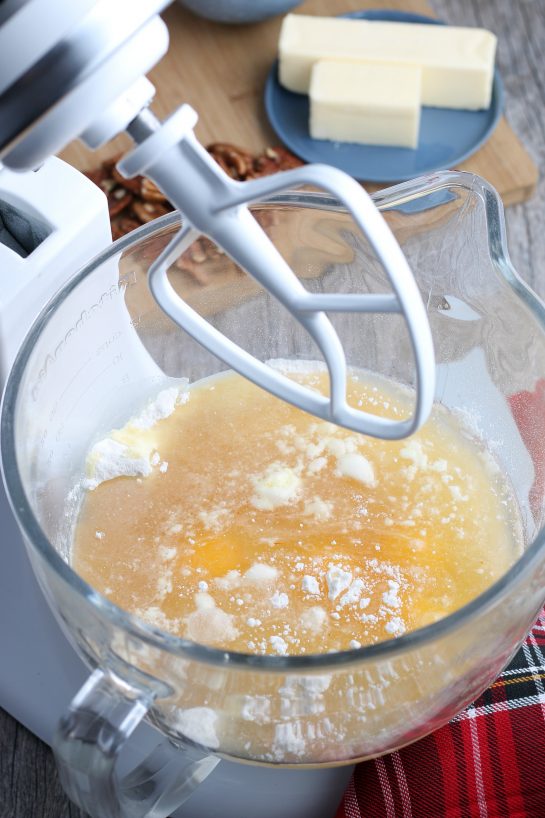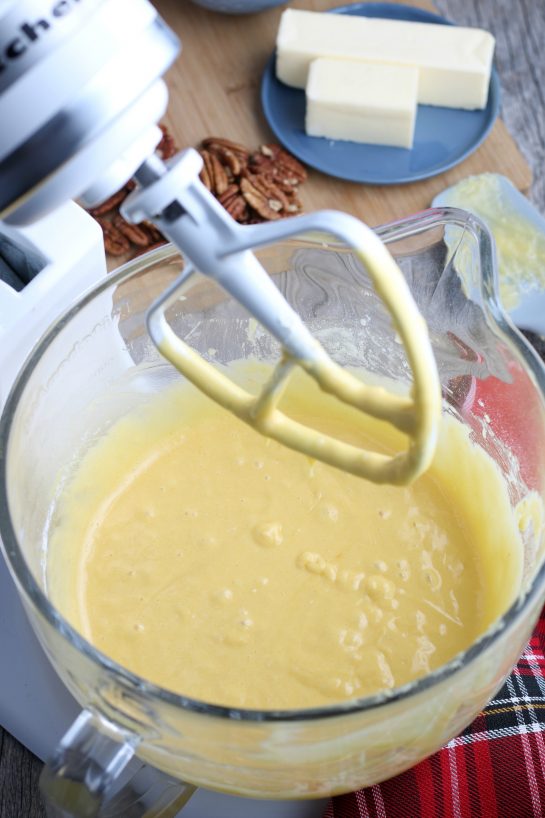 Both light and dark rum have unique flavors they lend to the cake, so both will give you a nice end result. Since the alcohol cooks out of the cake anyway I wouldn't waste time or money trying to find one that has a high alcohol content or anything like that.
Here's what you'll need for the rum cake glaze:
¾ cup (1 ½ sticks) butter
1 ½ cups granulated sugar
 ¼ cup water
¾ cup dark rum (or light rum)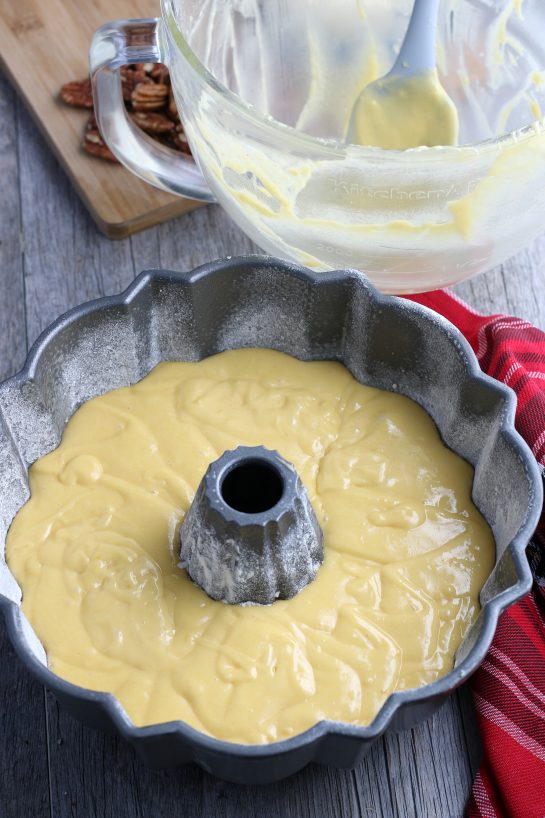 How to make rum soaked cake:
Preheat the oven to 350 degrees F before we begin making the rum cake!
Next we need to prepare a bundt pan. To do so you will coat the bundt pan with non-stick spray and a dusting of flour. Make sure to coat all the nooks and crannies to keep the cake from sticking.
After the pan is coated, add the pecans into the pan, if you are not adding nuts to your rum cake you can skip this step.
In a large mixing bowl, combine the cake mix, pudding, eggs, water, oil, and rum. Mix until the batter is smooth and even.
Over the nuts, pour your batter into prepared bundt pan.
Bake the cake for 50-60 minutes. You can test to see if it is done by inserting a toothpick into the center of the cake (not the center of the pan…that's just a hole ;)) when the toothpick comes out clean the cake should be done!
Allow the cake to cool in the pan for 15 minutes.
After 15 minutes you can invert the cake onto a serving platter and marvel at its beauty.

Why does this rum cake recipe use pudding?
The pudding in this rum cake adds moisture. The pudding acts keeps the cake super moist and adds a nice texture to this naturally dense cake.
 
If you want to use boxed pudding mix you can or use a homemade vanilla pudding! The results will be amazing and everyone will love the added flavor.
Now that you have a Bacardi rum cake you need a glaze!
In a small saucepan, mix together sugar, butter and water until smooth.
Next, bring the sugar mixture to a boil over medium heat, stirring constantly, boil for 1 minute.
After 1 minute you can remove the mixture from the heat and stir in the rum.
Prepare your cake for this gorgeous glaze by piercing it with a fork.
Spoon or pour the glaze over the warm cake very slowly.
Sprinkle with more pecans if you'd like!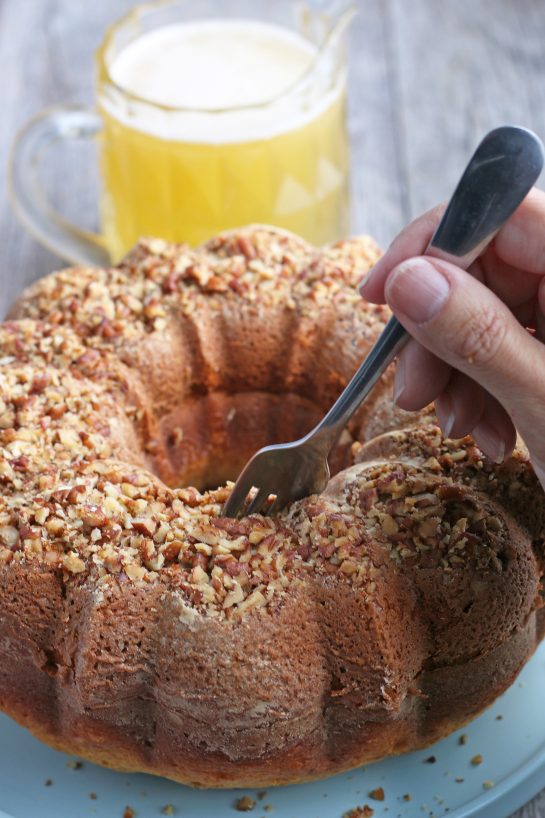 Tips and tricks for the rum cake glaze:
One of the main things you want to do with the glaze is pour it very very slowly over the cake. Going slow allows the cake to soak up the glaze more uniformly. Otherwise it will pool at the bottom of the cake!
 
Add the glaze to the rum cake while it is warm! The warm cake will soak up the most glaze and add the delicious flavor of this rum soaked cake!
Finally, when poking holes in your cake be sure to make a lot of them! This gives the glaze lots of places to soak into that delicious cake and spread around the amazing flavor and texture.
This rum cake glaze would also be awesome on my Salted Caramel Kentucky Butter Cake! I used a butter glaze for it originally, but can imagine a rum glaze would be amazing.
Can I freeze my rum cake to prepare it in advance?
If you would like to make a rum soaked cake in advance you can easily freeze these delicious cakes! If your plan is to freeze your rum cake just wrap it twice in plastic wrap and foil and then place it inside a plastic freezer bag.
 
When you are ready to use your rum soaked cake just thaw it in the refrigerator or on the counter. Wait to unwrap it until the cake is completely thawed out! You can keep your cake in the freezer for about 3 months before you'll notice a difference in quality.
I hope you try this soon, my friends! If you like rum-filled desserts, be sure to try my easy Christmas rum balls. Merry Christmas to all of you!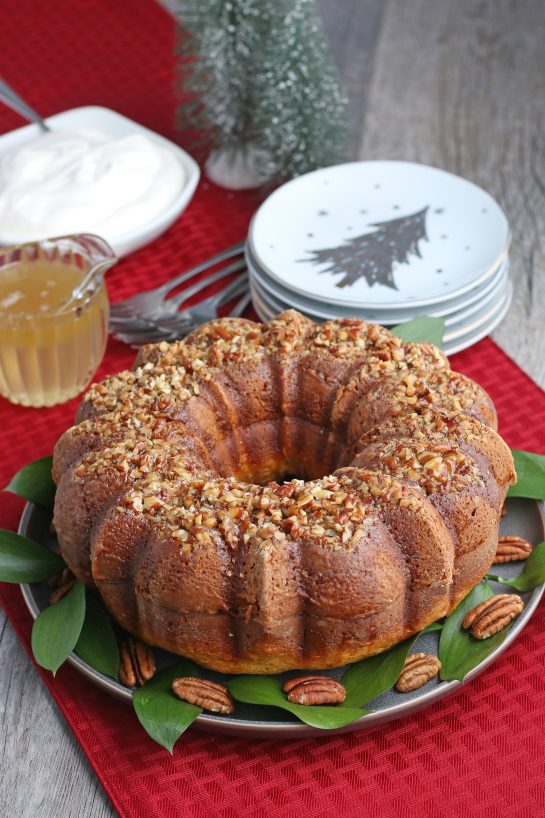 Christmas Rum Cake
Prep time:
Cook time:
Total time:
Making a rum cake is a fun holiday tradition but rum soaked cake is delicious year round! I'll show you how easy it is to make a Bacardi rum cake and a rum cake glaze. It will be a fast family favorite.
Ingredients
Cake:
1 cup pecans, chopped plus additional nuts for garnish if desired
1 box (15.25 oz) yellow cake mix
1 box (3.4 oz) instant vanilla pudding mix
4 large eggs, room temperature
½ cup water
½ cup canola oil
½ cup dark rum (or light rum)
Glaze:
¾ cup (1 ½ sticks) butter
1 ½ cups granulated sugar
¼ cup water
¾ cup dark rum (or light rum is fine)
Instructions
Cake:
Preheat oven to 350 degrees F
Coat bundt pan with non-stick cooking spray and a dusting of flour
Sprinkle pecans into pan
In a large mixing bowl, combine cake mix, pudding, eggs, water, oil, and rum until smooth
Pour over nuts in pan, spread evenly
Bake for 50-60 minutes or until a toothpick inserted comes out clean
Cool in pan 15 minutes
Invert onto serving platter
Glaze:
In a small saucepan, mix together sugar, butter and water
Bring to boil over medium heat, stirring constantly, boil for 1 minute
Remove from heat, stir in rum
Pierce cake with fork
Spoon glaze over warm cake
Sprinkle with pecans if desired