Chocolate Graham Cracker Toffee
This recipe for graham cracker toffee covered in melted chocolate is super easy to make and delicious.  This will become a new holiday dessert tradition in my house!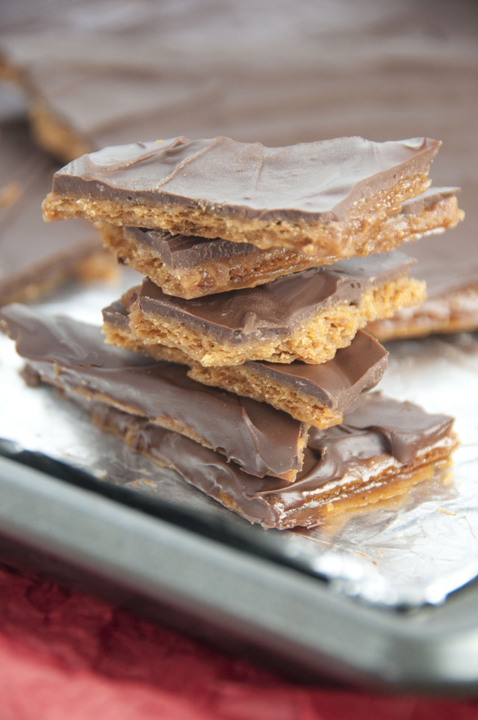 Toffee is my candy weakness. I'm posting all my favorites this week, including this Chocolate Graham Cracker Toffee.
All of these said favorites just happen to be the most addicting Christmas treats ever!  I guess I like really rich, sinful desserts around this time of year, but who doesn't?  It's the only time I can eat all of these goodies and not feel an ounce of guilt.  'Tis the season!
This is one recipe from my blog that I'm ordering you to try, along with my Microwave Peanut Brittle! It's so simple to make and tastes like heaven.
There is a reason it is also called "Christmas Crack" by some people – it is addicting!  I love how some of the easiest treats are the ones that taste the best (like these Oreo Truffles I shared earlier in the week).
P.S.  Don't miss the food processor giveaway within that post!  It will be an early "Merry Christmas" to you if you win.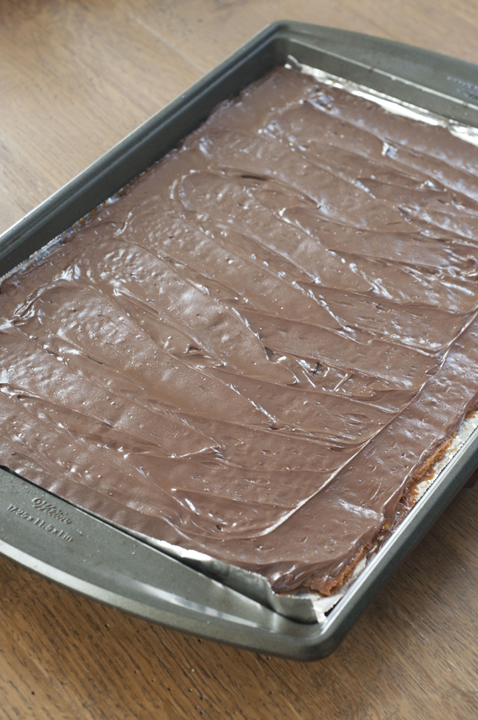 This toffee recipe makes for great gifts for your friends, family or neighbors, and the perfect finger-food dessert and/or a tasty snack just to have around for any occasion. You really can't mess this recipe up – I promise!
Well, I'm sure somebody could manage it, but it would be very difficult to do.  The best part about this stuff is that you probably already have all of the ingredients in your pantry.  That is always nice when you need a dessert to bring somewhere on the fly.
I've seen many versions of this toffee that have nuts added on top of the melted chocolate.  If nuts are not an issue for your family go ahead and add them – either way this will taste delicious!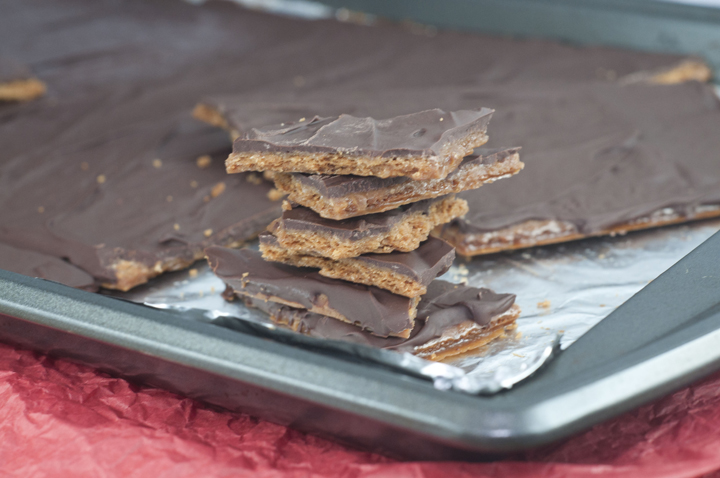 Chocolate Graham Cracker Toffee
Recipe type:
dessert, holiday
Prep time:
Cook time:
Total time:
This recipe for graham cracker toffee is super easy to make and delicious. This will become a new holiday dessert tradition in my house!
Ingredients
Graham crackers (depends on size of baking sheet, I used 14)
½ cup light brown sugar
1 cup butter
Pinch of salt
2 cups chocolate chips
Instructions
Preheat over to 350 degrees F. Line a baking sheet with foil and spray with cooking spray. Lay graham crackers in a single layer on baking sheet.
In a heavy bottomed pot, place butter and brown sugar. Heat over medium-high heat, stir frequently while ingredients melt together. Heat to boiling and boil for 3 minutes while stirring frequently. Remove from heat.
Carefully pour all of the hot butter/sugar mixture over graham crackers. Spread mixture evenly on top of the graham crackers until all areas of graham cracker have been covered by the mixture. Place in oven for 10 minutes.
Remove from oven and immediately sprinkle with chocolate chips. Allow chocolate chips to sit on top of the hot graham crackers for about 3-5 minutes so that they can melt. Spread the melted chocolate chips evenly on top of the graham crackers with a knife or spatula.
When completely cooled, break into irregular pieces. The messier the better. Place on plate for serving.
 Recipe source:  adapted from homecookingmemories.com