Chocolate Graham Cracker Toffee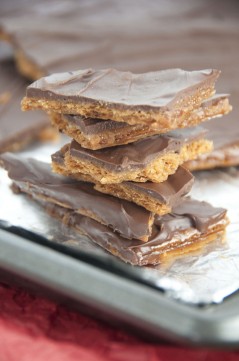 Recipe type:
dessert, holiday
Graham crackers (depends on size of baking sheet, I used 14)
½ cup light brown sugar
1 cup butter
Pinch of salt
2 cups chocolate chips
Preheat over to 350 degrees F. Line a baking sheet with foil and spray with cooking spray. Lay graham crackers in a single layer on baking sheet.
In a heavy bottomed pot, place butter and brown sugar. Heat over medium-high heat, stir frequently while ingredients melt together. Heat to boiling and boil for 3 minutes while stirring frequently. Remove from heat.
Carefully pour all of the hot butter/sugar mixture over graham crackers. Spread mixture evenly on top of the graham crackers until all areas of graham cracker have been covered by the mixture. Place in oven for 10 minutes.
Remove from oven and immediately sprinkle with chocolate chips. Allow chocolate chips to sit on top of the hot graham crackers for about 3-5 minutes so that they can melt. Spread the melted chocolate chips evenly on top of the graham crackers with a knife or spatula.
When completely cooled, break into irregular pieces. The messier the better. Place on plate for serving.
Recipe by
Wishes and Dishes
at https://wishesndishes.com/chocolate-graham-cracker-toffee/