Caramel Macchiato Banana Bread
Caramel Macchiato Banana Bread recipe is great for breakfast, brunch or dessert.  It is loaded with sweet banana and coffee flavor then topped off with a rich caramel glaze.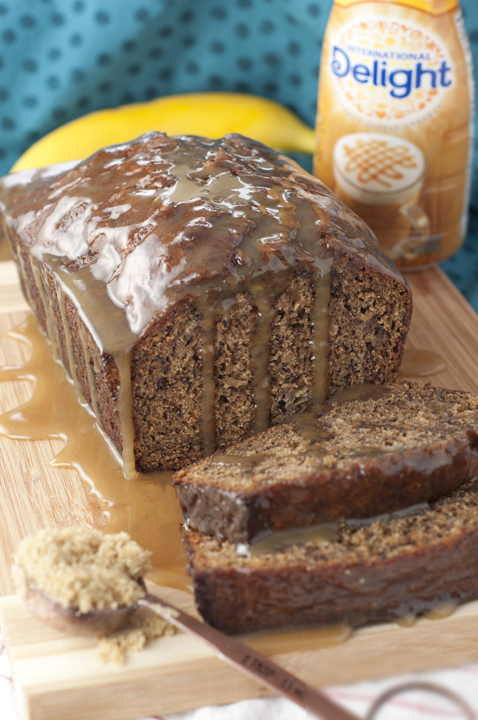 It just seemed like a Caramel Macchiato banana bread dessert kind of day today.  Then again, when am I not in the mood for anything with the flavors of my favorite coffee beverage?
With the first month of 2016 already pretty much over and the holidays behind us, I can't help but think about all this new year may have in store for myself and my family.
It is exciting to think about!  One thing that always stays the same amidst all of the changes in life is my perfect cup of coffee and my favorite creamer of all time:  International Delight Caramel Macchiato.  Sometimes I go into the refrigerator and open the container of creamer just to smell that heavenly aroma (don't judge).  The Caramel Macchiato creamer takes my morning coffee from zero to hero in no time at all.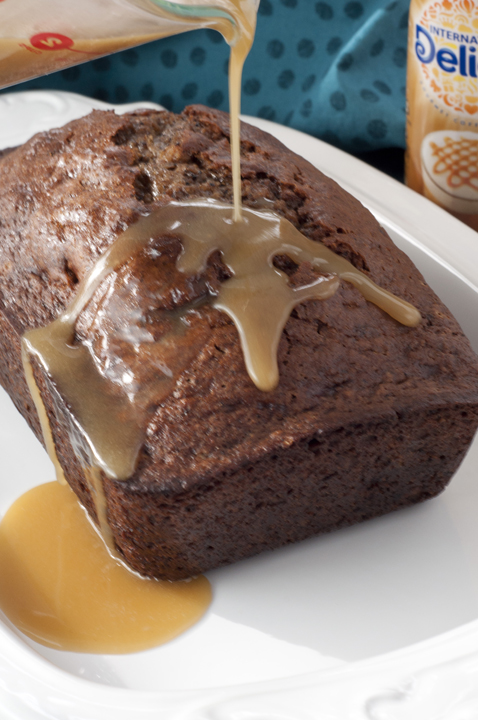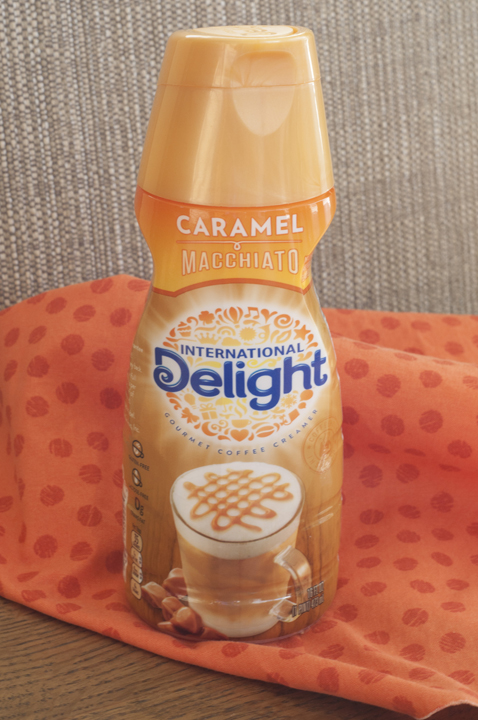 Which International Delight flavored creamer is your favorite?  The Sweet Cream is definitely following close behind the Caramel Macchiato in my world.  Sometimes I have a hard time deciding between the two.
I'm one of those odd people who is actually not a huge fan of the flavor of coffee alone, so I'm all about the delicious creamers over here to make it taste instantly amazing.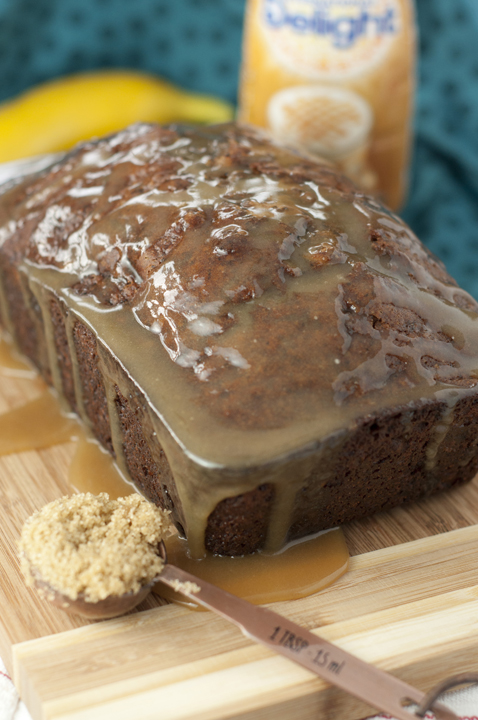 I decided to get a little crazy and use my Caramel Macchiato Creamer in this Caramel Macchiato Banana Bread.  Who says you can't bake with coffee creamer?  This bread has all of your morning favorites and necessities: caffeine and sweets.
The banana bread can definitely stand alone if you aren't feeling the glaze and it has a nice subtle coffee flavor.  The caramel glaze, however, is what puts it over the top.  I ate this for breakfast one day along with my Reese's Peanut Butter Banana Bread. and had it for after-dinner dessert the next.
This is the beauty of a good banana bread recipe!  Oh, and of course you need to serve this Caramel Macchiato Banana Bread with coffee and International Delight Caramel Macchiato creamer to get the full effect.
If you love banana bread, please try my blueberry banana bread and thank me later.Enjoy!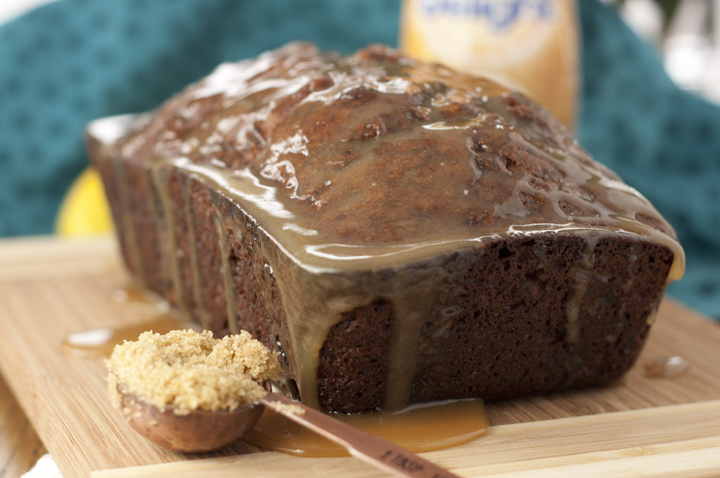 Caramel Macchiato Banana Bread
Recipe type:
Dessert, Breakfast
Prep time:
Cook time:
Total time:
Caramel Macchiato Banana Bread recipe great for breakfast, brunch or dessert. It's loaded with banana and coffee flavor, topped with a rich caramel glaze.
Ingredients
Bread:
2 cups all-purpose flour
1 teaspoon baking soda
1 teaspoon baking powder
1 teaspoon ground cinnamon
⅛ teaspoon salt
2 large very ripe bananas or (OR 3 smaller size bananas)
½ cup caramel Macchiato flavored liquid coffee creamer (I used International Delight)
½ cup vegetable or canola oil
2 eggs
⅔ cup white sugar
3 tablespoons instant coffee granules
Caramel Glaze:
½ cup light brown sugar
¼ cup heavy cream or half and half
2 Tablespoons butter, cubed
½ cup powdered sugar
¼ teaspoon vanilla extract
Instructions
Bread:
Preheat oven to 350 degrees F. Spray a 9x5-inch loaf pan well with cooking spray.
In a mixing bowl, whisk together flour, baking soda, baking powder, cinnamon, and salt.
In another large mixing bowl, mash the bananas with a fork until mostly smooth.
Stir in the coffee creamer, vegetable oil, eggs, sugar, and instant coffee granules until the coffee granules have dissolved (make sure you are using instant).
Gradually stir in the flour mixture, ½ cup to 1 cup at a time, until batter is almost smooth, and pour batter into the prepared loaf pan.
Bake in preheated oven until a toothpick or knife inserted into the center of the banana bread comes out clean, about 1 hour. Don't over-bake or it will be dry. Allow to cool completely before removing from pan.
Glaze:
In a medium saucepan over LOW heat, combine brown sugar, cream/half and half and butter and stir until butter is completely melted.
Increase heat to medium and bring to a boil, stirring continuously.
Boil for just 3 minutes (longer may cause caramelizing), remove from heat and whisk in the powdered sugar and vanilla.
Whisk until lumps are gone then drizzle over the completely cooled banana bread.
Let glaze set before serving. Enjoy!
Recipe source:  bread adapted from Dianne at allrecipes.com, glaze recipe is my own
This is a sponsored conversation written by me on behalf of International Delight. The opinions and text are all mine.