Apple Cider Cupcakes and Brown Sugar Cinnamon Buttercream
Moist and flavorful recipe for Apple Cider Cupcakes made from scratch with Brown Sugar Cinnamon Buttercream Frosting makes for a mouthwatering fall dessert!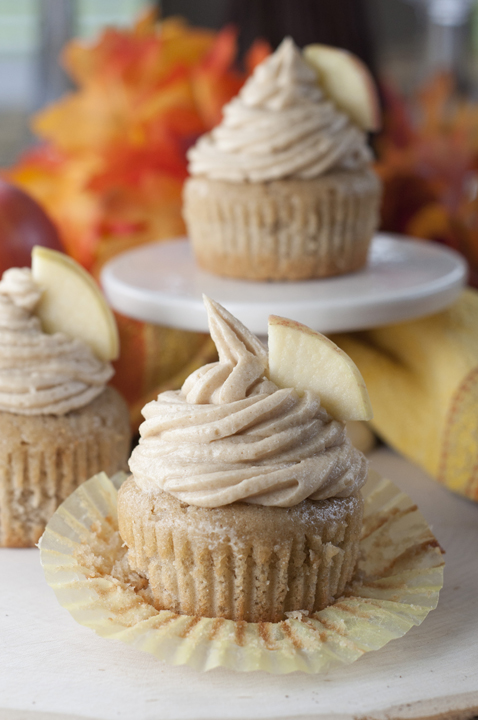 Cupcakes are one of my favorite desserts to make and these Apple Cider Cupcakes are my favorite of all time and so popular.  They are easier than making an entire cake, easier to frost, easier to photograph (which I realize only applies to me and other weird people who photograph their food), AND they are just plain fun.  Speaking of fun, remember my Fruity Pebbles cupcakes from earlier this year?  That's all….just wanted to see if you remembered them.  No other reason other than they are awesome.
I'm so glad you're here! Follow along on Pinterest and Instagram for more inspiration! 
Let's go back to the "easier to photograph" part.  When I make a whole cake there's no other way around it than for me to tear into it in order to have a slice to photograph.  This has not gone over very well when this said cake is for a special occasion or to bring to someone else's party as a dish to pass.  Not to say this has ever stopped me (it hasn't) but there's just something so not classy about bringing a cake somewhere that has already been chopped up.  Ha, ha.  I have to say, though, I have gotten a lot better over the years about masking my hack jobs.  Re-frosting and patching up a cake is tons of fun (sarcasm).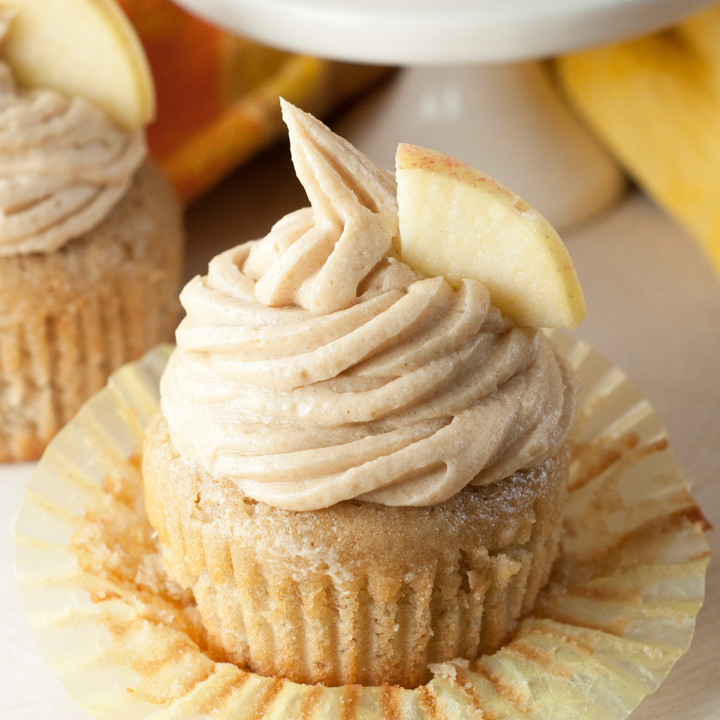 Anyways…..these  Apple Cider Cupcakes.  These bad boys would be an awesome Thanksgiving dessert!  They come out as pretty dense cupcakes, not all fluffy and cake-like as you might imagine.  They have more of the consistency of muffins.  That being said, if you leave the frosting off, these can serve as muffins for a wonderful fall breakfast.  Dessert for breakfast is ALWAYS a good idea.  Leave the frosting off?  I know…I'm taking crazy pills.  The point I'm trying to make is that the cupcakes definitely pack enough flavor that you wouldn't even need to adorn them with the brown sugar cinnamon frosting.  They could stand on their own two feet (do cupcakes have feet?), but let's not go crazy here.  Add the frosting.  Definitely add the frosting.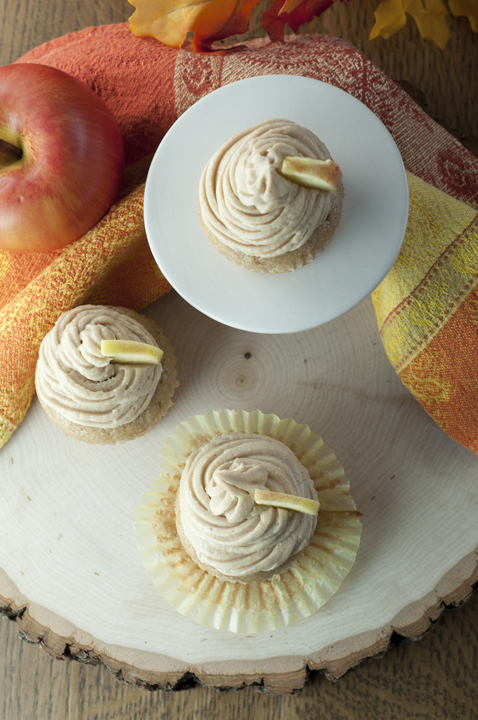 This recipe is brought to you by the fact that I had an entire gallon of apple cider in the fridge and I'm the only one who drinks it.  Solution: make desserts with it.  And eat those yourself, too.  For the record, I had planned on giving them away but my plans fell through…so don't judge! Side note: please make these Monster Cookie Dough Cupcakes from my blog at some point in time. You can thank me later.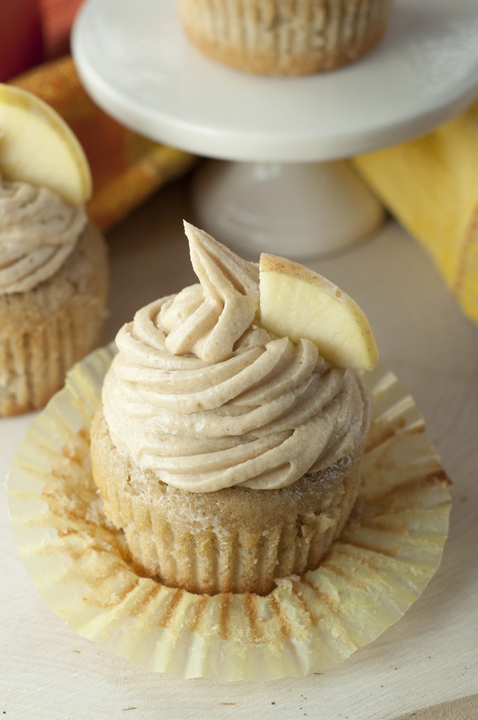 Here is my "how to" video with step-by-step instructions on how to make these apple cider cupcakes!
Apple Cider Cupcakes and Brown Sugar Cinnamon Buttercream
Prep time:
Cook time:
Total time:
Moist and flavorful recipe for Apple Cider Cupcakes made from scratch with Brown Sugar Cinnamon Buttercream Frosting makes for a mouthwatering fall dessert!
Ingredients
Cupcakes:
2 eggs
1⅔ cup all purpose flour
1 cup apple cider
⅔ cup sugar
½ cup unsalted butter, softened
2 tsp. baking powder
1 tsp. ground cinnamon
½ tsp. salt
1 tsp. vanilla
Frosting:
1 cup softened butter
3 cup powdered sugar
½ cup light brown sugar
1 tsp cinnamon
2 tbsp milk
1 tsp vanilla
Instructions
Cupcakes:
Cream together butter and sugar in the bowl of a stand mixer (or using a hand mixer). Add the eggs and vanilla and mix until fully incorporated.
Whisk together all of the dry ingredients in a separate bowl. Add the apple cider and the mixture of dry ingredients, alternating between the two, slowly incorporating them into the butter/sugar/egg mixture.
Line standard muffin/cupcake tin with paper or foil liners.
Fill cupcake liners ⅔ full and bake at 350º for 17-19 minutes. Bake until toothpick or skewer inserted into center comes out clean. Let cool completely before frosting.
Frosting:
Whip butter, brown sugar, cinnamon and vanilla together with a mixer until light and fluffy.
Gradually add powdered sugar and mix until incorporated.
Add milk until you reach desired consistency (more for thinner frosting).
Transfer to piping bag and frost each cupcake once they have cooled.
Garnish with an apple slice, if desired.
Cupcakes stay fresh at room temperature in an airtight container for 5 days.
Enjoy!
Recipe source:  cupcakes adapted from somethingswanky.com, frosting from simpleethrifty.com