Caramel Macchiato Banana Bread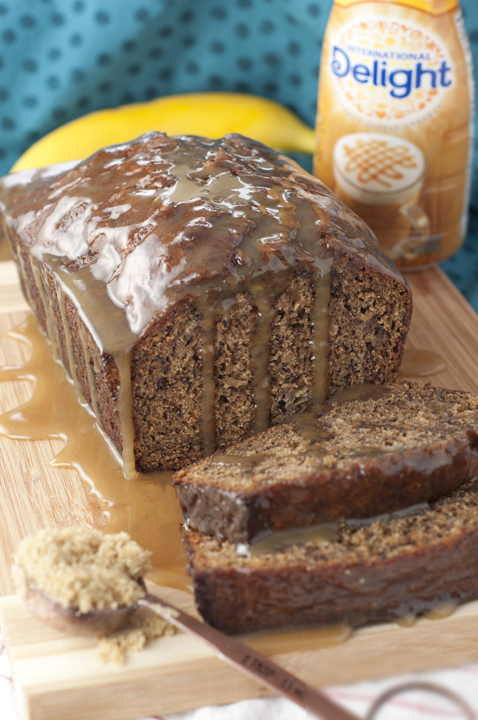 Recipe type:
Dessert, Breakfast
2 cups all-purpose flour
1 teaspoon baking soda
1 teaspoon baking powder
1 teaspoon ground cinnamon
⅛ teaspoon salt
2 large very ripe bananas or (OR 3 smaller size bananas)
½ cup caramel Macchiato flavored liquid coffee creamer (I used International Delight)
½ cup vegetable or canola oil
2 eggs
⅔ cup white sugar
3 tablespoons instant coffee granules
½ cup light brown sugar
¼ cup heavy cream or half and half
2 Tablespoons butter, cubed
½ cup powdered sugar
¼ teaspoon vanilla extract
Preheat oven to 350 degrees F. Spray a 9x5-inch loaf pan well with cooking spray.
In a mixing bowl, whisk together flour, baking soda, baking powder, cinnamon, and salt.
In another large mixing bowl, mash the bananas with a fork until mostly smooth.
Stir in the coffee creamer, vegetable oil, eggs, sugar, and instant coffee granules until the coffee granules have dissolved (make sure you are using instant).
Gradually stir in the flour mixture, ½ cup to 1 cup at a time, until batter is almost smooth, and pour batter into the prepared loaf pan.
Bake in preheated oven until a toothpick or knife inserted into the center of the banana bread comes out clean, about 1 hour. Don't over-bake or it will be dry. Allow to cool completely before removing from pan.
In a medium saucepan over LOW heat, combine brown sugar, cream/half and half and butter and stir until butter is completely melted.
Increase heat to medium and bring to a boil, stirring continuously.
Boil for just 3 minutes (longer may cause caramelizing), remove from heat and whisk in the powdered sugar and vanilla.
Whisk until lumps are gone then drizzle over the completely cooled banana bread.
Let glaze set before serving. Enjoy!
Recipe by
Wishes and Dishes
at https://wishesndishes.com/caramel-macchiato-banana-bread/