Cake Batter Blondies
An easy recipe for cake batter blondies using cake mix, white chocolate chips, and rainbow sprinkles.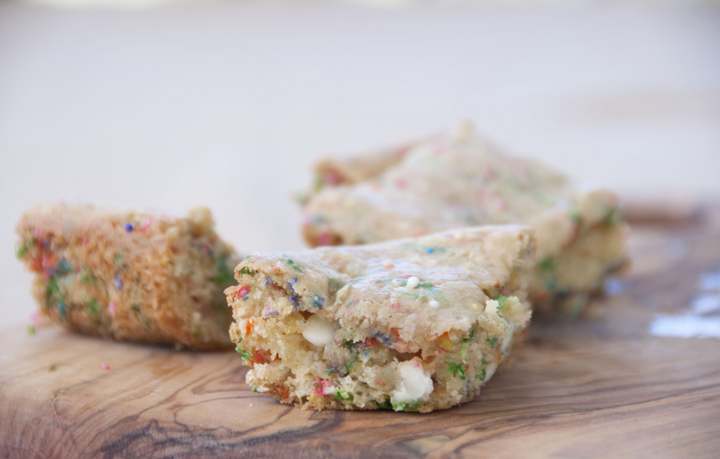 You know those times when you have a recipe that is so simple that it can hardly even be called a "recipe"?  Well, this is one of those times.  These super moist, soft and dense blondies start out with a boxed cake mix, an abundance of sprinkles added to them, some white chocolate chips, a few other ingredients and create a wonderful cake-batter-like blondie.
One of my favorite junk foods is cake (with white butter cream frosting) and because I can't get enough of cake, I love finding recipes that call for a cake mix.  Not only do they turn out delicious but they are also SO easy!  And let's be honest, every now and then I am sure we all like to cut corners….save ourselves a few dishes, a few extra steps, and a few extra seconds when we are short on time or have an unexpected gathering where we need to provide a dessert. Cake mixes do just that for me!
Warning: The batter for these blondies is VERY dense, thick and sticky so it definitely takes a little elbow grease to smooth it all down into the pan.
Here are just a couple of other cake mix recipes on my blog.  Most of them consist of just a few ingredients that anyone can make!
Honeyed Banana Berry Cake Cookies
Strawberry Cookies with White Chocolate Drizzle
Cake Batter Blondies
Prep time:
Cook time:
Total time:
An easy recipe for cake batter blondies using cake mix, white chocolate chips, and rainbow sprinkles.
Ingredients
1 box yellow cake mix (18.25 oz. size. I have also used the 15.25 oz. size with success.)
¼ cup canola oil
1 egg
⅓ -1/2 cup milk
½ cup sprinkles
½ cup white chocolate chips
Instructions
Preheat oven to 350F degrees. Spray 11 x 7 baking pan with nonstick spray. You can also use a 9" square pan - this might take a couple minutes longer to bake this way, though.
Combine first four ingredients in a large bowl. Add the milk slowly, using the lesser amount possible where you can still manage to stir the batter (it will be thick!). So, start with ⅓ cup and add a little as you need it. You want to cake batter to be as dense & thick as possible. Mix in the sprinkles and white chocolate chips by HAND, not with a mixer, so that the sprinkles don't bleed into the batter. Pour into prepared baking pan, sprinkle a few more sprinkles on top, and bake for 25-30 minutes until edges are just turning brown. Check at 25 to make sure you don't over-bake them. You might think that the blondies are not fully done because the center will still be quite gooey upon first exiting the oven – but that's what you want! The gooey center will make for a decadent, cake-batter texture.
Allow to cool for at least 30 minutes so the center sets, before cutting into squares. Blondies will remain fresh up to 1 week stored in an airtight container at room temperature.
Recipe source:  adapted from sallysbakingaddiction.com