Honeyed Banana Berry Cake Cookies
Does anyone else feel kind of sad that the Olympics are ending?  I'm a total Olympics geek this year, which is totally weird for me because it's the only time I watch sports on TV, with the exception of baseball, and actually enjoy it.  This is also the one and only time I feel good about watching TV every single night for hours upon hours.   Realistically, the TV will probably now go off until new episodes of Revenge start in September 🙂
I have a somewhat healthy cookie recipe for you here…..and the best part is that it only requires 4 ingredients – and not one of those 4 ingredients is butter!  These are fluffy, cake-like cookies,… so if crispy cookies are your thing…then these won't really be your thing 🙂  I like both types – I don't discriminate when it comes to my desserts.  When it comes to cookies, in general, more fat in the recipe equals a flat, more crispy cookie.  Less fat equals puffier, cake-like cookies.  Just a little tip for you!  Bananas are a great alternative to egg in a recipe.  They seem to always provide the best density similar to eggs in certain cookie recipes.  These babies come out of the oven very moist and flavorful!
  Enjoy!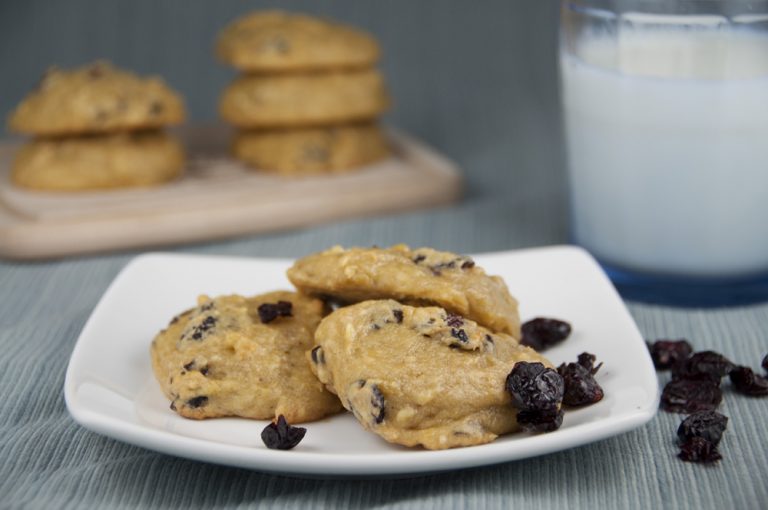 MY LATEST VIDEOS
INGREDIENTS:
1 box yellow cake mix
4 large bananas, mashed (about 2 1/2 Cups)
3/4 Cup dried blueberries
 2 Tablespoons honey
DIRECTIONS:
Preheat oven to 350 degrees F.
Place all ingredients into stand mixer and beat until just combined.  The dough will seem sticky, but that is OK.  Use a cookie scoop and scoop dough onto a silpat or parchment lined baking sheet.
Bake for 11-15 minutes or until cooked through. Let cool for 10 minutes before transferring to a cooling rack.
Recipe source:  adapted from picky-palate.com