Strawberry Cookies with White Chocolate Drizzle
It's almost Valentine's Day already!  Just stroll through your local store and you will be blinded with the displays of pink.  I'm not gonna lie, I'm really not a huge fan of this holiday.  It's no Christmas or Groundhog Day, after all! 😉
The only part I like about it is the excuse to eat copious amounts of sugary desserts and candy…..and I am all for any holiday that is traditionally an excuse to eat candy.  I like to think of it as a pink Halloween.
Over the years, I've heard the complaints of many that it puts undue pressure on couples to spend a lot of money on each other and to show affection in very specific, commercial ways on one specific day of the year.   I believe it's not all about spending a lot and that small thoughtful gift can go a long way.  My hubby and I made an agreement when we first got married to never go overboard for Valentine's Day.  Some years we may buy something small (like a candy bar) but usually we just do something extra nice that day (like cook dinner together at home, taking a couple's Valentine's Day cooking class).
Since I don't really like Valentine's day, but I love sweets, I made these festive pink cookies to share with you.  They are the softest cookies I think I have ever made and have a strong, but great, strawberry flavor to them.  The white chocolate melted on top goes perfectly with the strawberry, in my opinion.  Wouldn't you feel so loved if someone made these for you on February 14th?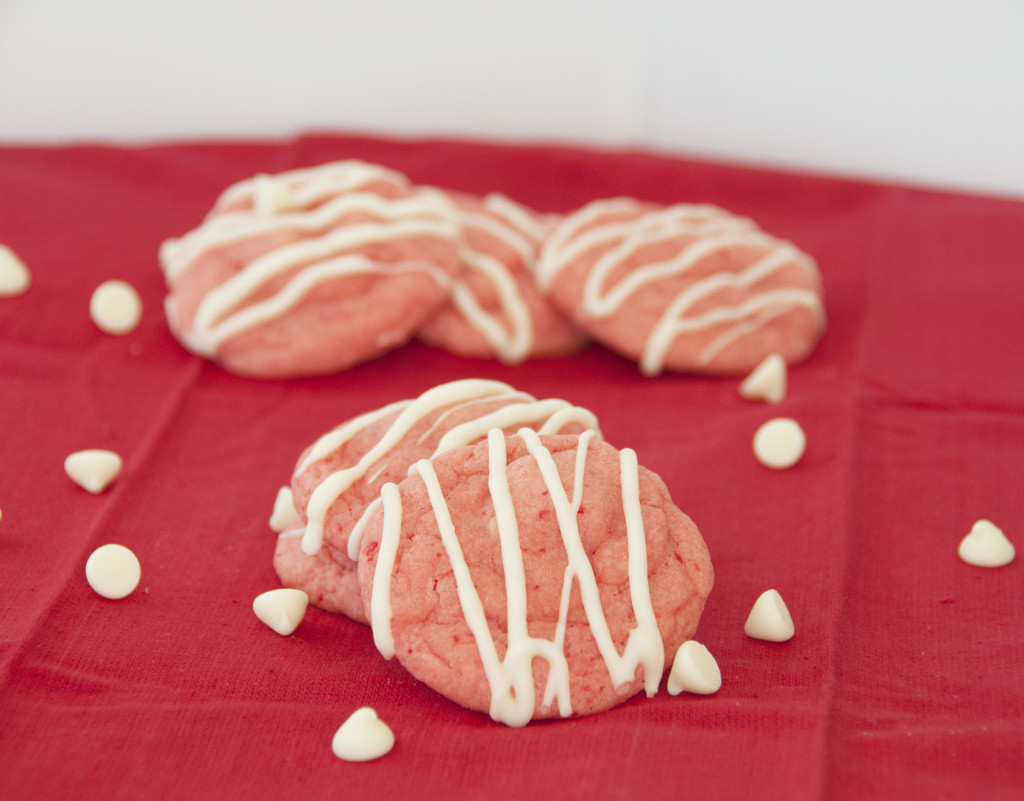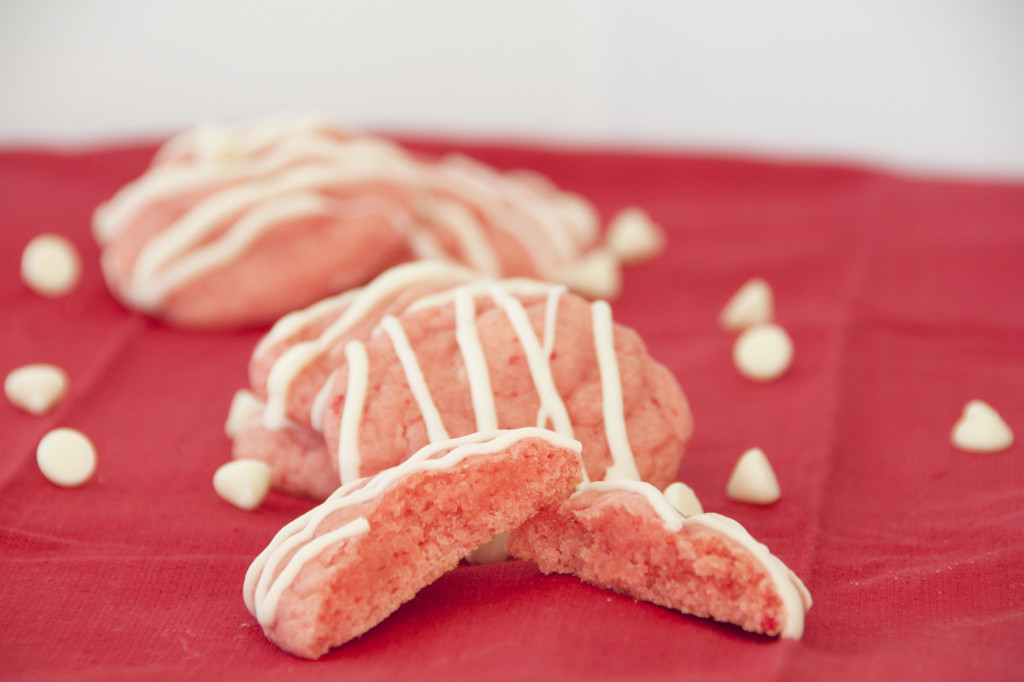 INGREDIENTS:
1 box (18.25 oz) strawberry cake mix (I used Pillsbury)
1 teaspoon baking powder
2 large eggs
1/3 cup canola oil
1/2 teaspoon vanilla or almond extract
For the white chocolate drizzle:
1 1/2 cups white chocolate chips, melted
DIRECTIONS:
Preheat oven to 350F. Line large baking sheet with parchment paper or silicone baking mat. Set aside.
In a large bowl, mix together the cake mix and baking powder.  Set aside.  In another bowl, whisk together the eggs, canola oil, and vanilla by hand.  Add the egg mixture to the cake mixture and stir to form a dough.  Keep stirring until all of the lumps of dry cake mix are mixed in.
Drop rounded balls of dough, about 2.5 Tablespoons each, onto prepared baking sheet.
Bake for 10 minutes – check to make sure cookies aren't getting brown.  Let the cookies cool on the baking sheet for 5 minutes. Remove from baking sheet to a wire cooling rack and cool completely.
Melt the white chocolate chips in a microwave safe bowl or over a double-boiler.  Drizzle the white chocolate over the cooled cookies.  Let the cookies set until the chocolate hardens.  Serve and enjoy!
Keep fresh in an airtight container for up to one week.
Recipe source:  cookie recipe adapted from Sally's Baking Addiction, white chocolate drizzle was my own