Confetti Cake Batter Cookies
I've mentioned in prior posts of mine that sometimes I like to have a recipe on hand that I can whip up quickly when having unexpected company or event to attend.  This is one of those recipes.  I love re-working a boxed cake mix into something infinitely more delicious and success was definitely found in these cake batter cookies.
As you read through the ingredients, you may think that a cup of sprinkles seems like a lot, as I did also, but it really was the perfect amount.  Let's face it – you can never have too many sprinkles!  Heaps of sprinkles make these cookies colorful, fun, and tasty.  I can see these cookies being perfect for a birthday party, or any event where you want to bring a quick and easy dessert as all of the ingredients are probably things you already have in your kitchen.
These cake batter cookies have that old familiar cake batter flavor we all know and love and are incredibly soft and chewy.
P.s. I went to a baby shower this past weekend and won this cute baking gift basket!  I won it for being able to match 19 out of 20 song titles with their artist.  As my husband says, I'm quite the "music junkie".  Looks like there will be a lot of cupcakes in Wishes and Dishes' future 🙂
Enjoy!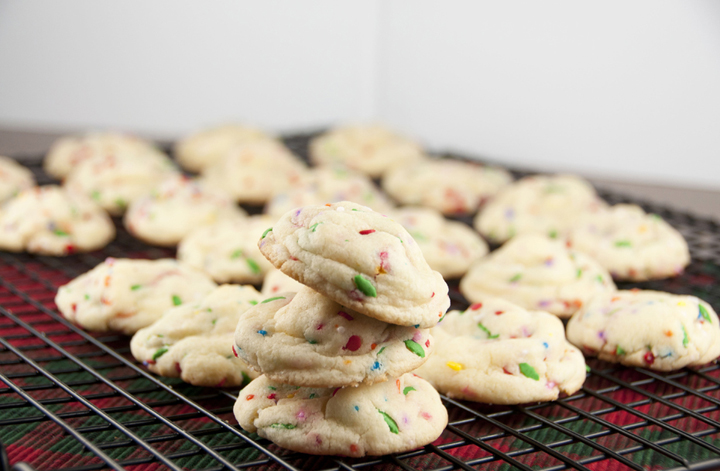 INGREDIENTS:
1 box (18.25 oz) vanilla/white cake mix (I used Pillsbury)
1 teaspoon baking powder
2 large eggs
1/3 cup canola oil (can use vegetable)
1/2 teaspoon vanilla extract
1 cup sprinkles
DIRECTIONS:
Preheat oven to 350 degrees F. Line large baking sheet with parchment paper or silicone baking mat.
In a large bowl, mix together the cake mix and baking powder. Set aside.
In another bowl, whisk together the eggs, oil, and vanilla.  Add the egg mixture to the cake/baking powder mixture and stir to form the cookie dough- stir until all of the pockets of dry cake mix are gone.  Gently mix in the sprinkles as to not dye the cookie dough.
Drop 1-inch balls of dough onto baking sheet.  (Shape your cookie dough balls to be "taller" than they are wide.  This allows them to hold their shape better and not flatten out too much.)
Bake for 9 minutes – keep an eye on them so they do not brown.  Transfer to a baking sheet to cool for 3 minutes.  Cookies will initially be very soft.  Transfer to a wire rack to cool completely.
Store in an airtight container to keep fresh (will stay fresh up to one week).
Recipe source: sallysbakingaddiction.com