Brown Sugar Glazed Pork Meatballs
Brown Sugar Glazed Pork Meatballs serve as a party appetizer recipe or main course served over rice or potatoes.  With the sweet brown sugar BBQ glaze these will disappear in no time at all!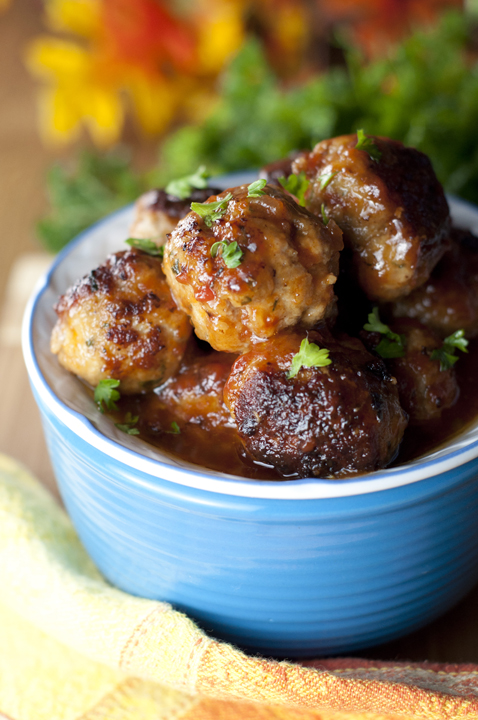 It's Meatball Monday, people!  That's not really a thing. I just made it up. It is worth it for these Brown Sugar Glazed Pork Meatballs.
Wouldn't you agree that meatballs can make Mondays just a little more bearable?  I am fortunate enough to work from home so I don't have to drag myself into an office on Monday morning, but I do still get up early and spend a lot of time playing "catch up" from all the work I was supposed to do over the weekend but neglected to do.  Oops!
I have made these Brown Sugar Glazed Pork Meatballs twice now and they never last long in our house.  I may have eaten about 4 portions worth of meatballs in one sitting.  Mr. Wishes and I both wolfed down our dinner like the famine was coming.  The sauce is a delicious sweet sauce that is essentially a homemade BBQ sauce.
These meatballs are great served over rice as a main course for dinner, with a side of potatoes, or bring them to your next office potluck and watch them disappear.  You can also serve these at a party warmed up with the sauce in a crock pot (more details within the recipe instructions)!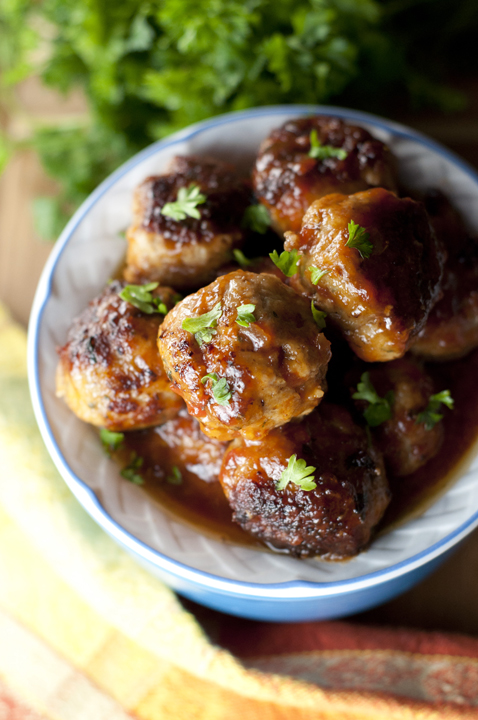 This recipe is absolutely the best meatball recipe ever (and I am a huge lover of meatballs)!  Now that I know how to cook pork properly and I'm no longer afraid of it, I decided to make these awesome Brown Sugar Glazed Pork Meatballs.
How did I get over my fear, you ask?  Well, even if you didn't ask, I will tell you.  Thanks to the National Pork Board, I went on an amazing trip to Iowa for the Pass the Pork tour earlier this month that I wrote all about in this post.
Along with the recap, I also shared my recipe for Apple Cider Pork Tenderloin that you don't want to miss. While in Iowa, I visited a pig farm and I actually "pulled a pig"!  If you don't know what that is, find out by revisiting my recap. I don't want to ruin your appetites right now!
Overall, visiting a pig farm (Brenneman Farm) for myself and meeting the amazing farmers and hard workers behind the pork that comes to my table forever changed my views on pork and farming.
Anyway, something that really resonated with me was the fact that the USDA recently changed their guidelines and has lowered the pork safety temperature to 145 degrees.  Because of this, pork dishes come out a lot less dry and much more enjoyable.
Now I know I can enjoy and make pork dishes as delicious as the ones I ate on that trip.  However you like your steak is how you should also be cooking your pork.  Who knew?  Life-changing, folks!
I'm so glad that I now have better knowledge of the correct cooking temperatures.  I can now be more creative with cooking pork! It definitely makes these Brown Sugar Glazed Pork Meatballs much better. Less dry pork is always a good thing.
You must make these Brown Sugar Glazed Pork Meatballs for your family soon – they will be singing your praises!  Also, head on over to the Pork Be Inspired website where you will find more delicious pork recipes and cooking tips.
You should also check out my Slow Cooker Grape Jelly BBQ Cocktail Meatballs which are one of my favorite ways to eat meatballs. I love recipes that double as a dinner or appetizer idea. You should also check out these Sweet Sriracha Party Meatballs or these Grilled Baked Cheeseburger Meatballs. Enjoy!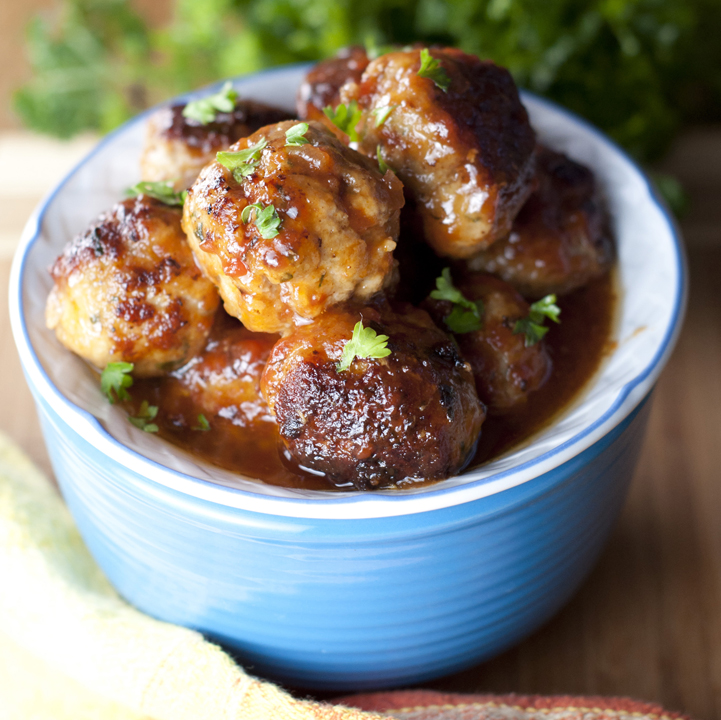 Brown Sugar Glazed Pork Meatballs
Prep time:
Cook time:
Total time:
Brown Sugar Glazed Pork Meatballs serve as a party appetizer recipe or main course served over rice. Everyone will love the sweet brown sugar BBQ glaze!
Ingredients
Meatballs:
2 pounds ground pork
Kosher salt
2 teaspoons chili flakes
2 teaspoons fennel seeds
2 eggs
½ cup sour cream
⅔ cup tightly packed curly parsley leaves with stems, washed, dried and chopped
1 cup freshly grated Parmesan
1 cup Panko bread crumbs, toasted
¼ to ½ cup olive oil
BBQ Sauce:
1 (8 ounce) bottle ketchup
1⁄2 cup water
1 cup brown sugar
1 small onion
1 tablespoon butter
3 tablespoons Worcestershire sauce
2 tablespoons mustard
1⁄4 cup white vinegar
Instructions
Meatballs:
Add the meat to a large bowl, season all over with salt, to taste.
Add the remaining ingredients EXCEPT for the bread crumbs. Mix until all the ingredients are combined. Add in bread crumbs last and mix to combine.
Roll the mixture into about 20 to 25 or so meatballs that are about 2 inches in diameter (can be a little larger).
Heat the oil in a large skillet over high heat. When the oil is hot (it will begin to smoke lightly - be careful not to burn it), shut off the heat to avoid splattering, add the meatballs in a single layer and spread them somewhat apart so they have a chance to brown instead of steam. You may need to do this in batches, depending on the size of your skillet. You want to give them room to move around.
Turn the heat back up to medium-high and brown the meatballs, turning them so they brown evenly on all sides. Cook them until they are medium-rare, about 3 to 5 minutes. Touch them to make sure they are still tender in the center. Use a slotted spoon to remove them from the pan to a plate and cook the remaining meatballs, if needed.
Add the meatballs to the pot of warm sauce you made and allow them to bubble slightly and simmer over very low heat for a few minutes. Shut off the heat and allow the mixture to rest and the meatballs to soak up the flavor of the sauce for a few additional minutes before serving. Serve over rice or with a side of potatoes.
Sauce:
While meatballs are cooking, make the BBQ sauce.
Brown onion in 1 tablespoon of butter.
Add all the ingredients, including the onion into a pot and cook until heated through. Alternately, add to slow cooker after browning the onion, add the meatballs to sauce, and simmer all day if using for a party. You can do this a day ahead: add ingredients to slow cooker insert, refrigerate and cover, then put it in the slow cooker the next day, plug it in and warm it all up!
Disclaimer
: 
This post is sponsored by The National Pork Board.  The words and opinions expressed in this post are strictly 100% my own, as always.
Recipe source:  adapted from "Family Comfort Dishes" on Food Network