Brown Sugar Glazed Pork Meatballs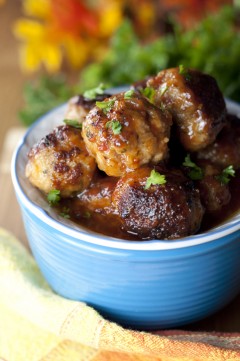 Meatballs:
2 pounds ground pork
Kosher salt
2 teaspoons chili flakes
2 teaspoons fennel seeds
2 eggs
½ cup sour cream
⅔ cup tightly packed curly parsley leaves with stems, washed, dried and chopped
1 cup freshly grated Parmesan
1 cup Panko bread crumbs, toasted
¼ to ½ cup olive oil
BBQ Sauce:
1 (8 ounce) bottle ketchup
1⁄2 cup water
1 cup brown sugar
1 small onion
1 tablespoon butter
3 tablespoons Worcestershire sauce
2 tablespoons mustard
1⁄4 cup white vinegar
Meatballs:
Add the meat to a large bowl, season all over with salt, to taste.
Add the remaining ingredients EXCEPT for the bread crumbs. Mix until all the ingredients are combined. Add in bread crumbs last and mix to combine.
Roll the mixture into about 20 to 25 or so meatballs that are about 2 inches in diameter (can be a little larger).
Heat the oil in a large skillet over high heat. When the oil is hot (it will begin to smoke lightly - be careful not to burn it), shut off the heat to avoid splattering, add the meatballs in a single layer and spread them somewhat apart so they have a chance to brown instead of steam. You may need to do this in batches, depending on the size of your skillet. You want to give them room to move around.
Turn the heat back up to medium-high and brown the meatballs, turning them so they brown evenly on all sides. Cook them until they are medium-rare, about 3 to 5 minutes. Touch them to make sure they are still tender in the center. Use a slotted spoon to remove them from the pan to a plate and cook the remaining meatballs, if needed.
Add the meatballs to the pot of warm sauce you made and allow them to bubble slightly and simmer over very low heat for a few minutes. Shut off the heat and allow the mixture to rest and the meatballs to soak up the flavor of the sauce for a few additional minutes before serving. Serve over rice or with a side of potatoes.
Sauce:
While meatballs are cooking, make the BBQ sauce.
Brown onion in 1 tablespoon of butter.
Add all the ingredients, including the onion into a pot and cook until heated through. Alternately, add to slow cooker after browning the onion, add the meatballs to sauce, and simmer all day if using for a party. You can do this a day ahead: add ingredients to slow cooker insert, refrigerate and cover, then put it in the slow cooker the next day, plug it in and warm it all up!
Recipe by
Wishes and Dishes
at https://wishesndishes.com/brown-sugar-glazed-pork-meatballs-2/