Chicken French
I'm really excited to share this recipe with you today.  This is an amazing dish that is popular in my hometown of Rochester, NY and the surrounding regions.  So popular, in fact, that some have suggested the dish be called "Chicken Rochester".  This also just happens to be my husband's favorite meal and he orders it often when we eat out.  Since I've lived in Rochester, NY my entire life, it's a little surprising I haven't done this one already for my blog.  For years, I have been trying to find a recipe that tastes like the restaurants that do Chicken French very well and finally I found a winner.
Chicken French has everything I love in a recipe. It's delicious and easy, frugal, yet fancy, and everyone always seems to loves it.  The name of this dish is funny because it is actually not even a French recipe, but is a distant cousin to an Italian sautéed veal dish called "vitello francese" which uses a sauce similar to ones used in France.   The recipe came to New York City with the first wave of Italian-American immigrants, and became known as "Veal French." Eventually, the recipe migrated to Rochester, NY's large Italian-American community and chicken began to be substituted for veal.
Chicken French is a tender and moist chicken entree that uses a sauteed chicken breast, breaded in a light egg batter and pan-fried to golden brown.  The tangy, buttery lemony wine sauce is typically created from Sherry or white wine, butter, chicken stock, parsley and lemon.  If you do choose to use sherry instead of a white wine, this will also give you a sweeter flavor to the sauce.  It really is the perfect chicken dish!
Serve the chicken with some broccoli and crusty french bread or serve it over pasta (with more lemon-butter sauce, Parmesan cheese and parsley over the top!)
I really hope you give it a try.  Enjoy!  (the photos are from 2 different times that I made it)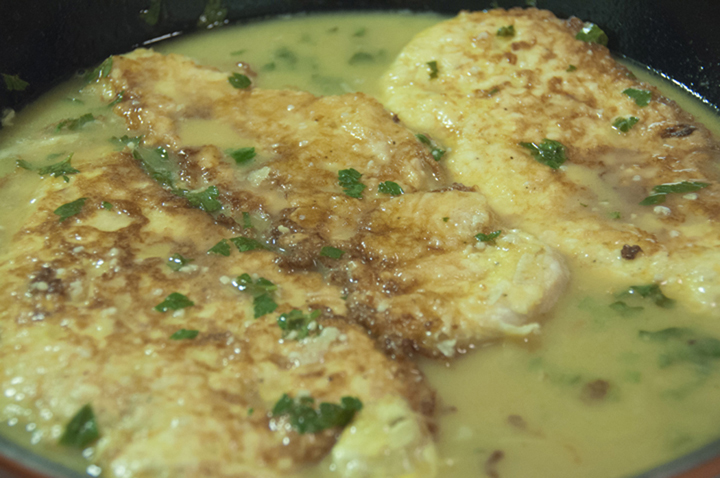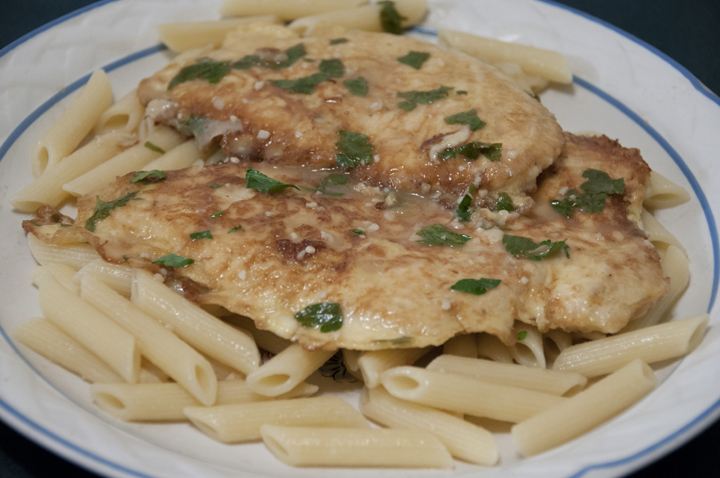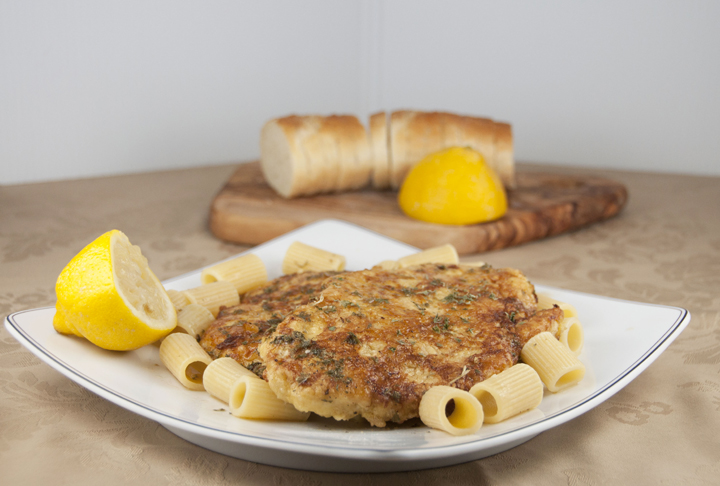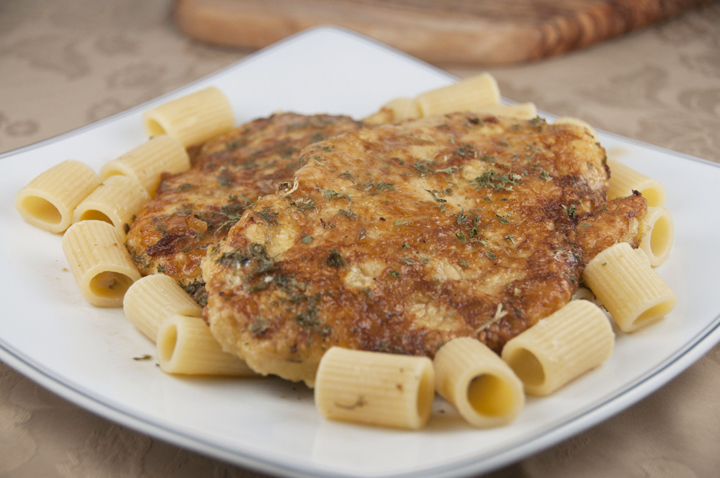 INGREDIENTS:
*yields 4-6 servings*
1 1/2 lb boneless, skinless chicken breast or chicken scallopini
4 eggs, plus 2 tablespoon milk, beaten
1 cup flour
1 tablespoon salt
1 teaspoon black pepper
cayenne to taste
2 tablespoon olive oil, plus 1 tablespoon butter for sautéing
For the sauce:
*I double the sauce so I have enough to put over pasta*
Juice of 2 lemons
1/2 cup good white wine or dry sherry
1 cup vegetable broth or chicken stock
4 tablespoon cold butter, cut in cubes
1 tablespoon chopped parsley
salt and fresh ground black pepper to taste
DIRECTIONS:
(for those of you who are visual learners like me, here is Chef John's youtube video on how it's done!)
Pound chicken breasts with a meat tenderizer until thin (if not using chicken scallopini).
Season flour with salt and pepper and cayenne and mix the eggs with a splash of milk.  Whisk that mixture up.
Dredge chicken in seasoned flour thoroughly on each side.  After you have done that, then coat chicken in the egg mixture (can use a fork or your hands).  Set chicken aside or leave sitting in bowl with egg mixture while saute pan heats up.
Add oil and butter to pan on medium heat. When the butter melts put in the chicken and cook for 2-3 minutes each side (depends how thick it is)- don't let it get dark brown or the egg will get a bitter taste.  Remove to a plate to sit.  It will get heated back up in the sauce later.
Squeeze lemon juice into pan then add the wine or sherry (while pan is off heat).  Put back on the heat.  Add vegetable or chicken stock.
Reduce liquid by half and then add cold butter cubes, KEEP THE SAUCE MOVING UNTIL THE BUTTER IS MELTED (within reason)!  Add parsley and mix that in.
Taste for seasoning after the butter melted, add salt and pepper as needed, then add chicken back in to reheat, spooning sauce over the top of the chicken.  It won't take long for chicken to reheat.
Recipe source:  foodwishes.blogspot.com