Honey Banana Crumble Bread
This is the best banana bread recipe!  The pictures do not do it justice.  It contains cinnamon, honey, and a delicious crumble topping that you will fall in love with.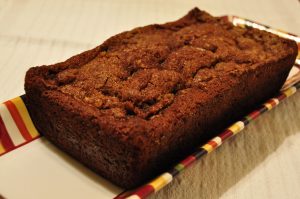 So I just made the BEST banana bread of my life……and it was a recipe that I devised all on my own!  No big deal 🙂
I decided to experiment yesterday since I had three decomposing bananas on my counter.  I make things sound so appetizing, right?  I have made a lot of banana bread in my day and nothing compares to this one.  Mister Wishes gave it a 10 out of 10!  Also, we may have housed the entire loaf in 24 hours.  Oh well… you win some, you lose some.
I don't know if it's the cinnamon, honey, or crumble topping that made this bread so scrumptious, but all that matters is that it was awesome.  So what are you waiting for?  Get baking!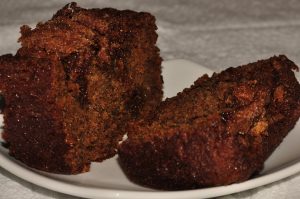 Honey Banana Crumble Bread
Ingredients
1½ cups flour
1 cup sugar
1 teaspoon cinnamon
1 teaspoon baking soda
½ teaspoon salt
3 medium ripe bananas, mashed
2 large eggs
½ cup vegetable oil
¼ cup honey (I used raw)
¼ cup water
For crumble topping:
2½ tablespoons brown sugar, packed
2 tablespoons granulated sugar
1 teaspoon cinnamon
Instructions
Preheat oven to 350°F.
Spray metal loaf pan with non-stick cooking spray.
Whisk 1½ cups flour, 1 cup sugar, 1 teaspoon cinnamon, baking soda, and salt together in a bowl.
Whisk together smashed bananas, eggs, oil, honey and water in a separate bowl until smooth.
Add dry ingredients to wet ingredients and stir together until blended.
Pour batter in pan.
Mix 2 tablespoons sugar, 1 teaspoon cinnamon, and the brown sugar together; sprinkle over batter.
Bake for about 1 hour or until knife inserted into the middle comes out clean.
Cool bread in pan for about a half hour then proceed to transfer bread to wire rack to cool completely. Do so carefully so as not to mess up the crumble topping.