Rice Pilaf
This rice pilaf makes for the perfect side dish to any meal!  I served it with Pork Tenderloin.  Very easy and better than the packaged stuff you buy at the grocery store!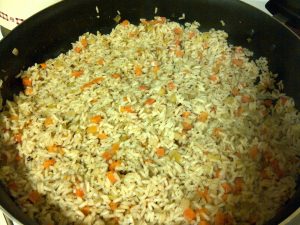 This delicious and easy rice pilaf is one of the side dishes I made at the
New York Wine and Culinary Center
to go with the
Pork Tenderloin
dish I posted the other day.  This will go good with a variety of dishes and it is an easy and nutritious side dish.  Serve this over the Pork Tenderloin – absolutely, positively drool-worthy!
Eat this pilaf as a side dish, or try some of these other additions to make it a meal:
grilled or sauteed chopped or sliced vegetables (such as mushrooms, red bell peppers, onions, zucchini, peas, carrots.)
 
grilled or sauteed sliced or chopped chicken
grilled or sauteed shrimp (but not in my case because Mr. Wishes loathes seafood)
Rice Pilaf
Ingredients
1 small onion, diced
1 stalk celery, diced
1 carrot, diced
1 tablespoon butter
1½ cups long-grain white rice
3 cups chicken or vegetable stock
2 thyme sprigs, leaves picked
½ teaspoon salt, to taste
¼ teaspoon pepper, to taste
Instructions
Sweat the onion, celery and carrot in butter.
Add the rice and stir it to coat with the butter.
Add the hot stock, thyme, and salt and pepper to taste.
Bring the liquid to a boil. Boil the rice for about 5 minutes then cover with a lid or foil.
Reduce the heat to a simmer and cook the rice until it is tender and all the liquid is absorbed, about 12-15 minutes. Be careful not to burn the rice!
Use a kitchen fork to separate the grains of rice to release the steam and serve.
<