Honey Banana Crumble Bread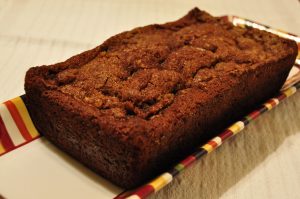 1½ cups flour
1 cup sugar
1 teaspoon cinnamon
1 teaspoon baking soda
½ teaspoon salt
3 medium ripe bananas, mashed
2 large eggs
½ cup vegetable oil
¼ cup honey (I used raw)
¼ cup water
For crumble topping:
2½ tablespoons brown sugar, packed
2 tablespoons granulated sugar
1 teaspoon cinnamon
Preheat oven to 350°F.
Spray metal loaf pan with non-stick cooking spray.
Whisk 1½ cups flour, 1 cup sugar, 1 teaspoon cinnamon, baking soda, and salt together in a bowl.
Whisk together smashed bananas, eggs, oil, honey and water in a separate bowl until smooth.
Add dry ingredients to wet ingredients and stir together until blended.
Pour batter in pan.
Mix 2 tablespoons sugar, 1 teaspoon cinnamon, and the brown sugar together; sprinkle over batter.
Bake for about 1 hour or until knife inserted into the middle comes out clean.
Cool bread in pan for about a half hour then proceed to transfer bread to wire rack to cool completely. Do so carefully so as not to mess up the crumble topping.
Recipe by
Wishes and Dishes
at https://wishesndishes.com/ashleys-honey-banana-crumble-bread/