Bakery Style Chocolate Chip Cookies
Get fresh bakery style chocolate chip cookies right at home with this quick and easy recipe.  This is the best ever thick, gooey chocolate chip cookie recipe and will become your new favorite!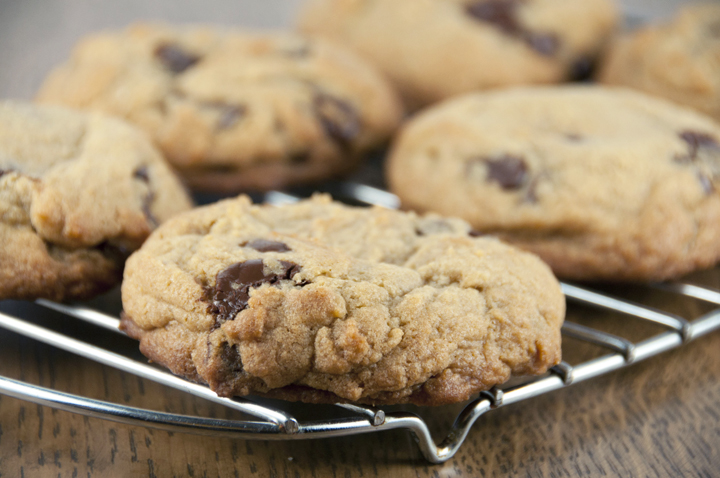 FYI:  I'm STILL juicing and very proud of myself.  I've made it almost the full three days (which seemed like 2 weeks) and can finally eat to my heart's content tomorrow.  It will be a glorious moment, indeed.  That being said, looking at these cookies right now is torture.
The first time I ever baked these cookies my life changed forever.  Drama queen much?  No.  I mean, yes…..kind of, but these really were the best chocolate chip cookies I have ever eaten in my entire life.  I can't say enough good things about these bad boys.  I have forever been on the hunt for the perfect chocolate chip cookie recipe and I have two now that I've found and am never letting go (the other one is a chewy version and I will be sharing that soon, as well).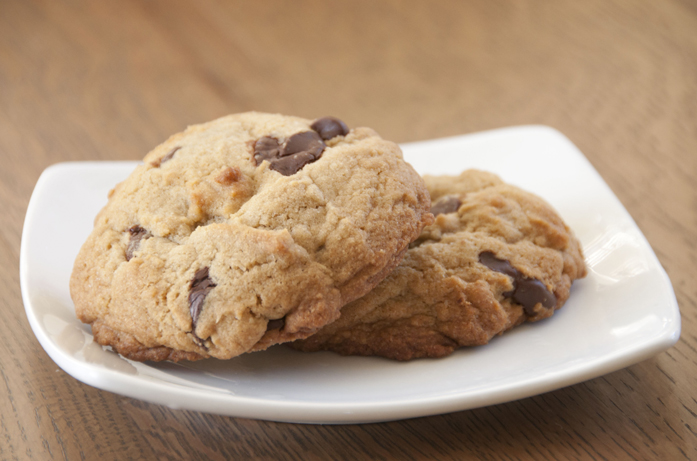 The bread flour is the component that causes these to rise so nicely and become perfectly thick.  Crispy borders, soft chewy insides, and chocolate in every bite.  These cookies are just buttery gorgeousness and perfect.  There is nothing quite like a massive, chewy, homemade cookie!  Now get off your butt and bake 🙂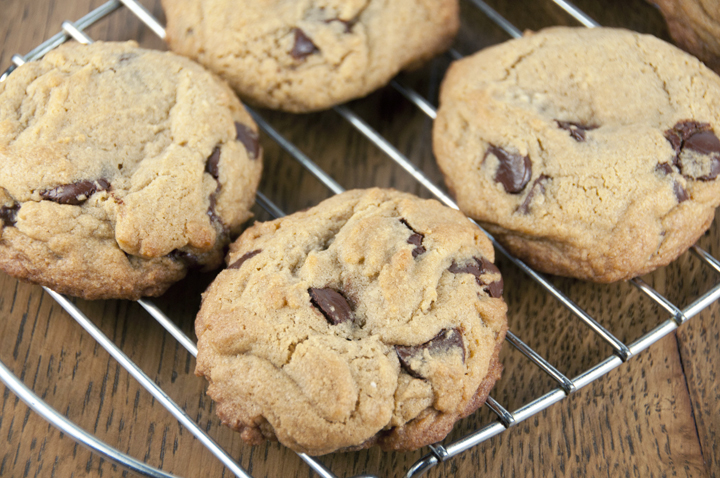 Bakery Style Chocolate Chip Cookies
Get fresh bakery style chocolate chip cookies right at home with this quick and easy recipe. This is the best ever chocolate chip cookie recipe!
Ingredients
3 cups bread flour (use this method to measure accurately)
1 teaspoon baking powder
¼ teaspoon baking soda
¾ teaspoon kosher salt
1 cup unsalted butter, cold and cut into cubes
¾ cup + 4 teaspoons (6 ounces) light or dark brown sugar
½ cup granulated sugar
2 eggs, cold, lightly beaten in a separate bowl
1 teaspoon vanilla extract
1½ cups dark chocolate chips
Instructions
Line a baking sheet with parchment paper; set aside.
In a medium bowl, whisk together the flour, baking powder, baking soda and salt; set aside.
Using an electric mixer, beat the butter on medium speed until it comes together in one cohesive mass, about 1 minute. Add both sugars and continue to beat for another 1 to 2 minutes, until all of the sugar has been incorporated into the butter. Gradually add the eggs and vanilla and continue beating on medium speed until mixed, scraping the sides of bowl once (the batter will appear lumpy). Reduce the speed to medium-low and gradually add the flour mixture until just a little bit of flour still remains. Stir in the chocolate chips and nuts with a rubber spatula.
Divide the dough into 12 even pieces, just grabbing it by the handful and roughly shaping it into a ball (it should not be smooth). Place them (evenly spaced) on the prepared baking sheet. Refrigerate for 30 minutes.
Preheat oven to 375 degrees F. Bake for 18 to 24 minutes, or until light golden brown on top. Let cool for 5 minutes on the cookie sheet, then remove to a wire rack to finish cooling. Leftovers can be stored in an airtight container at room temperature for up to 4 days.
Recipe source:  browneyedbaker.com