Creamy Pesto Chicken Pasta
This tasty creamy pesto chicken pasta recipe is a thick, creamy sauce served over pasta and topped with chicken. It's an easy, comforting pasta dish!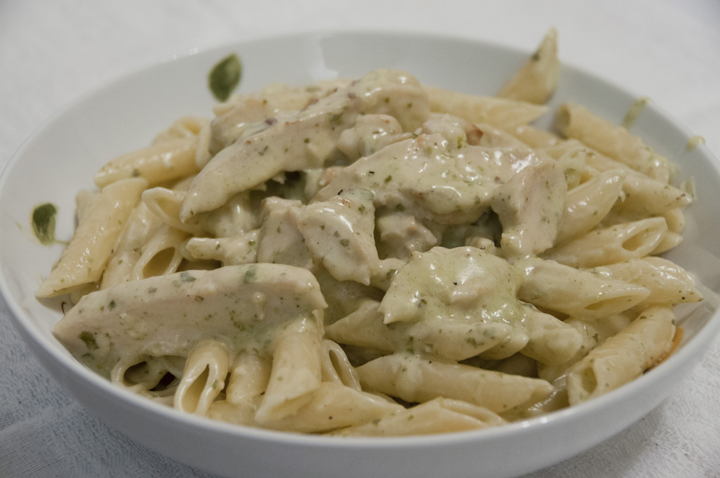 A great way to celebrate "hump day" is to delve into heavenly forkfuls of this creamy deliciousness. If you are looking for a fast and easy comfort dish meal, then this is definitely the recipe for you and your family. I took a "little bit of this" and a "little bit of that" from different recipes and made this creamy pesto sauce my own.
Tips and Tricks
For a healthier alternative, use whole wheat pasta and add some veggies (peppers, onions, broccoli, mushrooms, etc.)!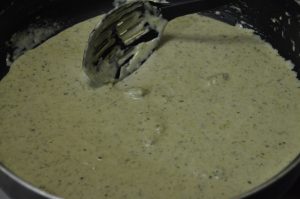 Creamy Pesto Chicken Pasta
Ingredients
1 pound pasta (I used penne)
½ cup butter
2 cups heavy cream
2 cloves garlic, minced
½ teaspoon ground black pepper
1 cup grated Parmesan cheese
⅓ cup pesto sauce
skinless, boneless chicken breast halves - cut into thin strips
Instructions
Bring a large pot of lightly salted water to a boil.
Add pasta, and cook for 8 to 10 minutes, or until al dente; drain.
In a large skillet, melt the butter over medium heat.
Saute chicken and garlic in the melted butter until chicken is almost cooked.
Stir in cream, and season with pepper.
Cook 6 to 8 minutes, stirring constantly.
Stir Parmesan cheese into cream sauce, stirring until thoroughly mixed.
Blend in the pesto, and cook for 3 to 5 minutes, until thickened.
Serve over the hot pasta.