Almond Chicken and Rice Casserole
So I survived turning 30.  It wasn't as bad as I thought it would be.  Maybe just the leading up to it was the hardest part.  I feel (and act) just as young as ever so it can't be too bad! Ha, ha.  In all seriousness, I couldn't have asked for a better 30th birthday.  It was my favorite birthday ever!  I had day after day after day of celebrations, which is just how I like it.  Yup, I'm a birthday brat.  As I wrote about here, New Year's Eve I celebrated with a lot of friends and New Year's day Mr. Wishes had a cake for me with our parents, siblings, and a few aunts and uncles.  This past Saturday night, I went to Mr. Wishes' work party and everybody made me feel very special for my birthday and even stuck around 'til midnight when I was officially 30.  I love his coworkers!  They are an extremely fun group.  By Sunday, which was my actual birthday, I was worn out from over-celebrating and had a nice relaxing day at home in my pajamas. We did go out and grab dinner later on but I spend most of the day chilling out at home… which is exactly what I wanted/needed.  I also watched a "Gator Boys" marathon on Animal Planet somewhere in there.  The day ended perfectly with an all-new episode of "Revenge", leftover cake, and peanut butter cup frozen yogurt.
Today I have a simple dinner idea that would be great for a busy weeknight or serving to company because it makes a lot and it's easy!  You can separate it into 2 smaller casserole dishes and freeze one for a later date or make one large one (I noted this under "ingredients").  You may think the chips on top are weird, but trust me, it works!  It definitely works.   Also, I think the creaminess of the chicken and the crunchiness of the almonds and chips on top makes this the perfect meal.  I substituted Greek yogurt for the mayonnaise – great way to make this dish healthier and get my hubby to eat it, as he despises mayo! 😉  It tasted great and did not change the texture.
I am checking out for a while as Mr. Wishes is taking me on vacation for yet ANOTHER birthday gift.  Hey, you only turn 30 once 🙂 Make some almond chicken and rice casserole and go enjoy your week, everybody!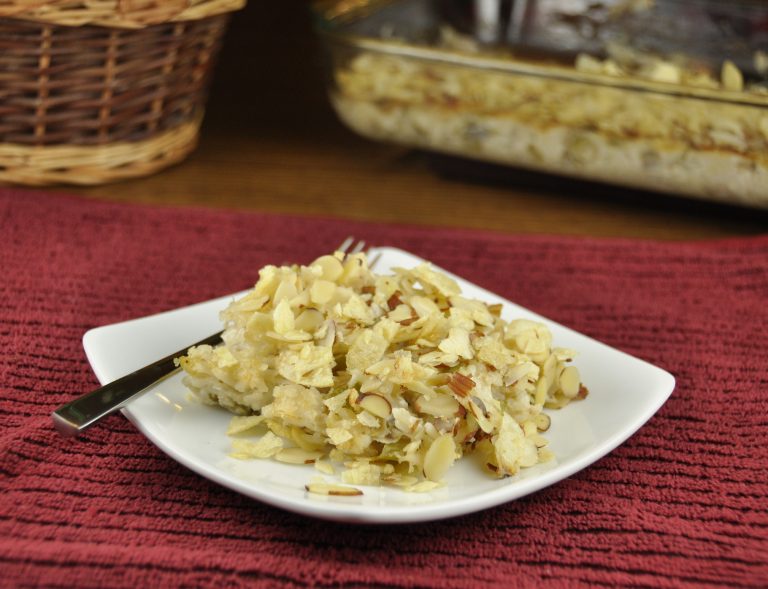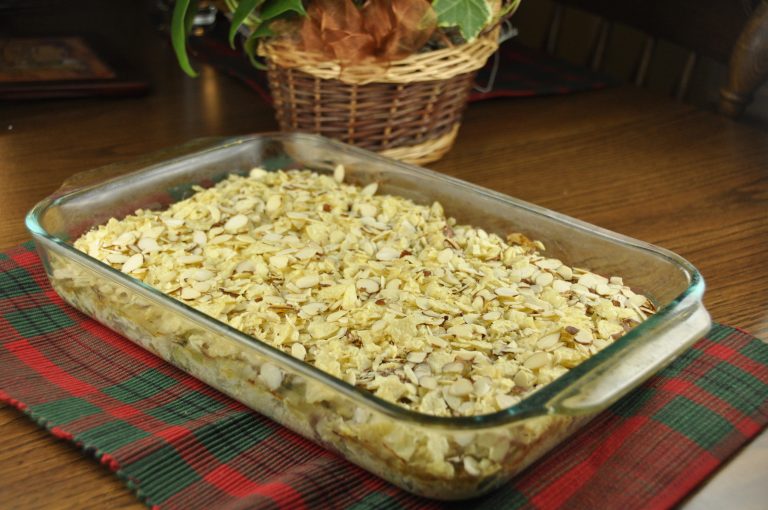 INGREDIENTS:
makes 2 8-inch casseroles OR 1 9 x 13 casserole
2 cups cooked white rice
2 cups diced celery
1/4 cup diced onions
1 tablespoon olive oil
1 rotisserie chicken
1 15-ounce can cream of mushroom soup
1 1/2 cup mayonnaise (I substituted plain Greek yogurt)
salt and fresh ground pepper to taste
3/4 cup slivered almonds
3/4 cup crushed potato chips
DIRECTIONS:
Preheat oven to 300 degrees F.
Cook rice and place in a large bowl.
Saute celery and onions with 1 tablespoon of olive oil until onions are cooked and browned. Place mixture into the bowl with the rice.
Remove meat from cooked rotisserie chicken and place in the bowl.  Add cream of mushroom soup, mayonnaise (or Greek yogurt), a few pinches of salt and a few turns of fresh ground pepper. Stir well to incorporate all of the ingredients. Spoon mixture into two 8-inch or one 9×13 baking dish and top with slivered almonds and crushed potato chips. Bake at 300 degrees F for 1 hour.
If you'd like, you can freeze an unbaked casserole in the casserole dish. When ready to bake, let it thaw in the fridge overnight, top with almonds and crushed potato chips and bake.
Recipe source: adapted from joythebaker.com