Thai Chicken Quesadillas
Thai Chicken Quesadillas recipe combines the best flavors of Mexican and Thai into one amazing Asian dinner that is packed full of flavor!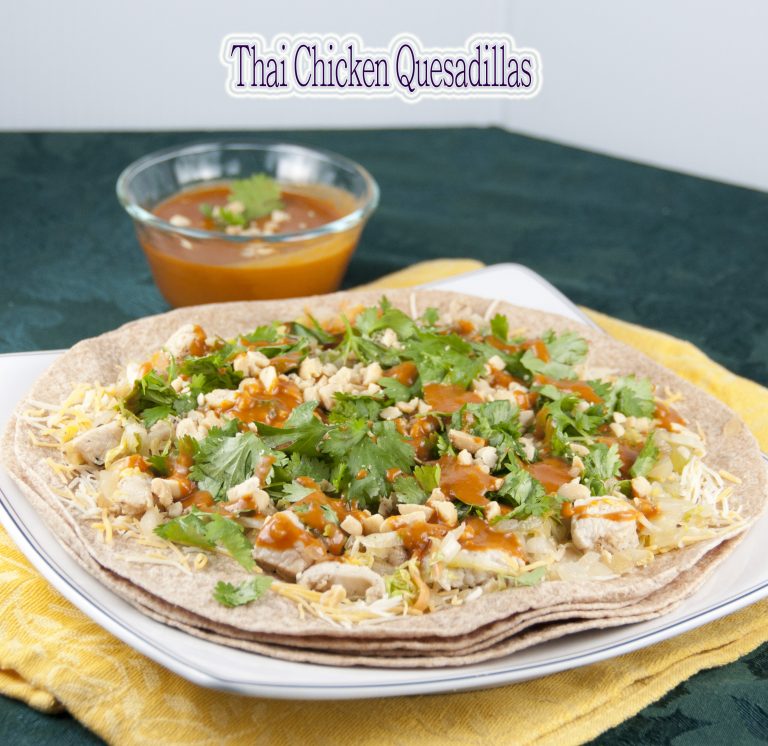 I refuse to say anything about the frigid temperature lately here in upstate New York.  All I will say is that it would be more than OK with me to see some consistent double digit temperatures in the near future.  Double digits is not too much to ask for, right? Let me down my sorrows in some Thai Chicken Quesadillas.
I am not allowed to complain, though, since I just had a wondrous week and half in Florida/the Caribbean but it sure would have been nice to not come back to the coldest week we've seen around these parts in a very long time.
On the bright side, we are supposed to be getting a heat wave next week – hello 40 degrees! Forty degrees and Thai Chicken Quesadillas make me happy.
Moving on…
I love love love Thai chicken quesadillas but I had only made them at home one time before and that was so long ago.  I decided it was time to bring 'em back.  Oh, and please note that these Thai Chicken Quesadillas, that I made along with my Crispy Baked Pork Spring Rolls, made it to Mr. Wishes TOP TWO meals I've ever made.
Today's recipe is sort of a Thai-mex theme (if that is even a legit theme) . It shouldn't really work…..but it really does.  At first, the thought of adding peanuts to quesadillas was weird to me, but then I decided I can totally get behind peanuts in a quesadilla….especially if sweet chili sauce and coconut milk are involved.   The peanuts really added a great crunch to these babies and the dipping sauce was the perfect compliment.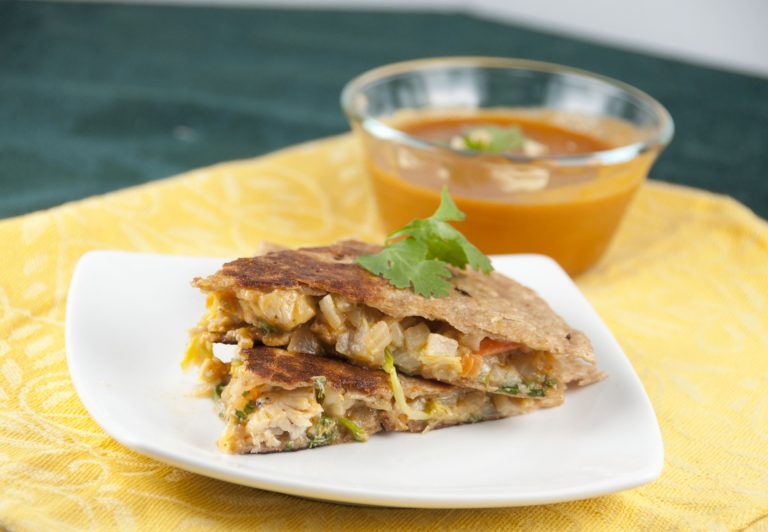 These Thai Chicken Quesadillas were just a little bit of work with the veggie and peanut chopping, but totally worth it and they definitely lived up to my expectations.  Plus, Thai flavors and cheese?! It's like my two favorite things got married! Add some Thai Sticky Rice on the side and you have yourself a Thai restaurant-quality meal!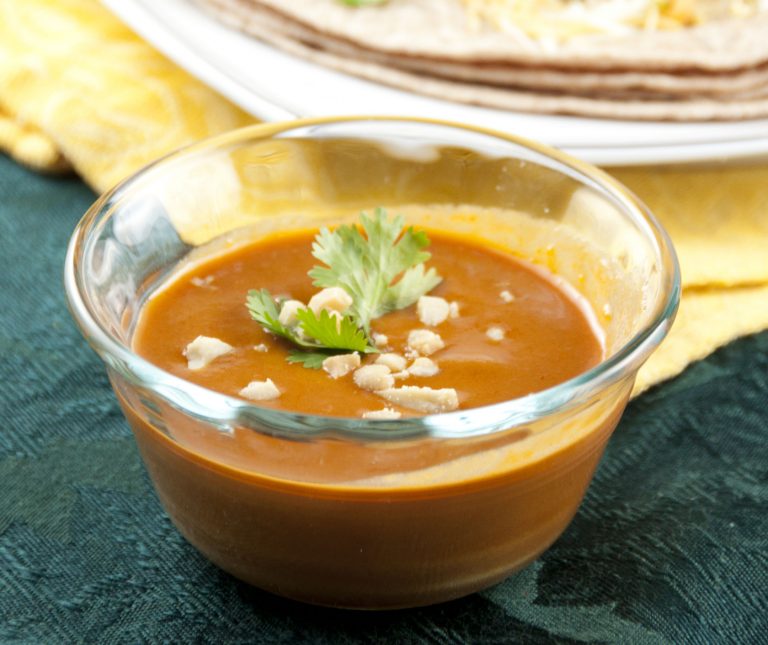 Thai Chicken Quesadillas
Recipe type:
Dinner, Lunch
Prep time:
Cook time:
Total time:
Thai Chicken Quesadillas recipe combine the best flavors of Mexican and Thai into one amazing dinner that is packed full of flavor!
Ingredients
1 boneless, skinless chicken breast, cut into cubes
¼ teaspoon salt
¼ teaspoon pepper
¼ teaspoon cumin
1½ tablespoons olive oil
½ sweet onion, diced
⅔ cups shredded napa cabbage
⅓ cup chopped carrots
1 garlic clove, minced
⅓ cup chopped peanuts
a big bunch of cilantro
1 cup freshly grated pepperjack cheese
4 whole wheat tortillas
Thai Sauce (You can also use any store-bought sauce of your choice):
½ cup sweet chili sauce
¼ cup rice vinegar
¼ cup canned coconut milk
3 tablespoons brown sugar
3 garlic cloves, pressed or finely minced
1 tablespoon creamy peanut butter
1 teaspoon-sized knob of ginger, grated (can also used ground ginger)
1 lime, juiced
½ tablespoon soy sauce
Instructions
Combine chili sauce, vinegar, coconut milk, sugar, garlic, ginger, peanut butter, soy sauce and lime juice in a saucepan, whisking with a fork until combined. Heat over medium heat until mixture comes to a bubble, let boil for 1 minute then reduce to low and let simmer for another 2-3 minutes. Set aside and let cool.
Heat a large skillet oven medium-high heat and add olive oil. Season chicken with salt, pepper and cumin, then add to the skillet and cook until browned on all sides, about 5-6 minutes. Remove chicken and set on a place, then add remaining olive oil with onion, cabbage, carrots and garlic. Stir to coat and cook until slightly wilted but still crunchy, about 3-4 minutes. Remove and add to the plate with the chicken.
Using the same skillet (or an electric griddle), lay one tortilla down. To assemble the quesadillas, I like to take a bit of cheese to use as "glue" on each side. So add a layer of cheese, half of the chicken mixture, sprinkle with cilantro and peanuts, about 2-3 tablespoons of the thai sauce, then cover with a bit more cheese. Place the second tortilla on top and cook until browned and crisp, and cheese is melted. Flip and cool until golden on the other side. Repeat with the second quesadilla.
Put the remaining sauce in little bowls for dipping!
Recipe source: adapted from howsweeteats.com