Mozzarella Stuffed Chicken Burgers
 Father's Day is only two days away, and that means that the summer grilling season is in full swing.  One of the best things about grilling is that it makes for laid back, low maintenance entertaining and dinners, but that does not mean the menu has to be limited to your standard burgers and hot dogs.
Mr. Wishes and I took a spontaneous trip to Wegmans one night last week and bought all kinds of "good for you" food.  We planned on having a late night dinner cookout that night just the two of us and instead of beef we bought organic ground chicken to make chicken burgers.  Then I got this idea to STUFF the burgers with fresh mozzarella and then top them with guacamole.  I have been wanting to make stuffed burgers or stuffed meatballs for a while now just to try it and see how they come out.  They turned out to be really tasty and a great way to switch things up when grilling out!
So this was pretty much a throw-together meal, but it was flavorsome and had a lot less fat than beef burgers…and even had less fat than turkey burgers, surprisingly.  Of course, the guacamole on top added to the healthy factor and also to the deliciousness.
So, what is everyone doing to celebrate their dads this weekend?  Maybe you can treat him to one of these mozzarella stuffed chicken burgers, or another favorite of mine: Caprese Burgers.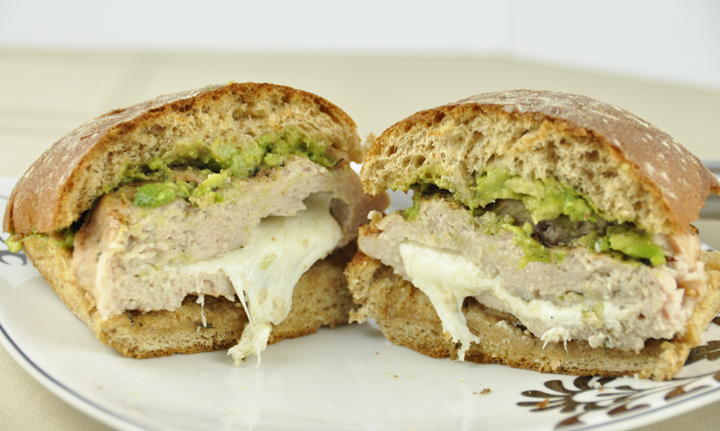 INGREDIENTS:
1 pound ground chicken
1 tbsp fresh basil or 1 teaspoon dried basil
1 tsp fresh garlic, minced
Salt and Pepper, to taste
4 thick slices fresh mozzarella
4 hamburger buns (we used honey wheat)
lettuce & tomato (whatever you like to top burgers with, we also used guacamole)
DIRECTIONS:
Preheat your grill over medium heat.
In a bowl, combine ground chicken, basil, garlic, salt, and pepper.  Divide meat evenly into the size patties that you prefer.  Divide those pieces of meat for each burger in half and form 2 patties (I think we got 4 thick burgers out of it). Place sliced mozzarella in the center of those 2 patties. Pinch the edges of the patties tight around the cheese so that it won't leak out on the grill.
Grill chicken patties 5-7 minutes; flip; then grill an additional 5- 7 minutes. Toast (and butter) buns, if desired.
Finish up with your favorite toppings and enjoy!