Chicken Gyros
Well it's currently 372 degrees in my house because the air conditioner decided to break this week.  If I had to pick a week for it to break, I guess this was a good one with it being in the mid 90's all week and over 100 degrees with the heat index….oh, and extremely high humidity 😉  I may or may not have ran through our front yard sprinkler in all my clothes a few times each day this week.  I felt like I was 5 years old again and my neighbors probably think I'm crazy, but that's OK with me.  As long as I get a little relief from the heat!
I am in love with gyros (pronounced "yeer-o" for everyone who doesn't know, and roll that R!) and who could resist a good gyro wrapped in warm pita bread?  I could eat them forever!  This is about the easiest meal you can get when you don't feel like turning on your oven for a long time to cook dinner and that was the situation I was definitely in this week.  The word "gyro" actually refers to the way the various meat (normally they are made with lamb) is cooked on the vertical rotisserie and then sliced into thin strips.  In most places in the U.S., however, it refers to the pita roll-up the meat is served to you on and many times is made with chicken or beef with other fillings inside and a yogurt-based Tzatziki sauce.
The marinade resulted in beautifully moist and flavorful chicken.  The thick and tangy yogurt sauce tasted great with the chicken and this meal came together so quickly.  It would be perfect for lunch OR dinner!  Have a great summer weekend, everyone!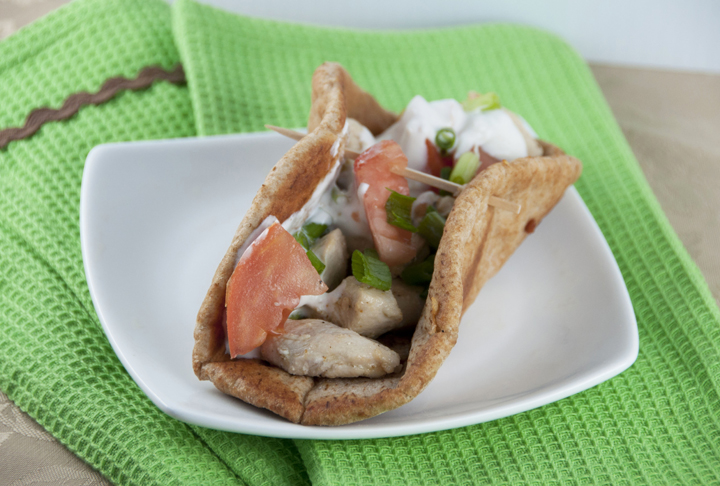 INGREDIENTS:
1 lb boneless, skinless chicken (breasts or thighs)
4 cloves garlic, minced
1 lemon, juiced
2 tsp red wine vinegar
2 tbsp olive oil
2 tsp dried oregano
salt and pepper
1 cup prepared Tzatziki sauce OR plain Greek yogurt (recipe below if you'd like to make homemade Tzatziki)
sliced tomatoes
sliced onions
sliced cucumbers
4 pocketless pitas
DIRECTIONS:
Whisk together the garlic, lemon juice, vinegar, oil, oregano, and 1 teaspoon salt in a small bowl and add to Ziploc bag. Add in chicken pieces and marinate in the refrigerator for 1-2 hours, turning halfway through.
Preheat the grill (or pan on the stove, or broiler…whatever you decide to use). Sprinkle both sides of the chicken with salt and pepper, and then grill over indirect heat or cook on the stove until cooked through, about 8 minutes per side, depending what size/type chicken you are using.  If you are broiling the chicken it will probably take about 5 minutes per side to cook through, depending on the size of chicken.  Allow the chicken to rest for a few minutes before slicing into strips.
Meanwhile, warm your pitas. I just spray them with a little bit of oil and stick them right in a skillet for a few seconds per side, but you can also warm them on the grill.  Top the pita with the chicken, tzatziki (or Greek yogurt), tomatoes, cucumbers, and onions.
Homemade Tzatziki Sauce:
 1 (32 oz.) container of plain yogurt (a fat free Greek yogurt like Fage is fine–but 2% fat is preferred since it's strained & thicker)
2 cucumbers, seeded
3-5 cloves garlic–depending how much garlic you like, crushed
1-2 tsp white wine vinegar
1 tsp.  fresh lemon juice
salt and a little pepper
drizzle of extra virgin olive oil
Strain yogurt using a cheesecloth over a bowl (if you don't have that, a strainer lined with a coffee filter will work) for several hours or overnight to get out as much moisture as possible. If you're using Greek yogurt, just pour excess liquid off the top instead of straining.
Peel and seed the cucumber.  Shred or grate the cucumbers and then squeeze them to get rid of as much excess moisture as possible. I use a kitchen towel to do this, and you will get a lot of liquid so don't skip this step! You don't want a runny tzatziki.
Mix together the strained yogurt, shredded cucumbers, garlic, vinegar and lemon juice. Salt to taste. It's best to refrigerate for at least 30 minutes before serving, so flavors can meld.
Drizzle a little olive oil over the top.
Add herbs to your liking.
Tzatziki sauce recipe adapted from ellysaysopa.com