Wallaby Organic Yogurt: Review & Giveaway! (winners announced)
UPDATE: The 3 winners of the Wallaby Greek Yogurt are:
#34 – Nancy P.: "I subscribe to emails!"
#38 – Jeffrey:  "My favorite flavor is Cherry! Thanks for the chance to win some free yogurt, I've seen this brand in the local grocer but have never tried it."
#47– Kristy: "Vanilla Bean"
Congratulations, winners! Be sure to reply to the email you've been sent, and your coupons for the yogurt will be shipped out to you directly from Wallaby!  Thank you to everyone who entered 🙂

Inspired by a vacation to Australia and experiencing Australian-style yogurt, the founders of Wallaby Yogurt Company decided to start producing their own organic yogurt in Napa Valley, California.  Wallaby is a family-owned business that has been producing yogurt since 1996 after the founders tasted a delicious and distinctive yogurt while Down Under that they wanted to introduce to America!  They achieved their mission and to this day use only premium, local ingredients and gentle cooking methods, resulting in a very distinctive flavor.  In addition to their Australian-style yogurts and European-style sour cream, they now also offer authentically strained organic Greek yogurt available in low-fat and non-fat versions.
Wallaby uses a traditional slow-cooking method to prepare the yogurt before straining it in small batches.  The company also makes it's yogurt from organic milk from small family farms, which you can read more about on their website.  There are no artificial ingredients in the product, so I can really appreciate the natural taste and the fruit flavor really comes through!  With the absence of artificial sweeteners and chemicals, there is no strange aftertaste that I always dislike when eating yogurt.  Besides the creamy, smooth texture and wonderful taste, you'll notice two things about Wallaby Yogurt: it's thinner than most yogurt, sauce-like, and almost drinkable.  Also, it's much less sweet (but just the right sweetness level), with a more subtle flavor than traditional yogurts.

Greek yogurt is all over the place lately it seems.  I read recently that Greek yogurt now takes up 36% of the yogurt market in the United States and is now used to make everything from frozen yogurt to cream cheese.  Greek yogurt is thicker, richer, and more protein-packed than traditional yogurt.  Wallaby's Greek varieties come in a two-compartment container, giving consumers the ability to choose their own yogurt-to-toppings ratio with every spoonful.  There are quite a few varieties of toppings including blueberry, honey, cherry, and strawberry.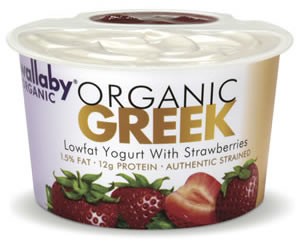 Wallaby is now making a NON-fat variety of organic Greek yogurt as of January 2013 and it is still an authentic strained yogurt that packs in a LOT of protein!  The non-fat Greek yogurt is available in a variety of flavors including lemon, mixed berries, peach, and raspberry.
My favorite way to use Greek yogurt is as a substitute for sour cream, mayonnaise or cream in many recipes.  It's a great way to cut down on the fat and offer a healthier version of some favorite dishes!  I have used it in so many of my recipes, including my Hot Corn and Cheese Dip, Almond Chicken and Rice Casserole, Biscoff-Glazed Oatmeal Cookies, and Baked Pork Flautas.
Traditional plain yogurt is also offered in 6oz, 16oz, and 32oz sizes.  My favorite flavors are the low-fat lemon and maple flavor, and the non-fat Barlett pear flavor!  There are many unique Wallaby flavors to enjoy:
Low-fat flavors:  Banana Vanilla, Black Cherry, Blueberry, Key Lime, Lemon, Maple, Orange Passion Fruit, Peach, Plain, Raspberry, Strawberry, Vanilla, Vanilla Bean.
Non-fat flavors:  Blackberry, Mango Lime, Plain, Strawberry Guava, Vanilla Bean.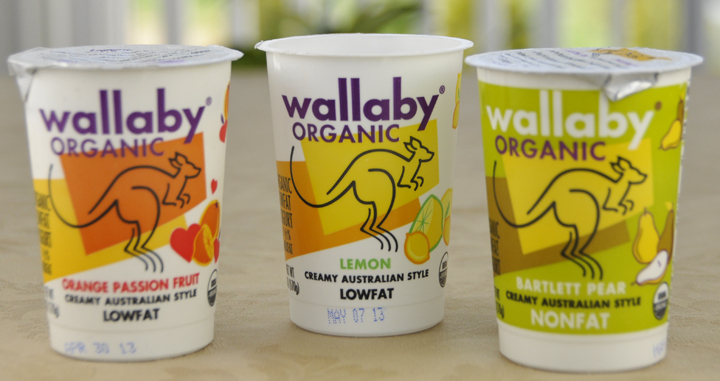 I would highly recommend this scrumptious yogurt to you all!  You'll never want to switch back to the other brands.  It may be a bit more expensive than other brands, but I am perfectly willing to pay a little extra money for the quality you get with Wallaby.
GIVEAWAY DETAILS
Thanks to Wallaby Yogurt, THREE Wishes and Dishes readers will get a chance to try Wallaby Greek Yogurt for free!  Each winner will receive 5 FREE coupons for the 5.3/6oz products (valued at $10 each prize pack).
Wallaby products are available at select stores nationwide (Whole Foods, etc.), so please make sure there is a store that sells it in your area before you enter the drawing.  Find a store near you with this locator. Good luck!
HOW TO ENTER
To enter to win, simply leave a comment on this post and answer the question:
"What is your favorite flavor of yogurt?"
You can receive up to FIVE additional entries to win by doing the following:
1. Subscribe to Wishes and Dishes by email (enter your email address in the box at the top right hand side of my page). Come back and let me know you've subscribed in an additional comment on this post.
2. Become a fan of Wishes and Dishes on Facebook. Come back and let me know you became a fan in an additional comment on this post.
3. Follow Wishes and Dishes on Pinterest. Come back and let me know you became a fan in an additional comment on this post.
4. Follow @wishesndishes on Twitter. Come back and let me know you've followed in an additional comment on this post.
5.  Become a fan of Wallaby Yogurt on Facebook.  Come back and let me know you became a fan in an additional comment on this post.
Deadline: Tuesday, May 7, 2013 at 11:59pm EST.
Winner: The winners will be chosen at random using Random.org and announced at the top of this post.  If the winners do not respond within 48 hours, another winner will be selected.
Disclaimer: No monetary compensation was offered or accepted for this post. Gratis product was received in order to write my honest review. All opinions are honest and my own.
Many thanks to Wallaby Yogurt for providing the review and giveaway product!