Avocado Chicken Salad Crostini
Avocado Chicken Salad Crostini is a quick and healthy appetizer recipe perfect for parties, showers and spring entertaining!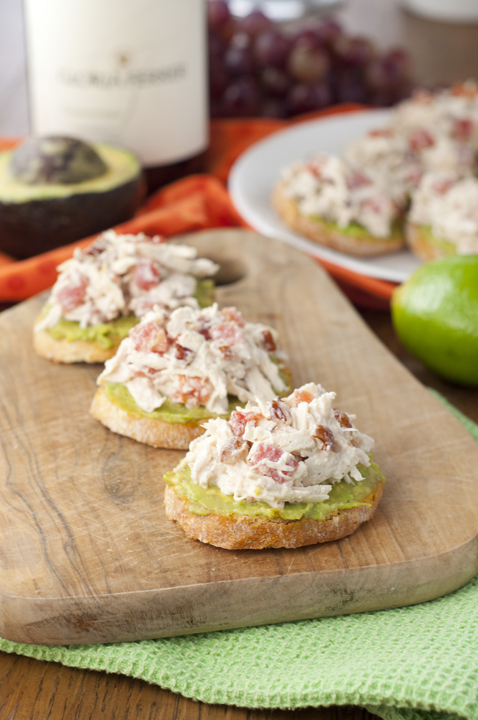 It's finally spring time!  I say "finally" but really we can hardly call what we had here in  Rochester a winter at all.  I feel like we pretty much skipped right over it and I'm looking forward to that happening every single year from this point on.  That is a hint to Mother Nature.  Please and thank you!  Keep dreaming, right?
With spring being here, my taste in food and the way most of us eat starts to change.  A variety of salads and lighter foods become a staple in the spring and summer months and discovering new ways to get creative with them are always on my radar!  That's where this crostini comes into play…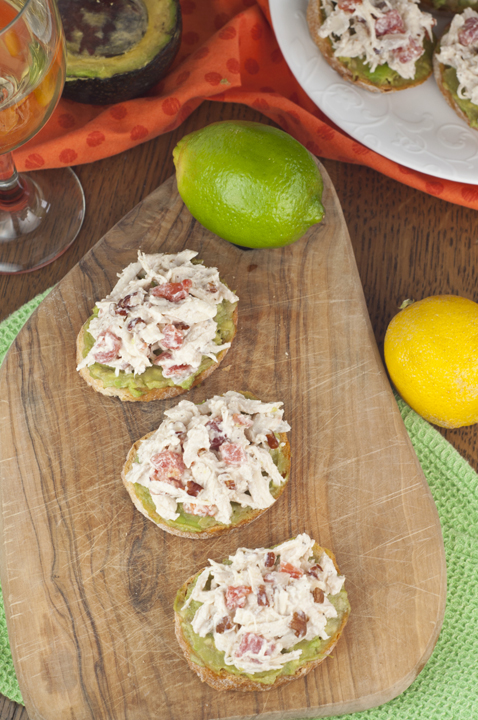 If you're sitting there thinking, "What the heck is Crostini?" you are probably not alone, so I will give you the quick low-down.  Crostini actually means "little crusts" in Italian and they are an Italian appetizer consisting of small slices of grilled/toasted bread and various toppings. How appropriate seeing as I just got home from Italy a couple of weeks ago!
I served Gloria Ferrer Carneros Chardonnay along with this Avocado Chicken Salad Crostini and they were the perfect pair for spring.  Gloria Ferrer wines have earned over 400 gold medals and 50 90+ scores in the last 5 years so you can be confidant the taste is unparalleled.  Their Chardonnay has peach and pear aromas with pineapple and is aged for 9 months on French Oak Barrels to develop complexity.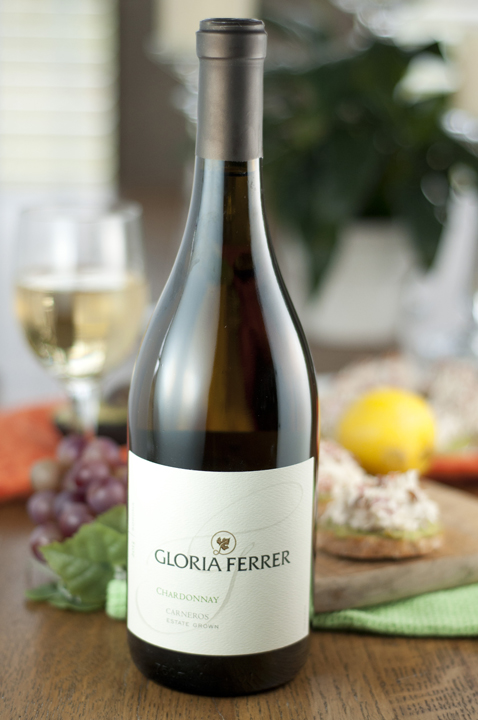 Along with this crostini, Gloria Ferrer Chardonnay would go perfectly with lobster, scallops, fruit salad, and more!  Their Pinot Noir (which is also amazing, by the way) pairs perfectly with pan seared duck breast, roasted quail and grilled lamb – just to name a few!  Gloria Ferrer vineyards are known as experts in the production of Pinot Noir and Chardonnay, and yield estate grown still and sparkling wines that compare to some of the world's finest.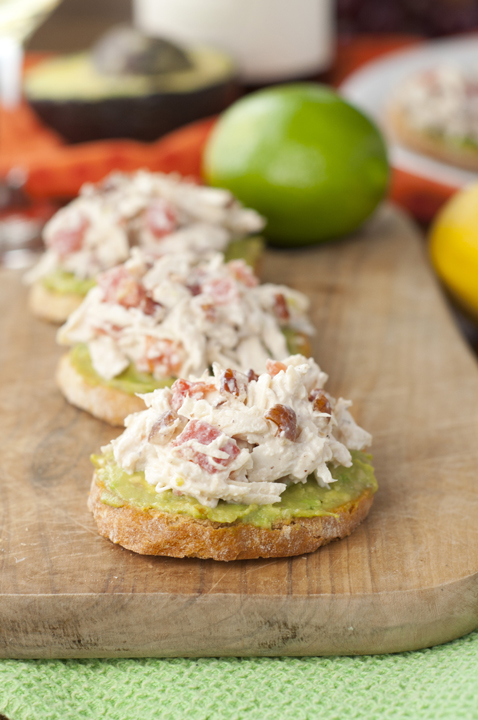 So, call it toast, crostini, or bruschetta – this Avocado Chicken Salad Crostini is the perfect base for any flavor you wish to go for this spring.  I love it because you can actually make a meal out of it or serve it as an appetizer or afternoon snack.  In my opinion, it serves best as a party appetizer for spring entertaining!  This version topped with smashed avocado and my pecan chicken salad will be the star at your next party.  It would also be perfect to serve at your next girls' night with some Gloria Ferrer wine.  Enjoy!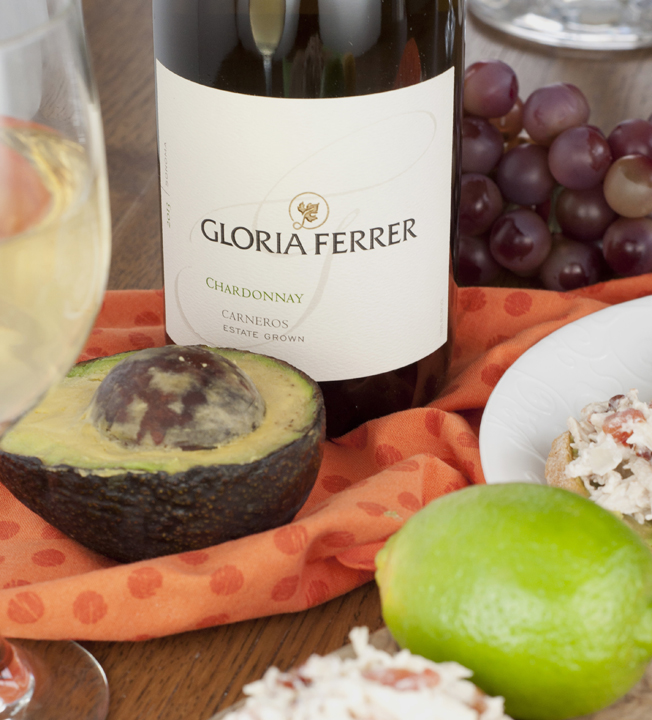 Avocado Chicken Salad Crostini
Prep time:
Cook time:
Total time:
Avocado Chicken Salad Crostini is a quick and healthy appetizer recipe perfect for parties, showers and spring entertaining!
Ingredients
1 French Baguette or Batard bread, sliced into half inch slices (I got about 20 slices)
1-2 mashed Avocados
1 Tablespoon Lime Juice
Salt and Pepper to taste
Extra virgin olive oil
Pecan Chicken Salad
1 (10 ounce) can Petite Diced Tomatoes (or use fresh)
1 (4 ounce) can green chilies, drained
½ cup plain Greek yogurt
1 tablespoon raw honey
2 cups cooked chicken breast, shredded
1 cup diced celery
½ cup chopped toasted pecans
Instructions
Heat oven to 350.
Place the baguette slices on a large rimmed baking sheet. Brush both sides of each slice with olive oil and sprinkle with a small amount of salt and pepper.
Bake until golden brown, about 15-17 minutes. Remove from oven and let cool on the baking sheets.
Meanwhile, prepare the Pecan Chicken Salad.
In a medium bowl, combine tomatoes, chilies, Greek yogurt and honey.
Stir in cooked chicken, celery, and toasted pecans
In another small bowl, combine mashed avocados, lime juice, salt, and pepper. Refrigerate until ready to use.
Top each baguette with the avocado mixture, spreading with a knife, and a heaping spoonful of the chicken salad. Serve immediately or avocado mixture will turn brown. Use any leftover chicken salad to make sandwiches! Enjoy.
I was selected for this opportunity as a member of Clever Girls and the content and opinions expressed here are all my own.
Recipe source:  inspired from keyingredient.com