Pecan Pie Bark
This Pecan Pie Bark is so incredibly good and it just can't get any easier to make.  This is the perfect creative dessert recipe for the holidays.  Make several batches because it disappears so fast!
I seriously have one of the most talented food bloggers guest posting for me today while I'm off gallivanting in the beautiful Caribbean for a family vacation with Mr. Wishes' family.  The awesome and hilarious Hayley from Domestic Rebel has become a great "bloggie" friend to me and I'm borderline obsessed with her blog.  Head over there and you'll want to stalk follow her too!  I've never laughed out loud so many times reading someone's blog as I do hers. She is sharing her recipe for pecan pie bark with you all today and I'm so excited for it! It's the perfect holiday dessert.
I'm so glad you're here! Follow along on Pinterest for more inspiration!
Hayley is a master in the kitchen and her creative, original (and sometimes CRAZY…in a good way) recipes along with her beautiful photos are such a huge inspiration. I'm super stoked to share her with you all today!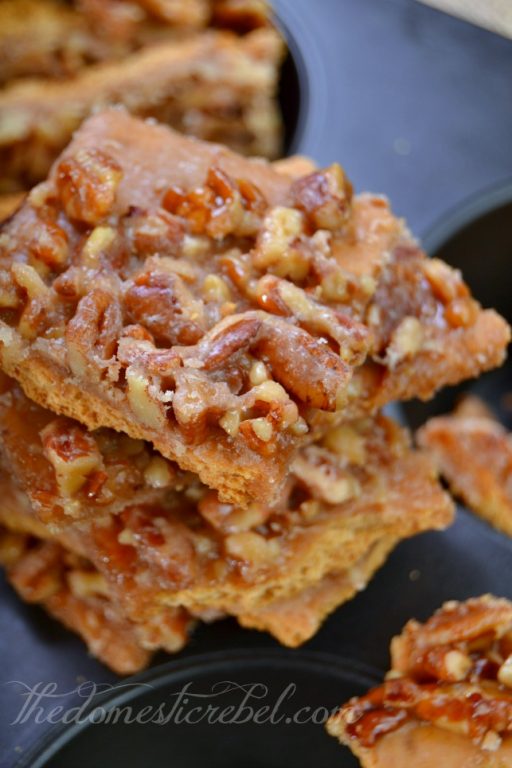 My name's Hayley and I blog over at The Domestic Rebel! I am so happy Ashley asked me to guest post for her today — I seriously LOVE this girl! She's the sweetest little cupcake, has AMAZING recipes, and is such a great friend to have, even if we are separated by almost 50 states (she's a New Yorkah, I'm a California girl!). But distance truly does make the heart grow fonder, because I know when we are united, we're going to be attached at the hip!
Since I traveled to New York for the first time this past March, I have fallen head over heels, hopelessly in loveeeee with the State. I search for apartments on Craigslist constantly, I'm always making hypothetical online shopping carts full of furniture on IKEA's website, and I am already perfecting my New York accent. Ashley doesn't know this yet, but I'm pretty much moving my silly self into her home here soon.
I figure I will get along with her, Mr. Wishes, and all of New York juuuust fine. I'll bring along a little California sunshine and all will be well in the world. Except for the fact that I will kind of miss California a little little bit. It's been home for 22 years of my life, so leaving it won't be super easy.
Thankfully, Ashley seems like the perfect roommate to quell my homesickness (and the perfect cook to let me eat my pain away!) Not only that, but for letting me crash her pad, I'll make her something that reminds me of home and is one of my favorite holiday/fall/winter treats ever — my Pecan Pie Bark.
Seriously, the pictures don't do this bark justice. It's one of the greatest confections I've ever made or eaten — which is saying a lot! It's only four ingredients, is made in minutes, and makes the perfect gift for friends, family, coworkers, or for your stomach on a cold wintery night 🙂 with the soft crunch of the spiced graham crackers, the buttery caramel sauce glistening over the top and those salty, roasted pecans, this bark will put you in your happy place no matter where that may be!
You may also love this Peanut Butter Buckeye Bark for the holidays!
Watch my "How To" Video below to see the Pecan Pie Bark recipe in action!
Pecan Pie Bark
Prep time:
Cook time:
Total time:
This Pecan Pie Bark is so incredibly good and it just can't get any easier to make. This is the perfect creative dessert recipe for the holidays.
Ingredients
2 sticks butter
1 cup white sugar
1 & ¼ cups pecan halves
About 2 pkgs (approx. 12 sheets) honey graham crackers
Instructions
Preheat your oven to 325 degrees F.
Lay your graham crackers tightly across the area of a lightly greased rimmed baking sheet. Trim any crackers to fit the sides of the pan if needed. Set aside.
In a large saucepan, bring the butter, sugar and pecans to a boil over medium heat for 3 minutes, stirring constantly.
Carefully (and evenly) pour boiled mixture over the entire plane of graham crackers, spreading pecans around evenly.
Immediately pop graham crackers into the oven and bake for 8 minutes.
Allow graham cracker bark to cool completely before breaking into pieces and storing in an airtight container.
This bark is one of my family's favorite treats during the holiday season. I was actually introduced to it by my ex-boyfriend's mother who made it all the time during the holidays to bring to church. Unfortunately for the church, I inhaled most of the bark before anyone even knew it was there, but at least someone enjoyed it, right? 😉  Thanks again for reading, and pop on over to say hi anytime!!