Coconut Macaroon Nutella Nests
Easy Easter dessert recipe for Coconut Macaroon Nutella Easter Nests filled with Nutella and topped with peanut M&M's to look like a bird's nest and eggs!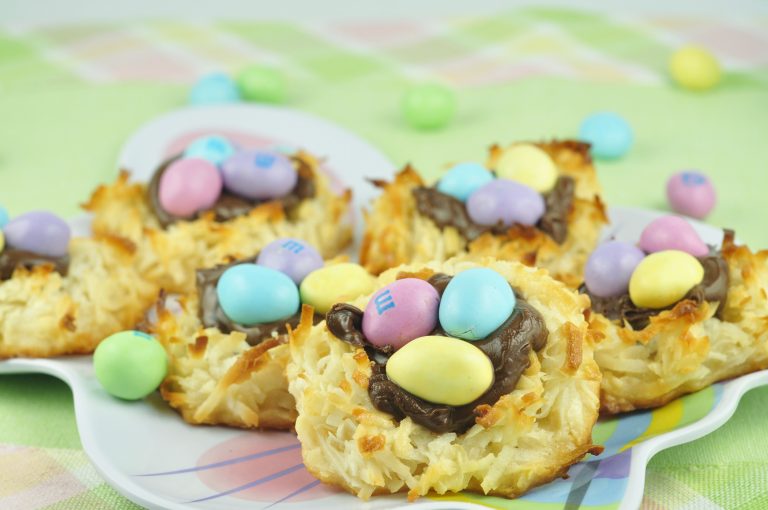 Spring has sprung and you know what that means:  spring cleaning, baseball, tank tops, Easter bunnies, and well.. allergies for many people, including me a little bit this year.  Bleh.  I really love spring.  I can't tell you how happy I am that winter is over and spring is finally here! (Even though we hardly can call what we had here in Rochester a winter!)
Well, somehow Easter has snuck up on me and is now just a few days away!  This Coconut Macaroon Nutella Nests recipe is a wonderful cookie recipe for any Easter or spring celebration.  They are the perfect  addition to your Easter table or a spring party!  They are moist, festive,  tasty, rich, chewy,  and most importantly, cute!  Yes, they are soooo cute and a fun treat to have on the table for Easter dessert.
These Coconut Macaroon Nutella Nests don't have to be Easter specific, however.  The pastel colors are cute for spring and summer, in general.  Enjoy and let me know what you think!  I think that I will make these a yearly tradition in my home.
What are some Easter traditions in your family?
If you love fun Easter treats, try these Fruity Pebbles Easter Eggs or this Easter Bunny Bark!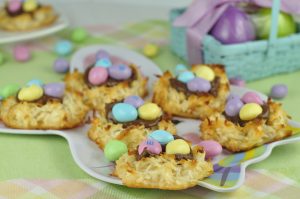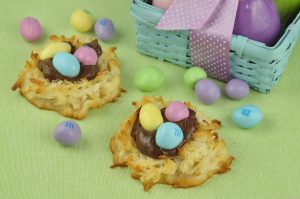 Coconut Macaroon Nutella Nests
Prep time:
Cook time:
Total time:
This is a quick and easy Easter dessert recipe for coconut macaroons filled with Nutella and topped with peanut M&M's to look like a bird's nest and eggs.
Ingredients
⅔ cup sweetened condensed milk
1 large egg white
1½ teaspoons vanilla
⅛ teaspoon salt
3½ cups sweetened coconut
1 cup Nutella
"Bunny Mix" Peanut M&M's (or other Easter candy)
Instructions
Preheat the oven to 325°F. Line a large baking sheet with parchment paper or a Silpat mat.
In a large bowl, stir together the sweetened condensed milk, egg white, vanilla extract, and salt. Stir until combined.
Add in the coconut and mix well.
With a spoon, scoop up about 2-3 Tablespoons of the dough and place the dough onto the prepared baking sheet. Form the cookies into the shape of a bird nest. Press down the center with your thumb.
Bake cookies for 17 to 20 minutes, or until slightly golden brown. Remove from the oven and press your thumb down in the center of the nests again (be careful not to burn yourself).
Cool the cookies on the baking sheets for about 5 minutes or until they are firm and set. Remove with a spatula onto a cooling rack. Cool completely.
Place about a tablespoon of Nutella in the center of each nest.
Place 3 egg candies in the center of the each nest and then they are ready to serve!
Note: you can make these a couple of days in advance. Store in an air tight container on the counter.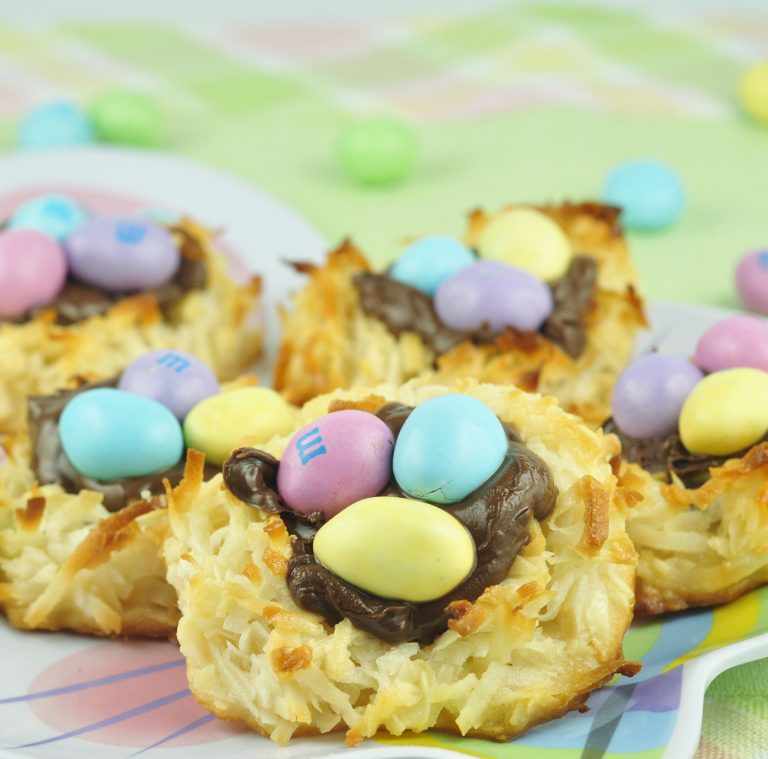 Recipe source: adapted from twopeasandtheirpod.com