Slow Cooker Buttery Garlic Mashed Potatoes
A hands-off recipe for herb Slow Cooker Buttery Garlic Mashed Potatoes making for an easy, stress-free side dish for Thanksgiving and all of the holidays.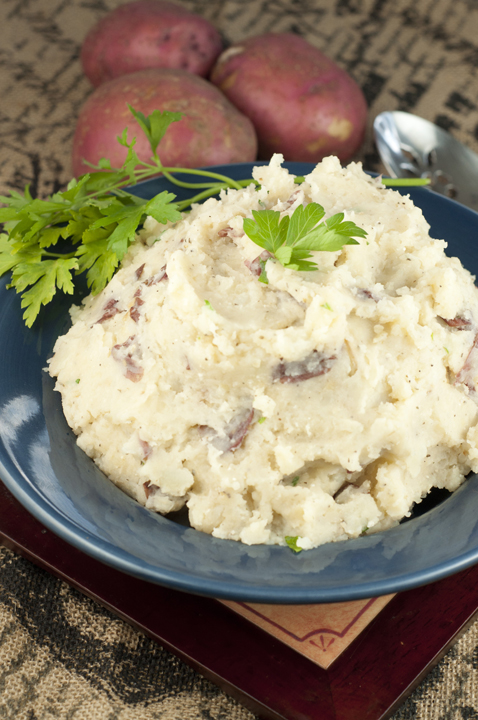 Welcome to fall and the season of all the comfort food dishes!  Nothing makes me think of fall more than mashed potatoes since they are an absolute staple for every single Thanksgiving spread.
Anytime you serve a main course consisting of meat, what's the first thing that comes to mind as a
side dish
?  Yup – potatoes.  We are a"meat and potatoes" kind of family, so they are an absolute requirement on the Thanksgiving and Christmas table.  Mashed
potatoes
are a hearty side dish for any meal throughout the fall and winter.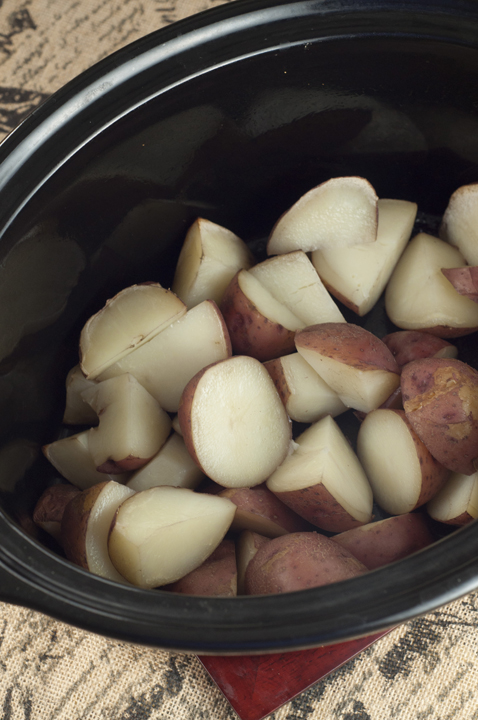 The only catch with mashed potatoes is that they do require a bit of labor: peeling, chopping, boiling, mashing.  There always has to be that designated potato person (in which case I pull the old-fashioned "1…2…3…NOT IT") on the holidays because they do require a little bit of dedication.
That is where these Slow Cooker Buttery Garlic Mashed Potatoes come in to your life.  All of the previous mentioned steps are eliminated….well, except for the chopping and mashing part.  Those are the easy steps!
The flavors in this dish combined very well, and tasted like no other mashed potato dish I've ever had.  Throw everything in the "magic pot" and you can move onto other things in the kitchen.  These would go perfectly with that
Apple Cider Pork Tenderloin
recipe that I shared last week.  Just saying…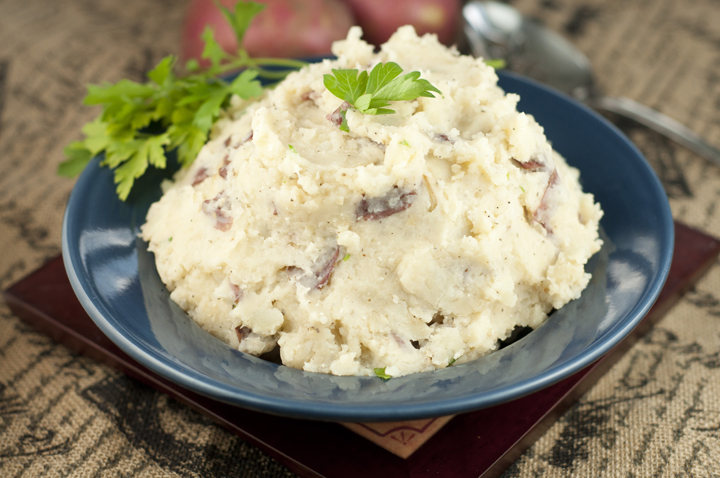 Note: double this Slow Cooker Buttery Garlic Mashed Potatoes recipe for a large group, i.e. when having the family over for the holidays.  You may need to increase the cooking time by an hour or so.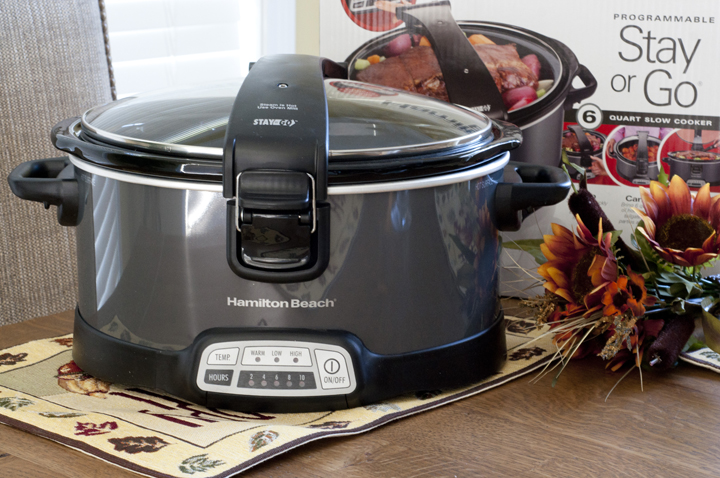 SOOOO, are you in the market for a new slow cooker?  If so, you're in luck.  I love this new Hamilton Beach Stay or Go® Slow Cooker!  It slow cooks like a dream and can I also say that it looks really attractive on my counter?
I am a huge fan of the design.  The best part about this, in my opinion, is the clip that seals the lid onto the base for ease when traveling with this slow cooker full of food or drink.  This takes me back to a time last year when I was coming home from one of Mr. Wishes' work ski trips and I so intelligently brought my
Slow Cooker Spiced Hot Apple Cider
.
There was some leftover at the end of the night, so my brilliant idea was to take it home instead of dumping it first.  Well, let's just say we made it almost the whole way home and then Mr. Wishes took a sharp turn (or hit a bump, I can't really remember) and it sounded like Niagara Falls dumping all over the floor of my newly cleaned car.  That was one very sticky mess to clean up the next morning.
Had I owned this Stay or Go Slow cooker back then, this whole crisis could have been avoided. It's perfect for traveling with OR staying home!  This is great for parties, potlucks, tailgating, etc.  Have I made my point yet?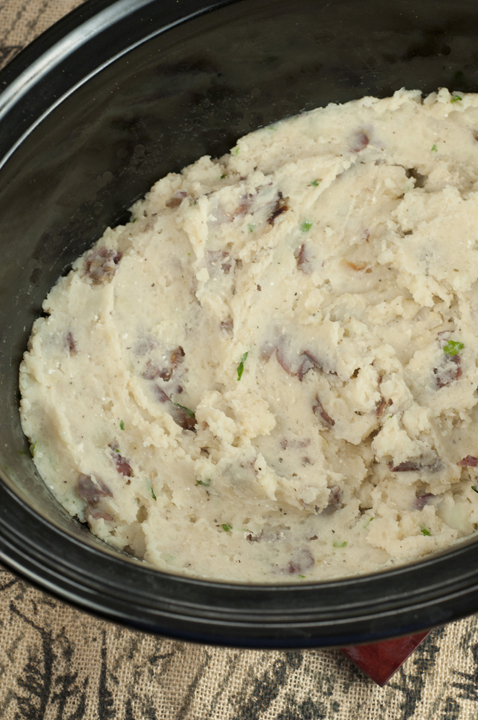 If not, here are more fun facts:
Flexible programming options
Single clip quickly seals lid onto base to reduce messy spills (such as my hot apple cider mess)
Bring 6 quarts of hot food to tailgates or parties anytime
Hinged lid stays up then easily detaches for dishwasher cleanup
Perfect size for 6 lb. chicken or 4 lb. roast
Dishwasher safe lid & stoneware
Choose from high, low & warm temperature settings
Automatically switches to warm after cooking time is complete (love this)
Select 2, 4, 6, 8, or 10 hours of cooking time      
GIVEAWAY DETAILS
Thanks to the generous people over at Hamilton Beach, one lucky Wishes and Dishes reader is going to receive their own Stay or Go Slow Cooker just in time for the holidays and slow-cooking season!  Make these lovely  Slow Cooker Buttery Garlic Mashed Potatoes and also scroll on down for your chance to win and to see how easy it is to enter via the form. If you aren't the lucky winner, this slow cooker is available on their website or at Walmart!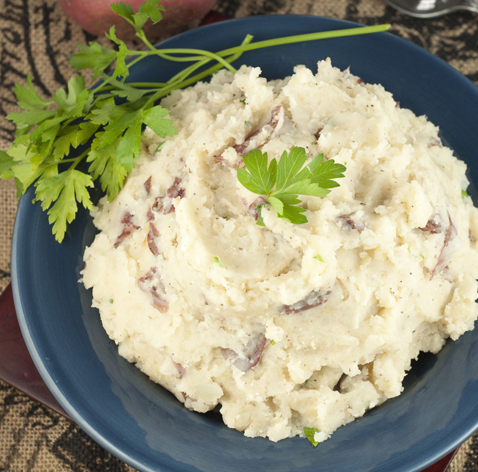 Slow Cooker Buttery Garlic Mashed Potatoes + GIVEAWAY!
Prep time:
Cook time:
Total time:
A hands-off recipe for herb Slow Cooker Buttery Garlic Mashed Potatoes making for an easy, stress-free side dish for Thanksgiving and all of the holidays.
Ingredients
2 pounds red potatoes, washed and chopped into chunks (leave the peels on)
5 tablespoons butter
½ cup sour cream
2 tablespoons minced garlic
2 tablespoon finely chopped fresh parsley (can use 2 teaspoons of dried)
1 teaspoon dried or fresh basil
¼ teaspoon dried oregano
2 teaspoons salt
1 teaspoon pepper
¼ cup whole milk or half and half (add a little more to your taste)
Instructions
Add the chopped potatoes to a well-greased slow cooker.
Cover and cook on high for 2-3 hours or on low or 5-6 hours on low. My slow cooker cooks FAST so keep an eye on them if yours does the same.
When potatoes are cooked (meaning they are fork-tender), add all of the remaining ingredients. Make sure the butter melts nice and evenly.
Use a hand mixer or a potato masher to mash the potatoes (the masher will result in more "lumpy" potatoes, so it's all a matter of preference). Serve immediately or turn slow cooker to "warm" setting until ready to eat.
Deadline: Friday, October 30th at 11:59 p.m. (EST). I'll announce the winner on Saturday 10/31. Good luck, everyone!
Winner:  Must be a U.S. resident to enter.  The winner will be chosen at random using Random.org and announced in this post. I will email the winner and if he/she does not respond within 48 hours, another winner will be selected.
Disclaimer: Hamilton Beach provided me with this slow cooker to facilitate this post and is providing the giveaway product. The words and opinions expressed in this review are strictly 100% my own, as always.
Recipe source:  adapted from lecremedelacrumb.com