Some exciting things happened yesterday:  my blog turned two years old, it was the one year anniversary of the hubby and I moving into our very first house, and my countdown to Christmas finally hit double digits (please don't hate me for saying this…but only 98 days left!).  It was a great day overall.  Thank you all ever so much for your kind words for my "blogiversary"….I really appreciate each and every comment!
Yes, I have more blondies to share with you today.  If you missed the ones I posted last week, here they are: Cake Batter Blondies.
These babies also have white chocolate chips in them but, in addition, have peanut butter and mini M&M's.  They are pure awesomeness.  Why do mini things make things look cute? I don't know… but it's true.  I love baking with M&Ms, in general. They add such a pop of color and of course, they taste great.
If you're allergic to peanuts, you can always substitute Biscoff spread for the peanut butter.  Enjoy your Wednesday!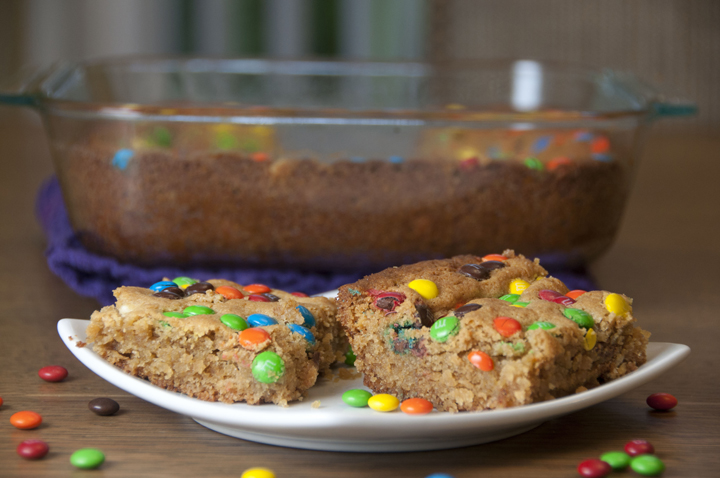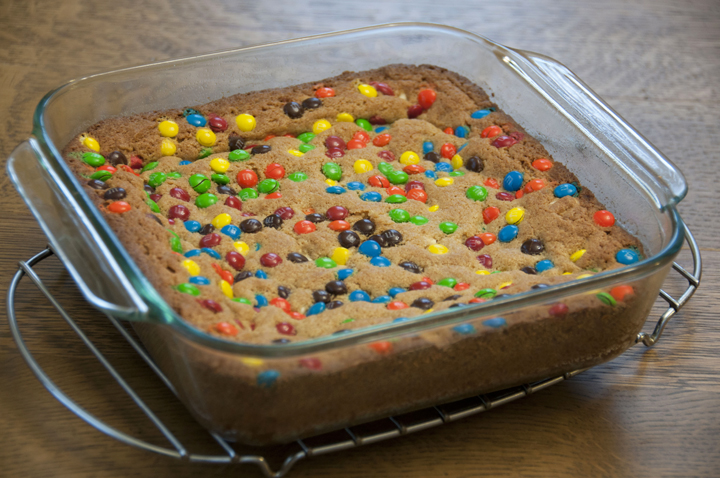 INGREDIENTS:
4 tablespoons unsalted butter
3/4 cup white chocolate chips
1 cup all purpose flour
1/2 cup granulated sugar
1/2 teaspoon baking soda
1/2 teaspoon salt
2 eggs
1/2 cup creamy peanut butter
1/2 cup white chocolate chips (additional to the 3/4 cup above)
1/4 cup mini M and M's
DIRECTIONS:
Preheat oven to 350 degrees F. and line an 8×8 inch baking dish with parchment paper sprayed with non-stick cooking spray.
Place butter into a microwave safe bowl and microwave for 30-45 seconds until butter is melted and hot. Add 3/4 cup white chips and let sit for 1 minute. Stir until smooth, if needed place back in microwave for an additional 15-30 seconds to melt through.
Place flour, sugar, baking soda and salt into a large mixing bowl.  Stir to combine.  Stir in 1/2 cup white chips then add eggs, peanut butter and melted white chocolate.  Stir until well combined.  Transfer to the prepared baking dish, spreading evenly then gently press the mini M and M's over top. Bake for 30-35 minutes, until cooked through.  Mine were done right at 30 minutes.
Recipe source:  adapted from picky-palate.com
- Craving more?
Sign up for the Wishes & Dishes Newsletter
for a fresh serving of content delivered every week to your inbox! And stay in touch on
Facebook
,
Twitter
,
Pinterest
and
Instagram
for all of the latest updates!