White Chocolate Confetti Cookie Pie
I think I died and went to Heaven after having this dessert.   I'd say it's definitely my new favorite sinful treat!  I'd also say that I vowed to my hubby that I would never make this again unless there happened to be an occasion where it would involve sharing with OTHER PEOPLE.  Yep, that's right – I just can't in good conscience let a good dessert go to waste and this was no exception – we definitely housed the entire thing ourselves!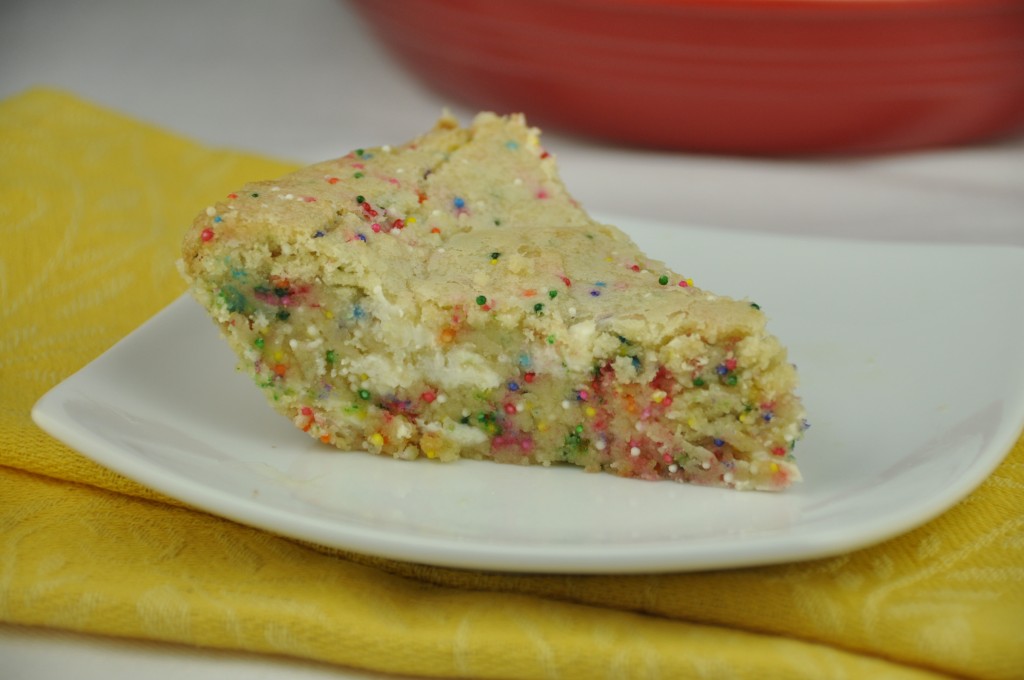 So this recipe is basically just one huge, delicious, amazing cookie.  Call me crazy, but my favorite cake of all time is Pillsbury Funfetti box cake mix.  I request it at every birthday party of mine…. even in my old age.  It's been a tradition to have this on my birthdays since I was a little girl and let's be honest, you never outgrow Funfetti!  (Or is that just me?)  I remember one year on my birthday my mom tried to pull the ol' switcheroo on me and bought me a cake from the grocery store.  That did not go over well….I think I acted like a spoiled brat and maybe even threw a minor tantrum.  I also think I was probably 18 years old at the time. Ha, ha.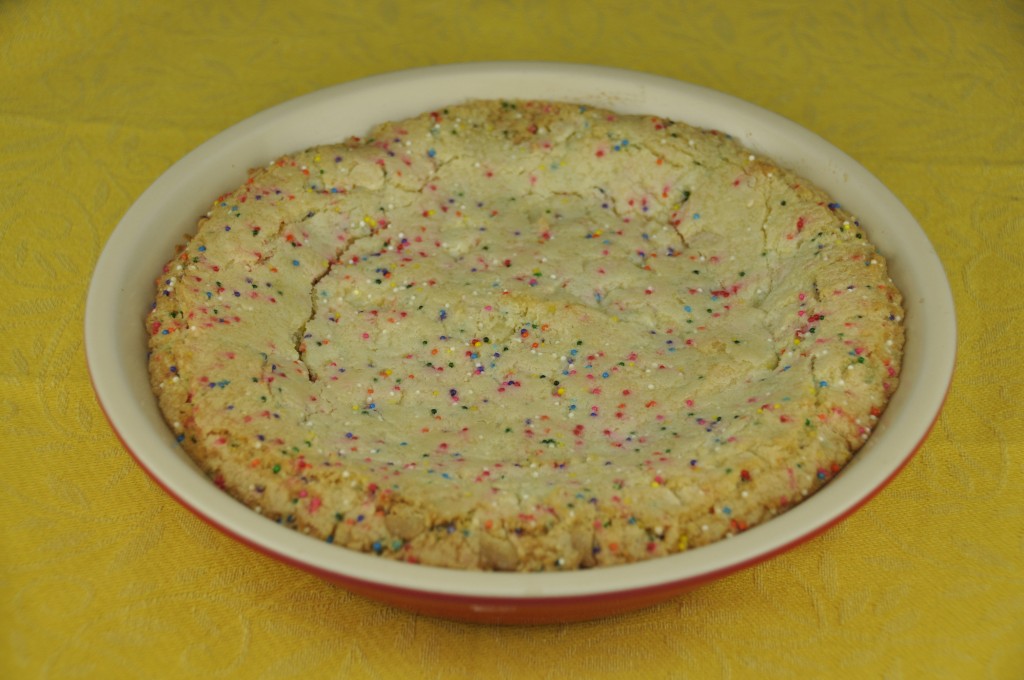 Moving on….you need to make this and then come back and thank me after you do 🙂  Yup.  It's that good.
I leave you with one more thought:  if you eat this entire thing, it's basically like you just ate only "one" cookie!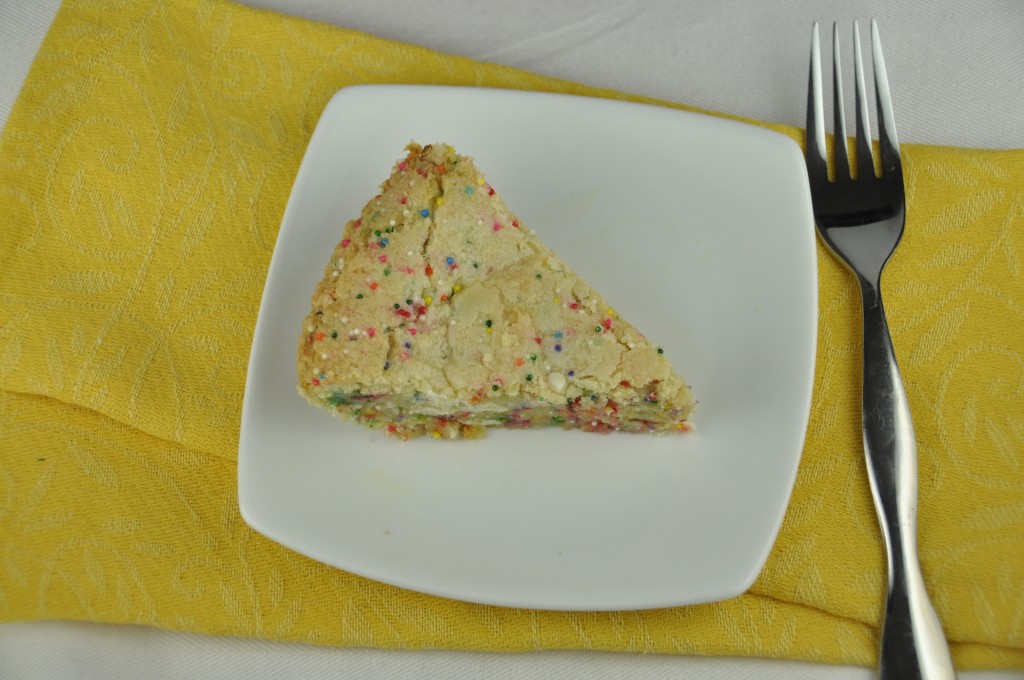 INGREDIENTS:
2 1/4 cup Bread Flour
1/4 cup Cornstarch
3/4 tsp. Baking Soda
1/2 tsp. Salt
1 cup Unsalted Butter, room temperature
1 1/4 cup Granulated Sugar
2 1/2 tsp. Vanilla Extract
1/2 tsp. Almond Extract
1 Egg
1 cup White Chocolate Chips
1/2 cup Rainbow Sprinkles
DIRECTIONS:
Preheat oven to 375 degrees. Grease a 10-inch round pie dish. In a large bowl, mix the flour, cornstarch, baking soda and salt together until blended. Set aside.
Cream the butter and sugar together in the bowl of a stand mixer, fitted with a paddle attachment until creamy and smooth, about 2 minutes. Scrape down the sides of the bowl. Add the vanilla, almond and egg and paddle for 7-8 minutes until the mixture is uniform and very fluffy. There shouldn't be any visible streaks of butter. (Don't skip this step!) Scrape down the sides of the bowl.
With the mixer on its lowest speed, slowly add in the flour mixture and mix just until fully incorporated and no white streaks remain.
Add in the white chocolate chips and the sprinkles and mix just until they are fully distributed.
Pour the dough into the prepared pan and bake in the preheated oven for 22-24 minutes. The edges will be slightly browned and the center will still be slightly underdone. Allow the pie to cool completely before cutting.
NOTE: If you prefer to bake these as cookies, scoop onto a cookie sheet and bake for 8-10 minutes, or until the edges are slightly browned. Cool on a wire rack.
Recipe source:  simplyscratch.com