With summer soon coming to an end, I wanted to make sure to savor some of my favorite things about this season in these final few weeks.  One of my favorite summer desserts is s'mores and recently on a day off, I decided to make a recipe I have been wanting to try for forever — s'mores PIE. I love s'mores.  I love pie.  Super brilliant idea.  I am obsessed with s'mores anyways (see my
Frozen S'mores
and my
Golden Grahamas S'mores Bars
), and it only seemed fitting to present a new way to eat the graham cracker, chocolate and marshmallow combo for the summer.  Ooey gooey marshmallows + chocolate + graham crackers?  Sounds like summer to me!
In anticipation of Labor day coming up next week, I really think you should make this s'mores pie for a less messy version of s'mores, but just as good as the real deal.  These would for sure sweeten up your holiday celebration.  Gooey s'mores assembled fireside are near unbeatable, but for those times when a campfire or fireplace is out of reach, this s'mores-inspired treat will fill the void……and then some. This pie is soo good and it was gone in an embarrassingly short amount of time.
Indulgent and sinful – my kind of dessert!
P.s. How was everyone's weekend?  I had a nice time making the trip out to Cleveland to visit my brother who just had GI surgery at the Cleveland Clinic.  My hubby and I got to visit with him, my mom, and sister-in-law and help boost my brother's spirits while he's recovering.  He should be going home in a few days hopefully!  While we were there, we had dinner and hung out with some friends who live in the area and explored the city of Cleveland a little.  So fun!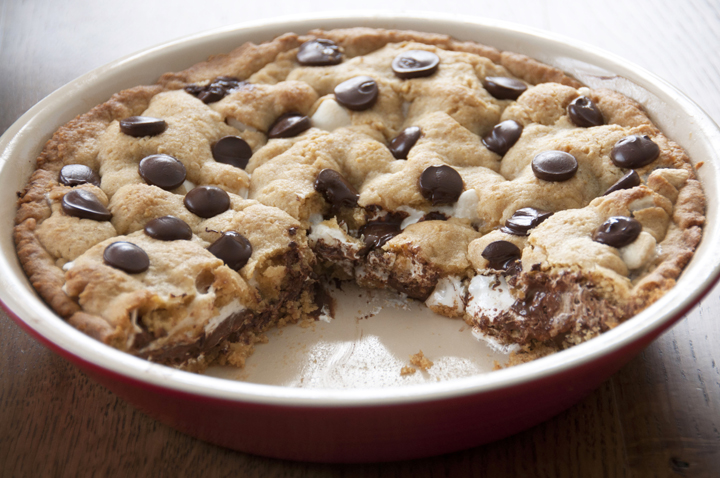 INGREDIENTS:
1 stick Softened Butter
½ cups White Sugar
1 whole Egg
1 teaspoon Vanilla
1 cup All Purpose Flour
1 cup Graham Cracker Crumbs
1 teaspoon Baking Powder
7 ounces, weight Container Of Marshmallow Creme
6 whole (1.55 Oz Bars) Hershey's Chocolate Bars, Unwrapped
1 cup Mini Marshmallows
¼ cups Chocolate Chips
DIRECTIONS:
Preheat oven to 350°F and spray a 9″ pie pan with baking spray.
In a large bowl beat butter and sugar together until combined, then add egg and vanilla and stir them in. Stir in flour, graham cracker crumbs and baking powder.
Divide the dough in half. Press half the dough in the bottom and up the sides of the prepared pie pan. Evenly spread the Marshmallow Creme over the bottom crust. Separate chocolate squares and place on top of the Marshmallow Creme. Place the 1 cup of marshmallows on top.
Using the remaining crust, pat sections of dough on top of and around all the marshmallows (they will not be completely covered and that is what you want!)  Sprinkle with 1/4 cup chocolate chips, then bake 20 minutes until lightly browned.
Remove pan from oven and set it on a wire rack. Cool completely before cutting, or you will have a mess.  I like it best warmed up in the microwave so that the chocolate and marshmallow are nice and gooey.
Recipe source:  adapted from 4littlefergusons.wordpress.com
- Craving more?
Sign up for the Wishes & Dishes Newsletter
for a fresh serving of content delivered every week to your inbox! And stay in touch on
Facebook
,
Twitter
,
Pinterest
and
Instagram
for all of the latest updates!