Crock Pot S'mores Fondue
Crock Pot S'mores Fondue is the perfect dessert dip for a party. This recipe is easy to make and perfect for all the s'mores lovers in your life!
Well, next week is officially summer so I feel it's safe to dive into all things "s'mores".  S'mores are one of my favorite things about summer – I love the combination of melty chocolate, marshmallow and graham cracker. This Crock Pot S'mores Fondue really hits the spot!
There is just something about those flavors together, whether frozen, made into a pie, or in bar form!  One of my favorite desserts to date is my S'mores Pie.  It is incredibly popular everywhere I take it.  I hate sharing it, but we all have to make sacrifices once in a while (ha, ha.)
This Crock Pot S'mores Fondue has all of the goodness of S'mores made into a gooey dip served with a variety of dippers.  The dip is so easy to make and is perfect for those of you who enjoy S'mores.  It's a great party dip or quick snack.  Everybody loves fondue, so this will be a hit!  There's just something so fun about it.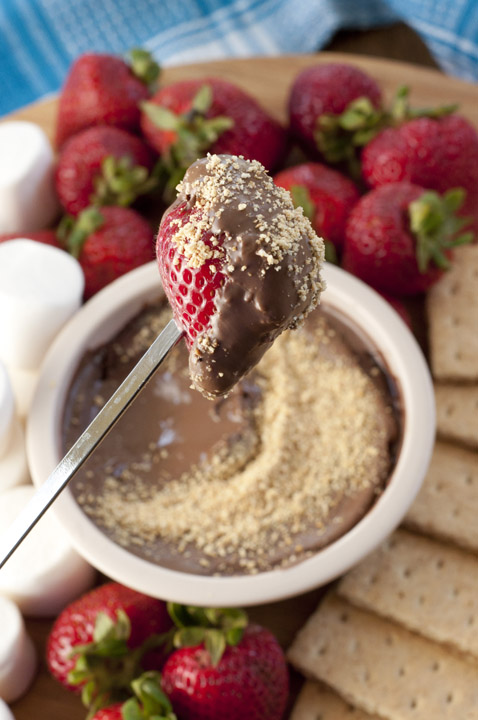 Today is a very exciting day.  Not only do you get to drool over these photos of Crock Pot S'mores Fondue (No? Just me?) but I'm also giving away a $43 gift certificate to Catching Fireflies so you can pick out your favorite item(s) on their website. Why such an odd number gift certificate, you ask?  Because they excel at being quirky and out-of-the-ordinary.
Have you heard of their website before?  I am new to it and LOVE it!  Catching Fireflies is a fun and wacky online gift shop with all kinds cool, creative gifts including unique kitchen gadgets, inspirational home decor, fun guy gifts (I always have the hardest time with these), travel items (I ordered and love this jewelry pouch), cute office accessories and so much more.
I ended up browsing around and realized they really have the cutest, most unique things – I wanted it all.  I know where I'll be headed now when I'm trying to think of a creative birthday or hostess gifts for someone.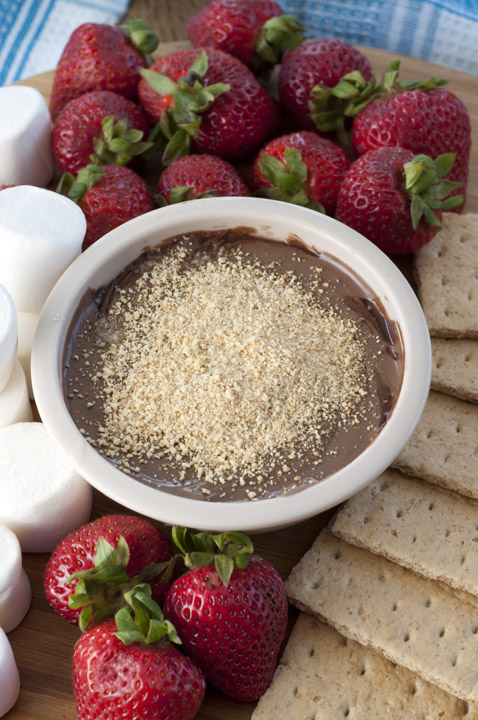 Of course, I gravitated right to all of adorable kitchen accessories because I am obsessed with cooking and baking.  I ordered these mahogany appetizer plates and LOVE them so far. They fit perfectly on a wine glass so you can hold your glass of wine and appetizers all in one hand and eat with the other – brilliant. Happy unbirthday to me!
Thanks to Catching Fireflies, one lucky Wishes and Dishes reader will win a gift card to their website to get their shopping on!  Also, they are so generously offering my fans a 20% discount on their website when you use coupon code: "WISHES" upon checkout (expires 7/15). Enter the contest using the form below. Happy shopping!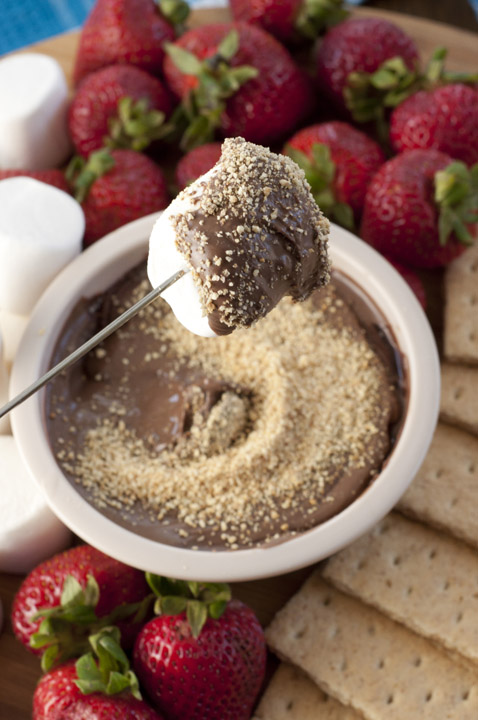 Crock Pot S'mores Fondue
Prep time:
Cook time:
Total time:
Crock Pot S'mores Fondue is the perfect dessert dip for a party. This recipe is easy to make and perfect for all the s'mores lovers in your life!
Ingredients
1 and ½ bags (15 ounces) Wilton S'mores Candy Melts, roughly chopped OR 15 ounces milk chocolate, chopped (can also use milk chocolate chips)
½ cup heavy whipping cream
graham cracker crumbs, for topping
Assorted dippers (graham crackers, pretzel rods, animal crackers, strawberries, sliced bananas, marshmallows)
Instructions
Put chocolate and heavy cream in a 2 or 2 and ½ quart crock pot (slow cooker).
Stir together to combine.
Cover and cook on low setting for 1½ to 2 hours, stirring once or twice while cooking.
Whisk until smooth. Top with graham cracker crumbs. You can leave chocolate in crock pot on warm setting, covered, or transfer to a heatproof bowl if it will be served immediately (while still warm).
If leaving in crock pot, stir occasionally.
Serve fondue with dippers of your choice. I used strawberries, marshmallows, and graham crackers. Sliced bananas or animal crackers would also work well.
Disclaimer:  Catching Fireflies provided me with the gift card to facilitate this post and is providing the giveaway product. The words and opinions expressed in this post are 100% my own, as always.